Venice Competition and San Sebastian title The World To Come is the second feature from Norwegian actress-writer-director Mona Fastvold following The Sleepwalker, which premiered at Sundance Film Festival in 2014.
Based on an acclaimed short story by Jim Shepard, who co-wrote the script with Ron Hansen, the film is set in 1850s frontier America and tells the story of the growing bond between two women, isolated and lonely as they struggle to survive on neighbouring farms.
Katherine Waterston and Vanessa Kirby star in the film, which shot on celluloid for just 24 days in the rural wilds of a Transylvanian valley in Romania in two separate stints to capture all four seasons in 2019.
The World To Come is produced by Casey Affleck and Whitaker Lader's Sea Change Media (Affleck also stars in the film with Christopher Abbott) and executive produced by Killer Films and Sailor Bear. Sony Pictures has acquired international rights from French sales outfit Charades; UTA/Endeavor is handling the North American sale.
Fastvold, who divides her time between Norway and the US, is also a prolific writer. She works often with her partner Brady Corbet, with whom she wrote The Childhood Of A Leader and Vox Lux, both directed by Corbet. She also co-wrote Laure de Clermont-Tonnerre's The Mustang.
How did the film come together?
The script came to me from Whitaker Lader who is a producer on the film. I had been working on another project and it kept falling apart as some projects do. I write a lot and I felt so tired by writing and then all of sudden this absolutely beautiful story landed in my lap and it felt like, "I could have written this but I didn't and it feels like it belongs my universe." I knew exactly what I wanted to do with it; it was so clear to me. The writers Ron [Hansen] and Jim [Shepard] were so inclusive and just let me move into the story and make it my own.
The title, The World To Come, is very emotive.
It was so important for me to say, "Okay, we stand on our mother's shoulders, who stand on their mother's shoulders, who stand on their's and here I am today, getting to tell this story and direct this film." It's exciting to claim a place in history for these types of characters that may not have had the chance to have their story told before.
How did you end up on location in a valley in Transylvania in Romania?
I'm a European filmmaker. I'm used to looking everywhere to see where it makes the most sense to film. Early on, my fantastic production designer Jean-Vincent Puzos said: "I think Romania is where you should make this film." In the mountains the nature is so wild and so much has just been farmed by hand or by horse. It's not a perfectly manicured, machine-cultivated landscape, which adds the most incredible production value and credibility to the time period.
Did you film everything in Romania or was there some stage work somewhere else?
Everything was on location. It was important it was all there. I wanted [Waterston's character] Abigail's home to really be symbolic of her as a character. It starts off very dark and then the house opens up, the light opens up, and it explodes with her emotional coming back to life. I'm from Norway and I grew up interacting with farm life. You go outside and look up: "What's the weather going to be like today? How does that affect my life and my state of mind?" We had to have this connection between the exterior and the interior.
What was the biggest challenge of the shoot?
[The location] was very challenging for my small, hard-working crew as we were often in the mud and the rain. Sometimes we were getting to a location and we couldn't drive the trucks up so everybody had to form a line and we had to carry everything up to [Kirby's character] Tallie's house as the mud was just so bad. But at the same time, I think there is a unity between your crew and your cast. You are there together. With constraints come some really exciting and beautiful solutions.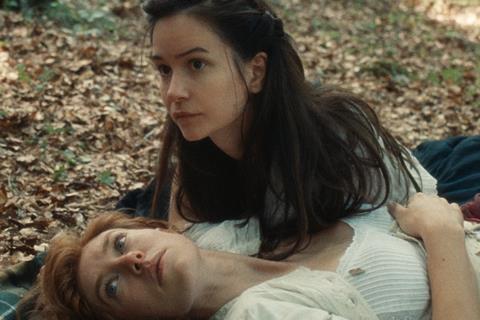 Did you shoot the summer scenes or the winter scenes first?
We shot in August and then came back again at the end of November. It's so tricky for a film this size to do that but we felt it was going to add the scope of the love story and the journey these two women have to see the time and the seasons pass. Somehow, we pulled it off. We had some very big ideas that we somehow managed to squeeze into that schedule. But it was very, very challenging for everyone. We rehearsed and planned in advance; it was so detailed. The actresses and I were rehearsing every free moment we had, blocking, rehearsing, blocking, rehearsal, before we would start shooting at five in the morning or after we had finished. That's the only thing you can do when you have that tight schedule.
Did you stay together or go your separate ways in between the two shoots?
We separated. We were constantly in touch. I was editing in New York. I feel like we were learning from the experience we had just had, and through the edit as well and so I added some small pieces in to the winter section. We didn't do any reshoots, we just added to the story, things I wanted to expand on. And Vanessa went off to shoot [fellow Venice Competition title] Pieces Of A Woman with Kornel [Mundruczo] in between. She was going back and forth.
What kind of tone did you strive to create on set?
I grew up on film sets [Fastvold was a child actress]. What's really important for me is to create a familiar and warm and safe environment. As a child that's when I was able to perform better. And because of our schedule and how I like to work, I like to be very precise. We are moving fast so I want to create a warm and safe environment where we are able to do these very difficult things. My partner and I always try to take over the kitchen in the hotel and cook some big dinners. I also had my own child with me this time.
Did you finish the film while in lockdown?
The plan was always to go and do my sound mix out by the seaside in the US with my sound mixer as he has a studio in his cottage there. I was going to go by myself and my family was going to come later but when I saw what was happening [with the pandemic], I took my daughter out of school and took everyone including my mother-in-law, and my actors who I needed some ADR for, and we were all in quarantine together. We got to finish the sound mix together. I tried to do the rest remotely but it was very difficult to do colour remotely. When New York opened up a little bit, I got to finish colour in a theatre with just my colourist and my DP remotely from France.
Have you been able to work on future projects over these past strange few months?
Like everyone else I felt like I need to use this time somehow in a brilliant way and learn to knit and bake and create. Then you realise you are just home-schooling and trying to finish a movie! My partner and I have written another film called The Brutalist that he is directing early next year, shooting in Europe. I am also writing something else now that I will direct but I'm still trying to figure out exactly what it is.