The 43rd Toronto International Film Festival runs from September 6-16, and Screen is previewing all the titles in the main sections. In this year's Midnight Madness are titles including Peter Strickland's In Fabric, David Gordon Green's Halloween and Shane Black's The Predator.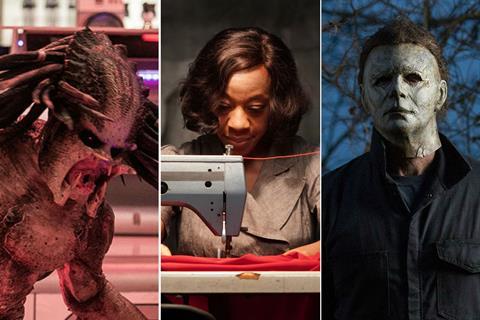 Midnight Madness
World Premieres
Halloween (US) - dir. David Gordon Green
The anticipated Blumhouse production by Toronto favourite Green sees the director shift gears for this sequel to John Carpenter's 1978 horror classic (Carpenter also serves as executive producer). Green and co-writer Danny McBride team up again after earlier comedy collaborations including Pineapple Express. This Halloween is set 40 years after the original and sees Jamie Lee Curtis reprise her original role as Laurie Strode (now a grandmother), who once again confronts serial killer Michael Myers — escaped from prison and donning the infamous white mask once again. Green was in Toronto last year with Stronger, starring Jake Gyllenhaal.
Contact: Universal Pictures
In Fabric (UK) - dir. Peter Strickland
Marianne Jean-Baptiste stars in Strickland's story of the life of a cursed dress as it starts out in an unusual department store and passes from person to person with devastating consequences. Strickland is a TIFF regular with Berberian Sound Studio and The Duke Of Burgundy. Curzon has already acquired UK rights and other done deals include to Front Row for the Middle East.
Contact: Bankside Films
The Man Who Feels No Pain (India) - dir. Vasan Bala
Abhimanyu Dasani and Radhika Madan (TV's Meri Aashiqui Tum Se Hi) star in this Hindi-language action comedy. The story follows a boy who has a rare disorder that means he cannot feel pain, and has become obsessed with martial arts VHS tapes. Bala, who previously directed Cannes Critics' Week and TIFF 2012 selection Peddlers, directs, and veteran Ronnie Screwvala produces. The film is the first-ever Indian selection in Midnight Madness.
Contact: RSVP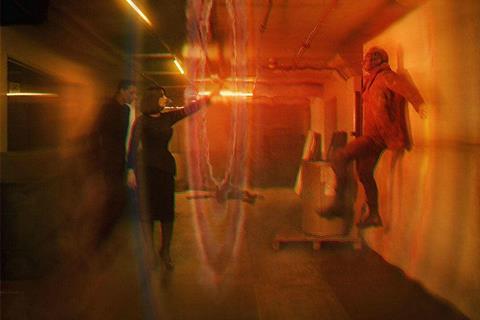 Nekrotronic (Aus) - dir. Kiah Roache-Turner
Sydney-based Roache-Turner directs and co-writes (with his producer brother Tristan) the story of a man who discovers he is part of a secret sect of magical beings who hunt down demons in the internet. The cast includes Monica Bellucci, Tess Haubrich and Caroline Ford. The brothers previously made 2015's post-apocalyptic story Wyrmwood.
Contact: Sierra/Affinity
The Predator (US) - dir. Shane Black
The classic sci-fi franchise launched in the 1980s gets a modern reinvention with The Predator courtesy of Black (Kiss Kiss Bang Bang), who has promised "a leaner, meaner approach". When a young boy accidentally triggers the lethal hunters' return to Earth, only a ragtag crew of ex-soldiers and a disgruntled science teacher can prevent the end of the human race. Olivia Munn, Sterling K Brown, Keegan-Michael Key, Boyd Holbrook and Trevante Rhodes lead the cast of the Midnight Madness opening film.
Contact: 20th Century Fox
The Standoff At Sparrow Creek (US) - dir. Henry Dunham
Dunham writes and directs his debut feature, formerly on the Black List of best unproduced Holly­wood screenplays, about an ex-cop who is forced out of retirement after he realises a mass shooting at a police funeral was committed by a member of the same militia he joined after quitting the force. He interrogates the militiamen in a remote lumber mill. James Badge Dale (Only The Brave) and Brian Geraghty (The Alienist) lead the cast. Producers include Brawl In Cell Block 99's Dallas Sonnier.
Contact: XYZ Films
The Wind (US) - dir. Emma Tammi
Tammi's supernatural thriller is set in the late-1800s western frontier, and was written by Teresa Sutherland. Caitlin Gerard (Insidious: The Last Key) stars as a woman driven mad by the harshness and isolation of the untamed land. Julia Goldani Telles (Slender Man) and Ashley Zukerman also star. Tammi has worked in documentaries and The Wind marks her fiction feature debut. Divide/Conquer produced with Soapbox Films.
Contact: XYZ Films Jessica Lacy, ICM
Further Midnight Madness titles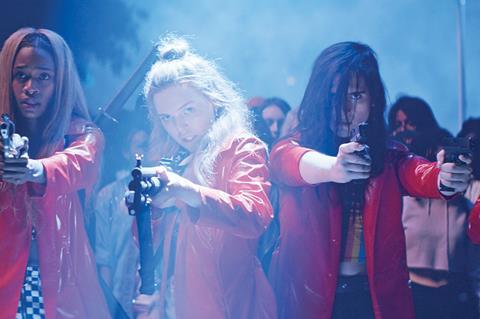 Assassination Nation (US) - dir. Sam Levinson
Levinson's sophomore feature premeired at Sundance earlier this year. Producers include The Dark Knight writer David S. Goyer. It is released in the US on September 21, and screens at London Film Festival in October before a UK release on November 23. Odessa Young and Suki Waterhouse star in the black comedy about the people of the town of Salem hunting for the perpetrator of a massive data hack.
Contact: Neon
Climax (Fr) - dir. Gaspar Noé
Noé's latest follows the madness that envelops a dance troupe's post-rehearsal party after a punchbowl of sangria is spiked with LSD. It caused a stir at Cannes earlier this year, both causing walkouts and winning the Art Cinema prize in Directors' Fortnight. A UK release is lined up for September 21, with France two days previously. A24 will release the film in the US.
Contact: A24
Diamantino (Por, Fr, Braz) - dir. Gabriel Abrantes, Daniel Schmidt
This screwball feature debut by US-born, Lisbon-based directing duo Abrantes and Schmidt focuses on a fading football star who faces several challenges after he adopts a refugee kid who is not what he seems. It won the Grand Prize in Critics' Week at Cannes earlier this year (as well as the Palm Dog jury prize).
Contact: Charades
Profiles by Nikki Baughan, Ben Dalton, Charles Gant, Tom Grater, Elaine Guerini, Jeremy Kay, Lee Marshall, Wendy Mitchell, Jonathan Romney, Louise Tutt, Silvia Wong and Orlando Parfitt.
More Toronto previews: