The 43rd Toronto International Film Festival runs from September 6-16, and Screen is previewing all the titles in the main sections. Here are the Gala titles, including Timothée Chalamet in Felix van Groeningen's Beautiful Boy, and Robert Pattinson in Claire Denis' High Life.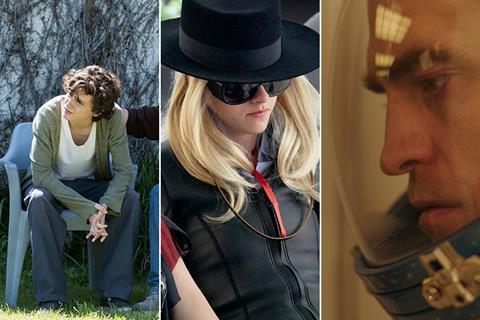 Galas - world premieres
Beautiful Boy (US) - dir. Felix van Groeningen
Following Berlin and Sundance premieres respectively for his last two features The Broken Circle Breakdown (a best foreign-language film Oscar nominee) and Belgica, the Belgian director brings his English-language debut to Toronto. Van Groeningen and Luke Davies (Lion) adapted the film from father-and-son memoirs: David Sheff's account of his family dealing with their son's methamphetamine addiction, and Nic Sheff's own Tweak. Steve Carell and Timothée Chalamet star. Dede Gardner, Jeremy Kleiner and Brad Pitt produce for Plan B; Amazon Studios has US rights.
Contact: Amazon Studios
Green Book (US) - dir. Peter Farrelly
Farrelly, who along with brother Bobby created comedies There's Something About Mary and Dumb And Dumber, moves into serious territory with this drama based on the life of jazz musician Don Shirley. Viggo Mortensen stars as the driver responsible for chauffeuring Shirley (Moonlight Oscar winner Mahershala Ali) around segregated southern America in the 1960s. Universal will release in the US in November; eOne in the UK next February.
Contact: Lionsgate
The Hate U Give (US) - dir. George Tillman Jr
Adapted by Audrey Wells (A Dog's Purpose) from the 2017 Angie Thomas novel, The Hate U Give follows a young woman who witnesses the fatal shooting of her best friend at the hands of a police officer. Helmed by producer/director Tillman Jr, who most recently executive-produced Dee Rees's Mudbound, the film stars Amandla Stenberg, who also takes the lead in Amma Asante's fellow Toronto title Where Hands Touch. 20th Century Fox will release across multiple territories from October 2018.
Contact: 20th Century Fox
Hidden Man (China) - dir. Jiang Wen
Following a summer release in China with a gross of $86m, renowned Chinese actor/director Jiang's latest film will make its international premiere at Toronto. The 1930s-set action thriller revolves around a young man (Eddie Peng) who returns home to avenge an old murder case. Liao Fan (Berlin best actor for Black Coal, Thin Ice in 2014) and Jiang himself also star in this follow-up to the loose trilogy that includes Let The Bullets Fly and Gone With The Bullets. Hidden Man was backed by Hehe Pictures, Gravity Pictures, Flagship Entertainment and Emperor Motion Pictures.
Contact: Gravity Pictures
High Life (Ger-Fr-Pol-UK-US) - dir. Claire Denis
High Life may be set in space, but with mercurial French creator Denis at the helm, it will not be science fiction as we know it. Robert Pattinson plays a man living in isolation in space with his daughter (Mia Goth). The cast includes Juliette Binoche, Lars Eidinger and André Benjamin (aka OutKast's Andre 3000), with visual input from feted Icelandic artist Olafur Eliasson. Production companies include Alcatraz Films, Pandora Filmproduktion and the UK's The Apocalypse Films.
Contact: Wild Bunch
Husband Material (India) - dir. Anurag Kashyap
The latest from prolific Indian actor/producer/writer/director Kashyap (Udaan, Gangs Of Wasseypur) is the story of a young Punjabi woman who finds herself in a complicated love triangle. Released in India in September by Eros International, Husband Material is produced by India's Phantom Films and Colour Yellow Productions. The latter is also behind Rahi Anil Barve and Anand Gandhi's forthcoming fantasy drama Tumbbad, which opens this year's Venice Critics' Week.
Contact: Phantom Films
Jeremiah Terminator LeRoy (Can-US-UK) - dir. Justin Kelly
Laura Dern stars as Laura Albert, the literary hoaxer who created the persona of disenfranchised queer man JT LeRoy, and persuaded her boyfriend's androgynous sister, Savannah Knoop (Kristen Stewart), to pretend to be the author when the book becomes a bestseller. Adapted from Knoop's memoir Girl Boy Girl: How I Became JT LeRoy, the film hails from Elevated Films, The Fyzz Facility, Ingenious Media, Aquarius Content, Sobini Films, Thirty Three Productions, LBI Entertainment and Buffalo Gal Pictures.
Contact: Nadine de Barros, Fortitude International
The Land Of Steady Habits (US) - dir. Nicole Holofcener
Five years after Enough Said, which also premiered in Toronto and went on to win a raft of plaudits including a Golden Globe nomination for star Julia Louis-Dreyfus, Holofcener returns with new feature The Land Of Steady Habits. Based on the book by Ted Thompson, the film stars Ben Mendelsohn as a resident of an affluent Connecticut town who is overtaken by a need to shake up his life. Netflix has fully financed the project and will distribute worldwide.
Contact: Netflix
The Lie (Can) - dir. Veena Sud
The second feature from Toronto-born writer/director Sud following 2016's The Salton Sea, The Lie (previously known as Between Earth And Sky) follows two parents as they attempt to help their daughter after she has made a lethal mistake. As an Emmy-winning television producer, Sud also created the US version of The Killing and Seven Seconds; here The Killing's star Mireille Enos leads a cast that includes Peter Sarsgaard and Joey King. Blumhouse Productions produces alongside Mad Dog Films.
Contact: Blumhouse
Life Itself (US-Sp) - dir. Dan Fogelman
Fogelman made his feature debut with 2015's Al Pacino-starrer Danny Collins, but is best known as the creator of hit NBC series This Is Us. His latest film is a drama spanning generations and continents starring Oscar Isaac, Olivia Wilde, Annette Bening, Mandy Patinkin and Antonio Banderas. Fogelman's script first appeared on the Black List of Hollywood's best unproduced screenplays and was acquired by FilmNation, before Amazon secured distribution rights in a $10m deal after winning a three-way auction with Universal and Paramount.
Contact: Amazon Studios
Outlaw King (US-UK) - dir. David Mackenzie
Chris Pine stars as Robert The Bruce in Mackenzie's gritty account of the rise of Scotland's 14th-century hero who defied the medieval might of England's occupying forces led by Edward I and his volatile son, the Prince of Wales. Aaron Taylor-Johnson, Florence Pugh and Billy Howle round out the key cast on the opening night gala presentation, which shot in Scotland and is produced by Sihma Film. Outlaw King opens in select theatres and launches globally on Netflix on November 9.
Contact: Netflix
Widows (UK-US) - dir. Steve McQueen
McQueen follows up his triple Oscar winner 12 Years A Slave (2013) with this adaptation of the 1983 UK mini-series by Lynda La Plante. With the action moved to Chicago, Gone Girl author Gillian Flynn has penned the screenplay about a group of recently bereaved women who team up to attempt the art heist that killed their husbands. The cast includes Viola Davis, Colin Farrell, Jacki Weaver and Elizabeth Debicki, and 20th Century Fox will release in multiple territories.
Contact: 20th Century Fox
Galas - selected other titles
First Man (US) dir. Damien Chazelle
Two years after dazzling the Lido with La La Land, the youngest winner of the best director Oscar returns with his space-race drama, reuniting with Ryan Gosling as Neil Armstrong, the first person to walk on the moon. Worldwide distributor Universal co-financed with DreamWorks and has high hopes for Chazelle's latest feature, which opens Venice on August 29 and lands in theatres in the US and UK on October 12.
Contact: Universal Pictures
Shadow (China) - dir. Zhang Yimou
Former Golden Lion winner Zhang adopts a unique Chinese ink brush painting style for his historical epic Shadow (Ying), set in the turbulent Three Kingdoms. Deng Chao (The Mermaid) plays two separate roles: an ailing general and his body double trained in secret since childhood. Sun Li, Zheng Kai and Wang Qianyuan co-star in the new film, which will segue to Toronto and releases in China in early October during the lucrative National Day period. Perfect Village Entertainment, Le Vision Pictures and Tencent Pictures are co-investors.
Contact: Bloom
A Star Is Born (US) - dir. Bradley Cooper
Janet Gaynor/Fredric March, Judy Garland/James Mason, Barbra Streisand/Kris Kristofferson and now… Bradley Cooper and Lady Gaga. Early word diverges wildly on Cooper's directorial debut, yet anticipation surrounds Gaga's first major film role as the ingénue who outshines her hard-drinking mentor. Chasing a wide commercial audience, the filmmakers have cleverly set country music as the backdrop, and Warner Bros are gearing up for a major awards push. Opens in the US and UK on October 5.
Contact: Warner Bros
Profiles by Nikki Baughan, Ben Dalton, Charles Gant, Tom Grater, Elaine Guerini, Jeremy Kay, Lee Marshall, Wendy Mitchell, Jonathan Romney, Louise Tutt, Silvia Wong and Orlando Parfitt.
More Toronto previews: