The 43rd Toronto International Film Festival runs from September 6-16, and Screen is previewing all the titles in the main sections. Films in TIFF Docs include Michael Moore's Fahrenheit 11/9, Rashida Jones and Alan Hicks' Quincy and Billy Corben's Screwball.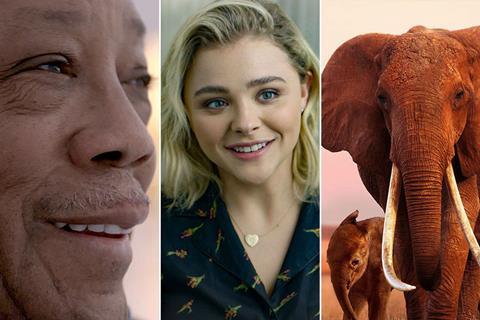 TIFF Docs
World/North American premieres
Angels Are Made Of Light (US-Den-Nor) - dir. James Longley
Oscar-nominated documentary maker Longley focuses on Afghanistan for his latest film. He spent years in Kabul capturing the daily struggles and inner lives of students and teachers at a public school, trying to rebuild in the midst of war. Longley produced the film with Basil Shadid, and The Act Of Killing's Signe Byrge Sorensen served as co-producer with Joslyn Barnes and Torstein Grude. Executive producers are Danny Glover, Anatoly Savin, Jeff and Lara Sanderson, and Basil Shadid.
Contact: James Longley, Daylight Factory
The Biggest Little Farm (US) - dir. John Chester
Emmy-award winning director Chester (Lost In Woonsocket) gets personal about the new life he has created with his wife Molly, a former private chef. The couple have documented eight years of their struggle to create the organic and biodynamic Apricot Lane Farms outside of Los Angeles.
Contact: UTA Independent Film Group
Divide And Conquer: The Story Of Roger Ailes (US) - dir. Alexis Bloom
Emmy-nominated director and producer Bloom is no stranger to the politics of information and news — she produced We Steal Secrets: The Story Of Wikileaks. Her latest project is described as 'an origin story', which traces the life and legacy of the late Roger Ailes, the founder of and driving force behind Fox News. The film is produced by Alex Gibney's Jigsaw Productions.
Contact: Cinetic Media
The Elephant Queen (UK-Ken) - dirs. Mark Deeble, Victoria Stone
A portrait of an elephant matriarch who leads her herd on a perilous journey across Africa, this film aims to take a similarly accessible approach to March Of The Penguins. It is the culmination of a lifelong passion: husband-and-wife filmmaking team Deeble and Stone (The Queen Of Trees) have spent 25 years living and filming in the African bush. Chiwetel Ejiofor narrates.
Contact: Mister Smith Entertainment
Fahrenheit 11/9 (US) - dir. Michael Moore
Moore profiles perhaps the most arch provocateur of them all in his new film about life in the US under president Trump, which opens TIFF Docs. The title is a neat inversion of his Palme d'Or winner Fahrenheit 9/11 (still the biggest theatrical documentary release of all time) and refers to the day after Trump's election on November 8, 2016. Tom Ortenberg's Briarcliff Entertainment is releasing the film in North America on September 21.
Contact: Michael Rothstein, AGC International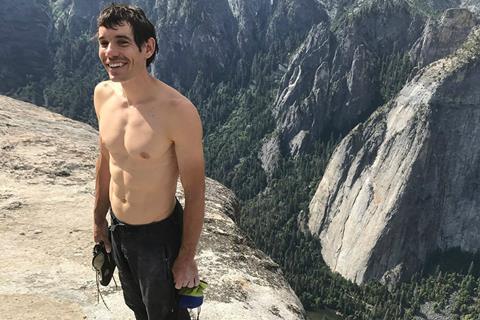 Free Solo (US) - dirs. E Chai Vasarhelyi, Jimmy Chin
Free Solo is about renowned rock climber Alex Honnold as he trains to scale the iconic 3,000-foot granite wall known as El Capitan in Yosemite National Park without using ropes or other safety gear (aka 'free soloing'). Chin and Chai Vasarhelyi have produced the project with Evan Hayes, Shannon Dill, Walter Parkes and Laurie MacDonald. The doc will have a cinema release before premiering on National Geographic channels in 171 countries.
Contact: Erin Griffin, National Geographic
Freedom Fields (Lib-UK-Neth-US-Qat-Leb-Can) - dir. Naziha Arebi
The first feature from UK-Libyan filmmaker and photographer Arebi follows a group of women in post-revolution Libya who are united by a dream to play football for their country. The simmering civil war provides a backdrop to this collection of personal stories. The film was co-produced by the Scottish Documentary Institute and by HuNa Productions, a Tripoli-based production collective that Arebi co-founded with the aim of using Libyan cinema as a tool for change.
Contact: Wide House
Ghost Fleet (US) - dirs. Shannon Service, Jeffrey Waldron
This doc investigates the injustice of slavery in the Thai fishing industry through various escape stories. Human-trafficking gangs sell men lured out of villages in Cambodia, Bangladesh and Myanmar to giant fishing fleets. Once at sea, the men may never return to land unless they escape. Ghost Fleet is produced by Seahorse Productions, Jon Bowermaster's Oceans 8 Films and Paul Allen's Vulcan Productions. Co-director Service is an investigative reporter and producer; Waldron is a veteran cinematographer. Executive producers include UN goodwill ambassador Julia Ormond and The Cove director Louie Psihoyos.
Contact: Liesl Copland, WME
Heartbound (Den-Neth-Swe) - dirs. Janus Metz, Sine Plambech
The director of Borg Vs McEnroe, last year's TIFF opening film, Metz returns to his documentary roots (he also helmed the Cannes Critics' Week winner Armadillo in 2010) with this collaboration with his wife, anthropologist and filmmaker Plambech (Trafficking, 2010). The film is the result of a decade-long study of cross-cultural marriages between Thai women and Danish fishermen in Jutland. The film follows four couples and their children.
Contact: Salma Abdalla, Autlook Filmsales
Maiden (UK) - dir. Alex Holmes
Holmes' last feature-length work was TV movie Coalition, depicting the forging of the Conservative-Liberal Democrat government following a hung parliament in the UK's 2010 general election. His previous documentary work includes 2014's Stop At Nothing: The Lance Armstrong Story. His new film chronicles the journey of Tracy Edwards, a 24-year-old cook on charter boats, who became the skipper of the first all-female sailing crew to enter the Whitbread Round The World Race in 1989. Victoria Gregory is the producer for New Black Films. UK distributor Dogwoof is planning an early 2019 release.
Contact: Dogwoof
Prosecuting Evil: The Extraordinary World Of Ben Ferencz (Can) - dir. Barry Avrich
Prolific documentarian Avrich returns to the festival with a portrait of the last surviving prosecutor from the Nuremberg trials, whose fight for justice for victims of atrocity is ongoing. The film is a Melbar Entertainment Group presentation in association with the Canadian Media Fund, Ontario Media Corporation, Rogers Documentary Fund and CBC. The film was produced with the assistance of the US Holocaust Memorial Museum and Ferencz International Justice Initiative.
Contact: Melbar Entertainment Group
Quincy (US) - dirs. Rashida Jones, Alan Hicks
Actress Jones co-directs this documentary about her legendary father with Hicks (Keep On Keepin' On). Their film looks at Quincy Jones' life and career through a combination of modern-day and archival footage, highlighting his musical evolution as a trumpeter, producer, conductor, composer and arranger. The film also documents his work as producer of films such as The Color Purple and composer for TV's Roots. After TIFF, the doc will launch on Netflix from September 21 and will also have a limited theatrical run.
Contact: Netflix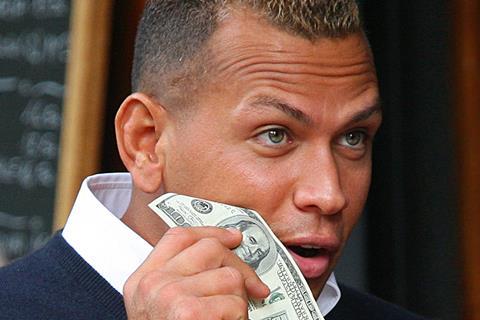 Screwball (US) - dir. Billy Corben
Cocaine Cowboys and The U director Corben tells another hot story from Miami — the Biogenesis steroid scandal, involving a fake doctor and his doping clients. The scandal rocked Major League Baseball in 2013 and led to the largest number of drug suspensions in professional sports history, notably New York Yankees superstar Alex Rodriguez. Corben's Miami-based company Rakontur produces.
Contact: Rakontur
This Changes Everything (US) - dir. Tom Donahue
Donahue has earned acclaim and toured the circuit with works that include Thank You For Your Service and Casting By. He follows up on the latter's Hollywood angle with a timely film about the systemic sexism that pervades Tinseltown. Providing insight are Geena Davis, Meryl Streep, Sandra Oh, Jessica Chastain and other ambassadors of the #TimesUp movement. Brooklyn-based Creative Chaos is behind the feature, as it was on Donahue's previous two, and champions stories that highlight injustice.
Contact: Jessica Lacy, ICM Partners
The Truth About Killer Robots (US) - dir. Maxim Pozdorovkin
In Our New President, which shared this year's Sundance world cinema documentary special jury prize, Pozdorovkin examined Donald Trump's presidential election through the eyes of Russian propaganda. His second film of the year is equally chilling, albeit on a far more existential scale, and chronicles cases where robots have caused human deaths as well as their subtler threats in an increasingly automated world. Pozdorovkin shot the film in the US, Japan, China and Germany.
Contact: Jennifer Bowen, HBO
Women Make Film: A New Road Movie Through Cinema (UK) - dir. Mark Cousins
Cousins is having a big year — after launching The Eyes Of Orson Welles in Cannes Classics, his Women Make Film: A New Road Movie Through Cinema comes to TIFF straight from a Venice Classics launch. The ambitious project will eventually become a 16-hour episodic opus, with TIFF screening the first four hours of the film, narrated by Tilda Swinton who is also an executive producer. John Archer from Hopscotch produces the project, which has been more than four years in the making.
Contact: Dogwoof
Further TIFF Docs titles
American Dharma (US, UK) - dir. Errol Morris
Carmine Street Guitars (Can) - dir. Ron Mann
Graves Without A Name (Fr, Cam) - dir. Rithy Panh
Maria By Callas (Fr) - dir. Tom Volf
Meeting Gorbachev (UK, US, Ger) - dirs. Werner Herzog, André Singer
Monrovia, Indiana (US) - dir. Frederick Wiseman
Putin's Witnesses (Lat, Switz, Cze) - dir. Vitaly Mansky
Reason (Ind) - dir. Anand Patwardhan
Searching For Ingmar Bergman (Ger, Fr) - dir. Margarethe von Trotta
Walking On Water (US) - dir. Andrey Paounov
What Is Democracy? (Can) - dir. Astra Taylor
When Arabs Danced (Bel) - dir. Jawad Rhalib
Profiles by Nikki Baughan, Ben Dalton, Charles Gant, Tom Grater, Elaine Guerini, Jeremy Kay, Lee Marshall, Wendy Mitchell, Jonathan Romney, Louise Tutt, Silvia Wong and Orlando Parfitt.
More Toronto previews: