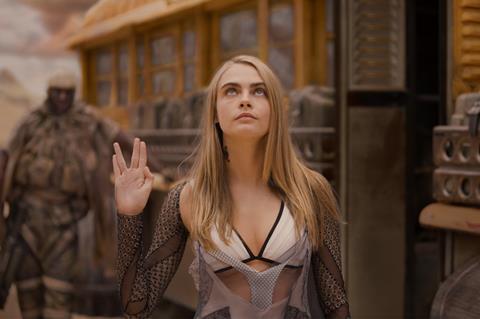 Luc Besson's sci-fi Valerian And The City Of A Thousand Planets was one of the surprise winners at the French box office in 2017, drawing four million spectators for a gross of $30.4m, making it the third-most-popular release of the year.
The picture's success at home bucked a worldwide trend, which saw the ambitious $180m production put in a lacklustre performance globally, to gross $225m overall, against $463m for Besson's last big production Lucy.
Its French performance will have been of some comfort to Besson and his team at EuropaCorp, which handled the release. But the production still failed to reach the heights of Besson's most successful French releases to date, The Big Blue, which generated nine million admissions, and The Fifth Element, which drew seven million spectators.
Valerian was eclipsed by another big French winner. Dany Boon — a decade after his record-smashing, breakthrough picture Welcome To The Sticks — keeps coming up with hits year after year. His latest comedy, Raid: Special Unit, in which he plays a macho police officer who is partnered with a hopeless female recruit, grossed $31.6m for Pathé, taking second place in the 2017 box office as of the end of November.
Hollywood hits
Overall, it was a fairly typical year at the French box office.
As has been increasingly the case over the past five years, the top 20 was dominated by US-made, family-oriented animated features, such as Despicable Me 3 (which was the year's top-grossing film), The Boss Baby and Sing, alongside mainstream French comedies and Hollywood franchises such as Pirates Of The Caribbean: Salazar's Revenge and Guardians Of The Galaxy Vol. 2.
Other successful French titles included Studiocanal's romantic comedy Alibi.com ($24.5m) by Philippe Lacheau, one of the co-creators of the hit Babysitting franchise, and C'est La Vie! (aka Le Sens De La Fete), a feel-good ensemble comedy drama revolving around a society wedding from Intouchables directors Éric Toledano and Olivier Nakache which grossed $21.9m for Gaumont.
It continues to be a tough time for arthouse releases, both local and international, as independent distributors fight for screens and audience attention in the digital age. There were a few bright spots, however, such as France's foreign-language Oscar submission BPM (Beats Per Minute), which has drawn more than 800,000 spectators to date to gross $6.1m for Memento Films Distribution.
On the basis of the National Cinema Centre's rolling tally, admissions look set to dip in 2017 after a record 2016. According to preliminary data released on November 3, there were 168.4 million admissions in the first 10 months of 2017, against 171.3 million for the same period in 2016, representing a 1.7% decline. On a rolling 12-month basis, admissions were down 1.3% to 210 million admissions, against 212 million entries in the same period year-on-year. French productions accounted for 36.3% of the market, which is little changed from 2016, against 51.2% for US productions and 13.4% for the rest of the world.
It remains to be seen what impact Star Wars: The Last Jedi has on the 2017 figures when it is released in France on December 13. While spin-off Rogue One: A Star Wars Story grossed $39m, predecessor chronicle title Star Wars: The Force Awakens managed $89m. It is likely to be a game-changer once again.
The top 25 films in France
Jan 4-Nov 28