Vue International CEO Tim Richards made waves with his open letter to Bafta after Netflix's big win with ROMA. Ahead of CinemaCon (April 1-4), the exhibition veteran talks about not being complacent, the company's flexible pricing structure and why he would love to screen Games Of Thrones in Vue cinemas.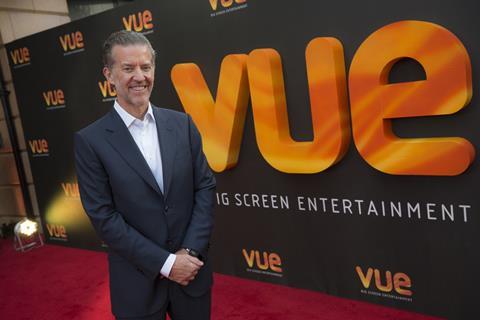 The exhibition industry is facing turbulent times, with the challenge of Netflix and the streamers, a tough 2018 for many European markets, and a slow start for 2019. The UK bucked the trend with 2018 posting the highest cinema admissions since 1970 — albeit combined with a decline in average ticket price fuelled by unlimited subscription models and some tactical discounting.
Vue Cinemas operates 286 cinemas across the UK, Ireland, Germany, Netherlands, Italy, Poland, Denmark, Latvia, Lithuania and Taiwan. It is the UK's third-biggest exhibitor and Canadian-born CEO and co-founder Tim Richards grabbed headlines when he wrote an open letter to Bafta chief executive Amanda Berry, protesting the inclusion of Netflix's "TV movie" ROMA at this year's Bafta Film Awards.
Attracting less publicity was a dispute in the UK where Universal initially held back on Mary Queen Of Scots to Vue cinemas — an outcome presumably linked to Vue's cheap ticket prices which are below $6.50 (£5) for 2D in Cardiff and Sheffield, and below $7.80 (£6) for 2D in many other locations including Birmingham, Carlisle, Darlington, Gateshead, Halifax and Hull.
Richards will discuss the industry's issues and concerns at this year's CinemaCon, joining a panel conversation titled 'The Times They Are (Rapidly) a Changin' — Don't Get Lost in the Shuffle'.
Screen: The average cinema ticket price in the UK went down in 2018, while investment in the exhibition sector continues apace, both in terms of technology and environment. After years of above-inflation price increases, are we now seeing a focus on offering consumers value for money?

Richards: Any industry that's complacent runs into trouble. No industry can stand still. There are certain technologies we introduced that have been game-changers — stadium seating. Recliner seats. You have to keep finding ways of investing and making the experience better. We've spent close to $9.1m [£7m] refurbishing the West End, and opened another half a dozen full recliner-seat cinemas.
And pricing?
We are not discounters. We do a lot of analysis about how we can get more people in to make more money for studios and us. We have a pricing team in each of our markets. Pricing has been front and centre for us for a long time. If you've gone to Westfield, you'd see a pricing board that still ranges from $2.90 (£2.25) to $30 (£23), depending on what you see, when you see it, where you see it, and whether you're seeing 2D/3D.
As an industry, we have been running at fairly high levels of ticket price inflation for the last 15 years. And we are constantly testing and trialling — we tested a few sites to see what would happen [with a lower ticket price], and we were surprised by the answer.
You are not tempted by the annual subscription model instead?
We don't like subscription services because they're not flexible. We like being able to turn things on and off when we can. This is not a company policy for every site. This is not a company policy that's going to be in place forever. This is simply us testing and trialling like we always do.
How are distributors reacting? Universal initially chose not to play Mary Queen Of Scots in Vue cinemas.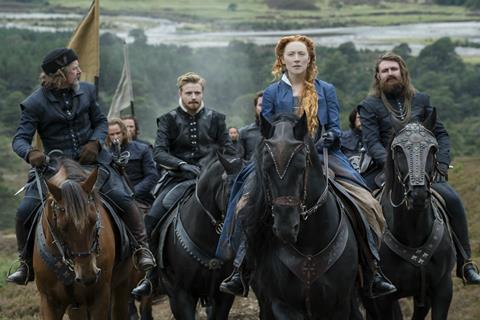 I can't comment on those discussions, but I will say that because we are a data-rich industry, we have shared that [data] with our studio partners, and we're doing this together. For us this is a way of growing the market. Again, this is not a long-term plan. This is part of our natural evolution of testing and trialling.
When Odeon upgrades its sites, it's doing many under a new brand, Luxe, and Showcase also has that policy. Are you tempted to do something similar on branding?
We have the youngest estate in the business. We have the highest proportion of stadium seating in the business, by far. Our view is that all of our cinemas are that quality — we don't need to distinguish between them.
What about the growing boutique space in the UK market? Cineworld bought Picturehouse; Everyman is expanding; Empire opened the Tivoli in Bath.
I think Cineworld has done a really great job with Picturehouse, and I like the way it has kept the brand and kept a separate film booker there. Would we look at that? Absolutely.
You wrote your open letter to Bafta. What is the response so far?
I'm a former council member of Bafta and have had a long relationship with it. We are about to enter into some very constructive discussions with Bafta, and I'm hopeful that we're going to come out with a positive outcome. With Netflix, there needs to be a proper dialogue with it. I want to discuss properly with the company that this is not cinema versus streaming, it's about the value of the theatrical window and what that brings.
There's a tried-and-tested model [theatrical windows] developed by some smart companies that works, and there is no scenario where someone like [Amazon CEO] Jeff Bezos would release his movies theatrically if he didn't think it made commercial sense. I think the future is going to be more vertical integration in the industry.
Between?
You're seeing it already. The studios have really turned off the taps to Netflix. You've got Disney, Comcast-Universal and AT&T-Time Warner who are all preparing their own platforms. If you are a content producer, why wouldn't you vertically integrate completely? There are a lot of rumours that some of these groups were looking at Regal Cinemas [in the US] for that exact reason, because if you are a producer of content, and you control the channels, then you can have a theatrical release, and then you can have it on your subscription service. At that point, the whole windows discussion is pretty much gone anyway, because you will monetise it the best way you think is appropriate. For Netflix, [a theatrical release would be] an incremental revenue stream that doesn't affect their subscription base. Why wouldn't you?
They don't want to wait 16 weeks to put the content on their platform.
But their content is rolling in every day, every week, every month.
With event cinema, multiplexes including Vue show one-off content that transfers to other platforms within the theatrical window. Is that consistent?
One-off events, we have no issue with at all. I would love to do Game Of Thrones — one a week. There's so much that we can do with Netflix and Amazon and others, and that's a discussion for the future.
Could windows get more flexible for non-blockbusters?
I would love to find a way to have a flexible window. I was appointed to the UK Film Policy Review [Group] that was chaired by Lord Smith, in the days of the UK Film Council. And we've had two follow-ups since then. I'm a governor of the BFI. I've worked with Creative Skillset [now ScreenSkills]. I worked at Film London. I love independent film, and I particularly support British films. I know the difficulties that they have getting their films onto our screens, and I would love to find a way to help them.
I also understand when our studio partners have invested a lot of money in a film and its marketing, and it doesn't deliver to their expectations, they want to get that product out faster. I get it. But we have to manage it, because I do believe that if windows were reduced dramatically, it would have a very serious impact on our business.
Cineworld has withdrawn support from Bafta. What was your reaction to that?
I think it's fair to say that every single major operator and most of the smaller operators are 100% behind Cineworld and Vue. And I think that's the part a lot of people, including Bafta, don't fully appreciate — that, yes, Vue and Cineworld wrote a letter, but the underlying support is there and some are grateful that larger exhibitors have raised their heads on this topic. I have had a number of supportive emails and calls since writing the letter.
Is the Living Wage a realistic goal for the UK exhibition industry?
For us, we have no zero-contract wages, and we are 100% compliant with all government statutory requirements.
Is the challenge here that cinema exhibition is labour-intensive, and wages are a big part of your cost base?
There's a couple of cinemas in Poland and one in Belgium with no staff. And when you go in, it leaves you very flat and very cold. The technology is there now to operate cinemas without anyone, with a combination of operating systems, seat sensors and so on. But I think the human element is very important. Operationally, we are in a people business. Consumers also don't like queuing, they like things as efficient as possible, and that's where technology can come in to help.
Disney is buying Fox, and we might see more consolidation within studios. How will that affect the relationship between distribution and exhibition?
Disney is, I think, our best partner. Disney is absolutely phenomenal at producing, marketing and promoting films. Having the Disney machine come in and do what it does so well I think is a net positive for our industry. I don't worry about the market share. Five years ago, 10 years ago, you didn't have Amazon, Apple and Netflix. You've got three of the biggest companies right now producing original content, and they want to come in. This is an industry that has an uncanny knack of attracting capital. STX came out of nowhere. I'm not worried about concentrations like that.
Distributors complain the UK is an expensive market: the revenue splits favour exhibitors more than in other countries. Is that situation stable or is there some movement in either direction?
We are in 10 countries, so I'd disagree with that [about the UK]. I think that, again, the biggest change in the last 10 years — the relationship with studios — has improved dramatically. You are always going to get a few speed bumps in any relationship, but overall it's as strong as it's ever been.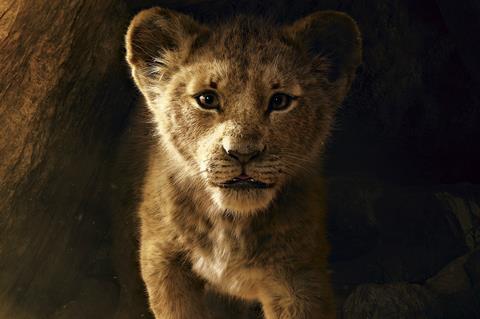 The year so far has been a big challenge for cinemas, with UK box office 24% down on 2018 for January and February. What happened?
The first quarter was disappointing, but there are some movies coming with big breakout potential. You are ending the year with the last Star Wars. It's going to be huge. If it's a good movie, it will be even bigger. The Lion King this summer — in all of our markets — is potentially one of the biggest movies ever. We're still very bullish on the year.
There is much talk within the industry that Vue intends either to float this year or invite a takeover bid offer from another company. Can you clarify Vue's aims for ownership of the company?
We are private equity-backed, so there will come a point in time when we will look at a possible exit with our financial partners. At which time we would consider all options available to us.