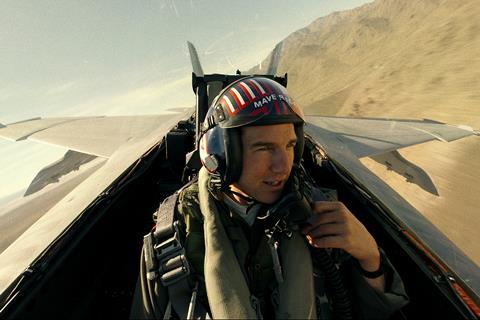 Andrea Riseborough's surprise best actress nod drew gasps, a female no-show in the directing category elicited inward groans (yet again), and the inclusion of a record four Asian acting nominees in Tuesday's Oscar nominations was cause for celebration.
However arguably the biggest nominations talking point in Hollywood this week is whether this year's crop featuring several box office titans can buck the trend of declining TV ratings when the 95th Academy Awards are handed out on March 12.
In light of Netflix securing live streaming rights to the 2024 Screen Actors Guild Awards and the fact that both last year's Oscars (16.6m) and this year's Golden Globes telecasts (6.3m) produced their second-lowest audiences ever, awards shows could use a relevancy boost if they want to hold on to their TV broadcast partners or face losing them to streaming platforms.
Could this year's crop of nominees provide that boost?
The best picture nominees are dominated by contenders from studios and theatrical distributors – nine out of 10 – with Netflix's All Quiet On The Western Front being the outlier. That's par for the course. What could make the 2023 Oscars matter more to the viewing public is the profile of the films. US viewers are likely to have seen at least half of the contenders in theatres, and Academy leadership and telecast producers hope they care enough to tune in.
Disney/20th Century Studios' Avatar: The Way Of Water (four nominations) and Paramount/Skydance's Top Gun: Maverick (six) are box office behemoths and combine for well over $1bn in North America (and more than $3.5bn worldwide), while Elvis (eight) has amassed more than $150m (and close to $300m globally). Everything Everywhere All At Once – which leads the pack on 11 nods – earned more than $70m and ranks as A24's highest-grossing global release ever on more than $100m.
Solid global box office performers The Banshees Of Inisherin (nine nods) and Palme d'Or winner Triangle Of Sadness (three) are still active in North America through Searchlight Pictures and Neon. At the other end of the spectrum Universal's The Fabelmans (seven) and Focus Features' Tár (six) on $15m and $5.9m, respectively, have disappointed – reflecting concerns over theatrical prospects for prestige films, let along smaller independent titles – however their storytelling merits are second to none and Steven Spielberg and Cate Blanchett remain heavyweight contenders.
Now is the time to capitalise on kudos and accordingly, nominees are getting re-releases and expanded screen counts. Elvis is returning to theatres in "select locations" this weekend through Warner Bros; Focus Features is expanding Tár into 535 sites, and UAR is expanding Women Talking (two nominations) from 59 markets to more than 150 and from 153 theatres to more than 700. At time of writing Sarah Polley's drama – the only best picture nominee directed by a woman this year – stood at less than $2m in North America although it opened in late December and plenty of theatrical life to go.
Key categories remain open races
Key categories are fairly open. Everything Everywhere All At Once has emerged as arguably the best picture frontrunner and its Academy fanbase is passionate – more so than that of The Fabelmans, which set the early pace from the moment it premiered at TIFF. Top Gun: Maverick is popular and Banshees too enjoys a large fanbase – especially among the British Isles voting block.
Netflix's German anti-war film All Quiet On The Western Front (nine nods) is benefitting from word of mouth as in-person campaigning and events returned this season. It's popular across the branches and members will be keen to catch it before final voting (March 2-7).
There's everything to play for, given the Academy's best picture preferential voting system. Members rank the ten contenders and the film that earns the fewest votes in each round is eliminated, whereupon the second-choice votes from those ballots are reallocated until one title gets more than half of the vote.
Of all the categories, Ke Huy Quan for Everything Everywhere All At Once is viewed as the clearest leader for male supporting actor. Jamie Lee Curtis and Stephanie Hsu from Everything Everywhere All At Once may cancel each other out in supporting actress, where Angela Bassett from the $451m North American box office smash Black Panther: Wakanda Forever (five nods) is the frontrunner and has been gaining momentum with Globes and Critics Choice wins.
Brendan Fraser for The Whale faces stiff competition in lead male actor from Golden Globe winners Colin Farrell for Banshees and Austin Butler for Elvis, and Living star Bill Nighy. The UK's Paul Mescal deserves huge praise for his performance in Aftersun, however he is not considered a likely winner this year.
Blanchett for Tár and Michelle Yeoh for Everything Everywhere All At Once are the lead actress frontrunners. This despite the remarkable ascent of Riseborough, whose performance as an alcoholic on the road to redemption in To Leslie has earned celebrity endorsement and stands to gain as voters seek it out before final polls close. It's earned $27,322 and US distributor Momentum Pictures is considering a re-release.