Miguel Gomes' three-volume epic wins eight on the closing night of the Sydney Film Festival.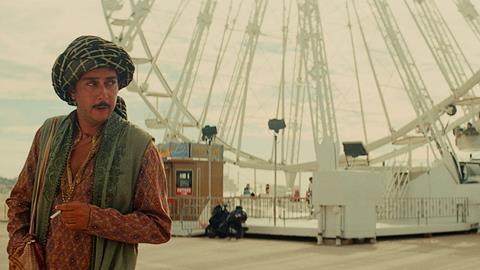 Director Miguel Gomes and his three-volume 383-minute film Arabian Nights has won the $48,000 (A$62,000) Sydney Film Prize, it was announced on Sunday, the closing night of the 62nd Sydney Film Festival.
Journalist Michael Ware was awarded the $7,730 (A$10,000) Documentary Australia Foundation Award for Australian Documentary for Only the Dead, about his experiences in Afghanistan. The film was co-directed with Bill Guttentag.
Director Andrew Lancaster's The Lost Aviator received a special mention for a family story of murder, love and aviation.
Jury president and Australian producer Liz Watts said Arabian Nights, which had its world premiere in Directors' Fortnight at Cannes, was a film of ambition and political vision which confronts, frustrates, and spellbinds – and ultimately reminds us that cinema continues to be a powerful vehicle to examine the human condition.
"A subject that is so timely – oppression and exploitation are at the heart of the film in its examination of a nation and people under extreme austerity measures," she said. "Ultimately the film reminds us that hope and endurance are fundamental to the human spirit."
The film draws on the structure of One Thousand and One Nights, the collection of stories and folk tales dating back centuries to pain a vivid portrait of contemporary Portugal.
As Gomes said in the film's voice over: "I thought I could make a fine film, filled with wonderful and seductive stories. At the same time, I thought the film could follow Portugal's current miserable situation. Any muttonhead understands that, more or less skillfully, one of these two films can be made. But it's impossible to make both at once."
Clearly he made something that impressed the Sydney Film Prize jury though, and those jury members, in addition to Watts, were Japanese program consultant Hiromi Aihara, Australian screenwriter Andrew Bovell, Thai filmmaker Pen-ek Ratanaruang and the Australian Film Commission's Martin Schweighofer.
"I am very happy with the prize," said Gomes in a statement. "Thank you Sydney, thank you Nashen (Sydney Film Festival director Nashen Moodley), thank you ladies and gentlemen from the jury! I have found out two major reasons for being honoured with such a prize: 1) it's easier to have prizes when you can afford to have three different screenings of your film! 2) I am now in Lapland, home of old good trustable… Santa Claus!"
It is the second time the Portuguese director has been in the running for the prize, which is now in its eighth year: Tabu was in competition in 2012. Gomes attended that year but not this.
The previous Sydney Film Prize winners are: Two Days, One Night (2014); Only God Forgives (2013); Alps (2012); A Separation (2011), which went on to win an Academy Award; Heartbeats (2010); Bronson (2009); and Hunger (2008).
He prize is judged on a film's "emotional power and resonance; audaciousness, cutting-edge, courageousness; and capacity to go beyond the usual treatment of the subject matter".
The Dendy Awards for Australian Short Films were also announced just before the world premiere of closing night film Holding The Man, directed by Australia's Neil Armfield and out of the Goalpost Films stable.
A Single Body, directed and written by Sotiris Dounoukos, won the live action short category; Grace Under Water, directed and produced by Anthony Lawrence, won the Yoram Gross animation award; and Brooke Goldfinch won the Rouben Mamoulian Award for best director for her work on Red Rover, with Ryan Griffen getting a special mention for You Turn. The Event Cinema Australian Short Screenplay Award was awarded to Bluey, written and directed by Darlene Johnson.