The winners have been announced at the 70th Edinburgh International Film Festival.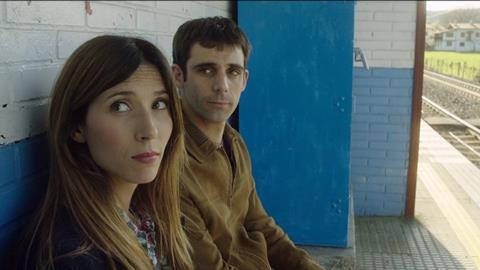 The festival's top prizes were awarded to Ben Sharrock's Pikadero (UK-Spain), which took the Michael Powell Award for Best British Feature Film, Argyris Papadimitropoulos's Suntan (Greece) which won Best International Feature Film, and Johan Grimonprez's Shadow World (US), which won Best Documentary Feature Film.
The Michael Powell jury, which included actress Kim Cattrall, Spanish filmmaker Iciar Bollain and actor Clancy Brown, also gave a special mention to Mercedes Grower's Brakes.
On their selection of Scottish film-maker Sharrock's Basque-language debut about a young Spanish couple's attempt to navigate their country's economic crisis, the Michael Powell jury said: "We wanted to recognise the very personal and individual voice on director Ben Sharrock for his film Pikadero. In a year when the jury viewed a selection of very distinctive and different films, his film really stood out."
On handing their award to Suntan, which premiered at Rotterdam and follows a Greek doctor's descent into destructive obsession over one hedonistic summer on the island of Antiparos, the International jury – Sadie Frost, Angus Macfadyen and Screen International editor Matt Mueller, said: "While there were many outstanding films in our section, Suntan is the title that resonated with us.
"It's a compelling and unflinching portrait of one man's journey from infatuation to desperation, marked out by a truly great performance from its lead actor Makis Papadimitriou."
The documentary jury, which included veteran producer Steve Abbott, actor Dougray Scott and distribution, marketing and festival consultant Tejinder Jouhal, described Grimonprez's investigation into the international arms trade, as "the clear winner".
"Shadow World is an extraordinary film: a powerful, poignant and provocative documentary," they said. "Director Johan Grimonprez and writer Andrew Feinstein pose the essential question: will we be allowed to choose peace over the business of war?"
The award for Best Performance in a British Feature Film went to Catrin Stewart for her role as twin sisters and librarians who set out to avenge their mother's death in The Library Suicides. Special mention was given to David Sillars for his role in Seat In Shadow.
Calling Stewart's performance "striking", the Michael Powell jury said: "The complexities and subtleties of playing twin characters is challenging and she managed to achieve the rare feat of making each of the two roles she played truly distinctive."
Before Love by Igor Kovalyov won the award for Best Short Film in the shorts category. The film played in the international animation section. The Short Film jury, which included producer Rebecca Mark-Lawson, Bankside Films' Hilary Davis and film-maker Ashley Horner, also gave a special mention to Gavin Scott Whitfield's Murderous Injustice.
The short jury's citation said: "Before Love stood out to the jury because the director gave us a unique cinematic experience. Beautiful and stylish animation explored a bizarre love triangle with a fascinating female lead."
Film Republic have world rights to Pikadero, while Suntan is being sold by Visit Films and Shadow World by Wide House.
The winner of the festival's audience award will be announced at the closing night ceremony on June 26.
Full list of winners
Michael Powell award for Best British Feature Film
Pikadero (dir. Ben Sharrock)
Special mention: Brakes (dir. Mercedes Grower)
Best International Feature Film
Suntan (dir. Argyris Papadimitropoulos)
Best Documentary Feature Film
Shadow World (dir. Johan Grimonprez)
Best performance in a British feature film
Catrin Stewart in The Library Suicides (dir. Euros Lyn)
Special mention: David Sillars in Seat In Shadow (dir. Henry Coombes)
Best Short Film
Before Love (dir. Igor Kovalyov)
Special mention: Murderous Injustice (dir. Gavin Scott Whitfield)