Documentary from filmmaker Laura Poitras, who met Snowden and reported on NSA leaks, to receive UK premiere in London.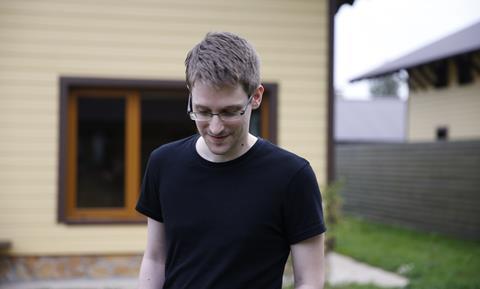 Citizenfour, Laura Poitras' previously top secret documentary about Edward Snowden and the NSA, is to receive its UK premiere at the 58th BFI London Film Festival (Oct 8-19).
The film, executive produced by Steven Soderbergh, will screen as a Documentary Special Presentation at this year's LFF, screening on Oct 17 and Oct 18 - just a week after its world premiere at the New York Film Festival, announced yesterday.
Citizenfour is described as a docu-thriller that resulted from a series of interviews conducted in Hong Kong by Poitras and journalist Glenn Greenwald with Snowden, the former NSA contractor whose leaks shed light on covert surveillance operations by US intelligence agencies.
The title derives from the name Snowden used to identify himself in a series of encrypted e-mails sent to Poitras in 2013, who at the time was working on a film about abuses of national security in post-9/11.
It marks the final film in Poitras' 9/11 trilogy after My Country, My Country and The Oath.
Citizenfour was edited by Mathilde Bonnefoy (Run Lola Run)
Clare Stewart, BFI London Film Festival director, described the documentary as a "bitingly relevant film that speaks to the political consciousness of our times".
"Laura Poitras has built a body of work that balances political urgency with striking filmmaking and she demonstrates that again with the hugely significant Citizenfour," added Stewart.
Citizenfour is a Praxis Films feature presented by BRITDOC and Artificial Eye in association with Bertha Foundation and Channel 4.
Producers are Laura Poitras, Mathilde Bonnefoy and Dirk Wilutzky. Executive producers are Steven Soderbergh, David Menschel, Jeff Skoll, Diane Weyermann, and Sheila Nevins.
It was filmed by Laura Poitras, Kirsten Johnson, Katy Scoggin and Trevor Paglen.
Support came from Bertha / BRITDOC, Vital Projects Fund, Sundance Institute Documentary Fund, Channel 4, Cinereach, Deutsche Film Förderfonds (DFFF), Participant Media, Ford Foundation, Nord Deutscher Rundfunk (NDR) / Bayrischer Rundfunk (BR).
The film will be co-distributed in the UK by Artificial Eye and BRITDOC Foundation and is set for theatrical release on Oct 31 as a Film4 co-production.
UK broadcaster Channel 4 will play the film in early 2015.