As Sarajevo Film Festival (Aug 16-24) prepares to receive more than 1,500 industry attendees, its organisers tell Michael Rosser it promises to be 'a vintage year'.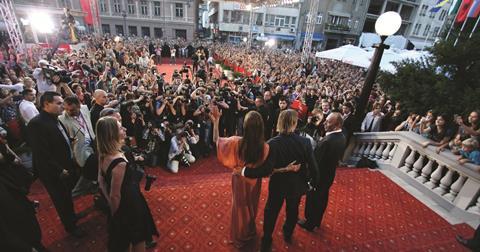 Mirsad Purivatra has battled tough economic conditions as festival director of the 19th Sarajevo Film Festival, preparing an event that promises to honour the past, celebrate the present and create fresh opportunities in the future.
"Considering the titles we've confirmed so far, it might actually be a vintage year," he says. "However, the miserable state of the Bosnian economy has affected preparations and this will be yet another edition of the festival hit by government cuts and reduced marketing spend from the private sector. But thanks to the enormous enthusiasm from our audience, film-makers and organisers, we're certain this will not affect the overall look and feel of the festival."
Danis Tanovic's An Episode In The Life Of An Iron Picker, which won two Silver Bears at Berlin in February, will open the festival, which runs from August 16-24.
Tanovic, the Bosnian director behind 2001 Oscar winner No Man's Land, will also be president of the Competition jury.
The festival is lining up around 20 world premieres as well as numerous international and regional premieres in its competitive sections, with the Heart of Sarajevo awards rewarding the best feature, actor, actress, short and documentary with cash prizes.
Sarajevo programmer Elma Tataragic says this year has so far been positive for cinema in south-east Europe.
"There was a very strong presence of films from this part of the world in the Berlinale, a fact that will be mostly reflected in our Focus programmes," she says.
"Almost no films from the region were selected in Cannes, which actually leaves us with plenty of great new titles to choose from. Many film-makers are repeatedly choosing Sarajevo as the festival launch platform for their films."
The festival will honour Romanian director Cristi Puiu with a five-day programme including his most recent film, Three Exercises Of Interpretation.
The industry side of the festival is also growing. CineLink, its development and financing platform, continues to provide the backbone of the industry section, featuring projects from south-east Europe suited for co-production.
The average conversion rate of selected projects from development to production stands at 60% over the past decade and CineLink also offers an awards fund in excess of $215,000 (€160,000) in cash and services.
Jovan Marjanovic, SFF's head of industry, says: "It is a blend of projects from established authors and promising first-time film-makers, ensuring CineLink stays fresh and injects newcomers into the industry while remaining relevant to established businesses."
He adds that CineLink's Work in Progress section is where the biggest growth is being experienced. "We have opened it up for projects outside south-east Europe, more specifically to projects in northern Africa, the Middle East and Central Asia."
This year's Regional Forum will focus on the notion of reciprocity in public film funding in south-east Europe; festivals and their impact on local economies; and strengthening the supply chain for quality cinema in the region.
Holy Motors director Leos Carax - "an early supporter of our festival," says Purivatra - will open this year's Talent Campus, now in its seventh year.
A new space will be introduced this year named the Regional Forum Terrace, which will function as a business, meeting and social area during the three industry days, where Sarajevo staff will act as matchmakers to encourage the use of production services in the region.
Other industry strands include the DOCU Rough Cut Boutique, which teams film-makers behind five projects at rough-cut stage with international documentary experts for intensive editing sessions; the Minimarket, which promotes short films; and Operation Kino, selecting 15 features to tour towns that are underexposed to quality content on the big screen.
The festival will also celebrate the 20th anniversary of the so-called first 'war cinema' in town, an act of cultural resistance during the siege of Sarajevo.
Going into the latest edition, Purivatra says the experience cannot be compared to the first in 1995, when the siege continued to rage - but the same values persist.
"The festival is as subversive as it was back then, only the circumstances have changed," he says. "The films we champion today continue to act as a resistance to the oppressions we face - political, commercial and social."