Germany's Burhan Qurbani wins best director prize for We Are Strong. We Are Young.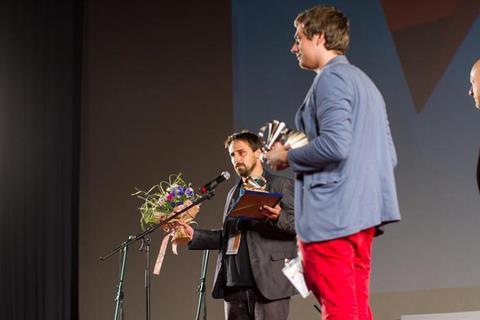 Gábor Reisz's slacker comedy For Some Inexplicable Reason won the Grand Prix winner at the 6th edition of the VOICES festival for young European cinema in the Russian provincial town of Vologda on Sunday evening (July 5).
Reisz's debut had its world premiere in the East of the West competition at the Karlovy Vary International Film Festival last year and is handled internationally by Alpha Violet.
The award was the film's ninth trophy after prizes at festivals in Turin and Sofia, among others.
Speaking to ScreenDaily in Vologda, Reisz said that his film's lead actor - fellow directing student Áron Ferenczik - had been overhelmed by the attention given to him for his acting turn as the slacker Áron, but is now preparing to direct a TV movie.
Reisz, meanwhile, is participating in the Cinéfondation residency in Paris and will be attending the Locarno Film Festival next month.
Although he finds humour in every story, he plans to move away from the comedy genre for his second feature which he is developing at the residency and will be ¨a very personal film based on my teenage experiences.¨
Other awards
The International Jury headed by French director Gérard Krawczyk and including Georgian director Nana Djorjadze, Russian film critic Sergey Sholokhov and Russian film historian Naum Kleiman decided unanimously to award the Best Director prize to Germany's Burhan Qurbani's We Are Strong. We Are Young.
The jury said that they had been particularly impressed by Qurbani's skilled handling of the crowd scenes for the drama set in a Rostock suburb in the summer of 1992.
The Best Acting Award went to Carmina Barrios in Paco Leon's comedy Carmina y Amén, while a Jury Special Diploma was presented to Serbia's Darko Lungolov for the screenplay of his drama Monument To Michael Jackson.
The jury decided to give a second Special Diploma to the two young actors Gleb Kalyuzhny and Uljana Vaskovich in Andrey Zaitsev's melodrama 14+ which was also chosen by VOICES' festival-goers as the winner of this year's Audience Award.
14+ , which premiered in the Berlinale's Generation 14plus in February, also won the Audience Award at the Kinotavr ¨Open Russian¨ Film Festival in Sochi last month.
Speaking at the beginning of the awards ceremony, jury president Krawczyk praised the "exceptional quality" of the competition selection and revealed that there had been a "very heated discussion" with his jury colleagues before the winners were decided.
This year's edition of VOICES opened with Emanuelle Bercot's La Tete Haute (Standing Tall) which had also been the film to kick off the Cannes Film Festival in May.
In addition, Cannes' festival director Thierry Fremaux sent a special video message to wish the young festival all the best.
The sixth edition was closed by Alexey German Jr.'s Berlinale Competition film Under Electric Clouds, a former Screen International Best Pitch Award winner at Tallinn's Baltic Event, which was introduced by the film's producer Artem Vasiliev.
International guests at this year's event included filmmakers Laura Bispuri (Sworn Virgin), French director Louis Beaudemont who is currently developing the documentary Soviet Groove (pitched at the Moscow Business Square last year), veteran Polish director-producer Krzysztof Zanussi, and French musician-producer Steph Gotkovsky.
Kleiman talk
During a workshop given by Naum Kleiman, the internationally venerated film historian and Eisenstein expert called on Vologda Region to establish its own cinematheque to give the young generation of cinema-goers to have access to wealth of Russian and world cinema heritage.
Kleiman mentioned that he had spoken to Vologda Region's Governor about this idea and suggested that they follow the example of the city of Perm which had now opened its own cinematheque.
Talking about the Russian Federation's Ministry of Culture, Kleiman said that this was a place ¨where the people have nothing to do with culture¨. He stressed that he wouldn't be asking ¨for a single penny¨ from the Ministry when making plans to establish an Eisenstein Centre or a website dedicated to the life and works of Sergey Eisenstein so as to avoid any ministerial interference.
This December will see the 90th anniversary of the relese of the classic film Battleship Potemkin and next January will mark the 70th anniversary of Eisenstein's Ivan The Terrible being premiered.
New German project
Artem Vasiliev confirmed to Screen Daily that preparations are now afoot for another collaboration with Under Electric Clouds director Alexey German, Jr on a new project entitled Dovlatov.
Set in Leningrad in November 1971 over a few days before the celebration of 1917's Russian Revolution, the drama will focus on the acclaied writer Sergey Dovlatov and the circles he moved in in the city's cultural scene.
Dovlatov left the Soviet Union in 1978 for a life in the USA after enduring the pressure of having everything he wrote being labelled 'ideologically hostile' and not managing to get any of his works published in the USSR.
He died at the age of 48 in 1990 after starting a successful career as a writer in the US exile, and saw his works beginning to be published in Russia a year before his death.
According to Vasiliev, this new film project could see an application being made to Eurimages and the Polish producer Dariusz Jablonski (Apple Film Production) serving again as a co-producer after their successful collaboration on Under Electric Clouds.
OTHER NEWS
Filmfest München 2015: FIPRESCI premiere
A FIPRESCI International Critics Prize was presented for the first time this year at the Filmfest München, the winner being one of the films screening in the New German Cinema sidebar.
A jury of international critics Carmen Gray (UK), Beat Glur (Switzerland) and Nachum Mochiach (Israel) chose Schau mich nicht so by the film's Mongolian-born writer-director, editor and main actress Uisenma Borchu.
In their motivation, the critics spoke of ¨a daring, unsentimental and unpredictable film¨ which presents ¨a unique, uncompromising vision of cultural and generational collision."
Other awards
Munich's Filmfest may not have an official competition section, but the awards nevertheless came thick and fast over the festival's 10 days, with no less than 14 awards being presented by the festival, various institutions or industry partners.
Kosovo-born Visar Morina was the big winner at this year's German Cinema New Talent Awards by picking up the honours for director, screenplay and actors (shared ex aequo by Astrit Kabashi and Val Maloku) for his debut feature Babai which also received the One Future Prize..
The award for best production went to Steve Hudson and Sonja Ewers for Franz Müller's Happy Hour.
Canadian filmmaker Andrew Cividino took home the CineVision Award for the best international newcomer for his coming of age drama Sleeping Giant, while there was an unanimous decision by the jury of the ARRI/Osram Award for the best foreign film in the Cinemasters competition to choose Pedro Costa's Cavalo Dinheiro for ¨his audacious, unflinching and compelling filmmaking
The Cuvillies Theatre in Munich's Residence was the setting for the presentation of the German Cinema Award for Peace - The Bridge administered by the Bernhard Wicki Foundation in memory of the late German director.
The International Main Prize went to Abderrahmane Sissako's Timbuktu, while Oliver Hirschbiegel received the National Main Prize for 13 Minutes about Georg Elser's failed assassination attempt on Adolf Hitler, and the New Talent Prize was presented to Burhan Qurbani for his second featureWe Are Young. We Are Strong., which also won Best Director three days later at VOICES in Russia.
A Special Prize went to Finnish director Klaus Harö's The Fencer which was co-produced by local Munich company Kick Film.
CineMerit Award
The festival's own CineMerit Award - in recognition of special achievements in the field of cinema - went to Rupert Everett and Jean-Jacques Annaud.
Everett was also in Munich to present his latest film A Royal Night Out - opening in Germany on October 1, 2015 via Concorde Film - and make further preparations for his next directorial outing, the Oscar Wilde biopic The Happy Prince, which is set to start shooting next May at locations including Bavaria where he has already received funding from the FFF Bayern regional fund.
Meanwhile, the hands of the veteran French director Annaud were still warm from clasping the honorary St. George Lifetime Achievement Award at last week's Moscow International Film Festival when he then travelled on to Munich to present his latest film Wolf Totem and pick up one of 2015's CineMerit Awards.