The 17th Jeonju International Film Festival (JIFF) saw its Grand Prize in the International Competition go to Elite Zexer's Israeli film Sand Storm today (May 5).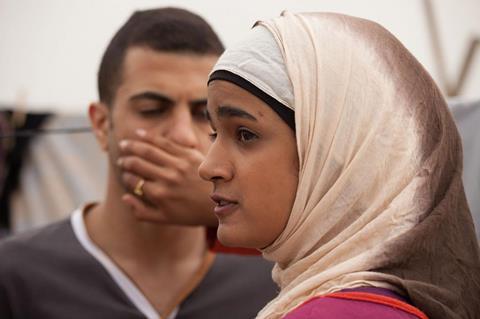 Scroll down for full list of winners
Set in a Bedouin village, the film deals with the conflict between tradition and modern values in the family as the mother prepares her husband's wedding to a second wife and the daughter has a forbidden relationship with a boy from the next village. The award comes with a prize of KW20m ($17,140).
International Competition jury member Jean-Francois Rauger said: "We wish to see more directors putting their efforts observing phases of society."
Best Picture Prize ($10,000) for International Competition went to Ted Fendt's Short Stay, which follows an everyday man who moves to Philadelphia to run his friend's walking tour company.
The Special Jury Prize, which comes with KW7m ($6,000), went to Emir Baigazin's The Wounded Angel, which follows a group of teenagers in Kazakhstan in the 1990s.
In the Korean Competition, the Grand Prize, which comes with KW10m ($8,570), went ex aequo to Lee Hyunju's Our Love Story and Ko Bongsoo's Delta Boys. The latter also picked up the CGV Arthouse Upcoming Project Support Prize, which comes with KW10m ($8,570) for the winning director's next project.
Koh Heeyoung's documentary on Jeju Island free-diving women, Breathing Underwater, garnered a special mention as well as the CGV Arthouse Distribution Support Prize which comes with worth of P&A support, two weeks of commercial release and an additional KW10m ($8,570) cash prize.
One of the top buzz films of the festival, Choi Seung-ho's controversial Spy Nation - about the National Intelligence Service's involvement in the prosecution of a civil servant for espionage in South Korea - picked up the Documentary Prize as well as the NETPAC award.
JIFF executive programmer Kim Young-jin said of the film, which has been lauded for its journalistic methods: "I hope that films that pay attention to the true power of journalism, which is getting diminished more and more [these days], will be able to meet with more people and more theatres through the Jeonju film festival."
Having opened on April 28 with the Chet Baker drama Born To Be Blue, by May 1 the festival had a record 106 sold-out screenings - including for the Dongju; The Portrait Of A Poet, directed by Lee Joon-ik, which had a 2,000-seat outdoor screening.
JIFF held the Jeonju Project Market (JPM) May 1-4 with Kim Yang-hee's The Poet's Love taking the Feature Film Pitching Grand Prize. Click here for full JPM awards and a mid-festival low-down.
With two more days to go, the festival is set to close with Ryoo Seung-wan's Die Bad: Digital Remastering screening outdoors on May 7.
Full awards list
International Competition
Grand Prize: Sand Storm (Israel) dir. Elite Zexer
Best Picture Prize: Short Stay (US) Ted Fendt
Special Jury Prize: The Wounded Angel (Kazakhstan-France-Germany) dir. Emir Baigazin
Special Mention: Dead Slow Ahead (Spain-France) Mauro Herce
Korean Competition
Grand Prize ex aequo: Our Love Story, dir. Lee Hyunju / Delta Boys, dir. Ko Bongsoo
Special Mention: Breathing Underwater dir. Koh Heeyoung
CGV Arthouse Upcoming Project Support Prize: Delta Boys, dir. Ko Bongsoo
CGV Arthouse Distribution Support Prize: Breathing Underwater, dir. Koh Heeyoung
Documentary Prize
Spy Nation (Korea) dir. Choi Seungho
NETPAC Award
Spy Nation (Korea) dir. Choi Seungho
Korean Competition for Shorts
Grand Prize: Summer Night, dir. Lee Jiwon
Best Director Prize: Cyclical Night, dir. Paik Jongkwan
Special Jury Prize: Deer Flower, dir. Kim Kangmin
Rising Director of the Year
Rising Actor of the Year