Palm Springs Film Festival will showcase a wealth of new international titles by emerging directors, as well as films in the running for the foreign-language Oscar.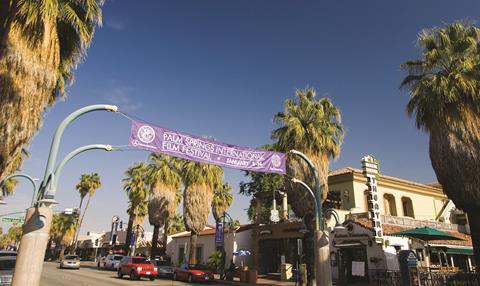 The reputation of Palm Springs International Film Festival (Jan 1-11) as a treasure trove of foreign-language cinema is well established. The festival's 27th edition boasts a typically comprehensive selection of films vying for Oscar glory this season.
Laszlo Nemes' Hungarian drama Son Of Saul, Anna Muylaert's Brazilian social comedy The Second Mother and Deniz Gamze Ergüven's acclaimed Mustang from France are among the 40 films in the running for the best foreign-language Oscar that will screen at the festival. That's nearly half the number of the 81 national submissions, and the most screened by any festival anywhere.
In addition, festival director Darryl Macdonald, artistic director Helen Du Toit and their team of programmers pride themselves on championing emerging talent. Beyond the foreign-language Oscar contenders, the New Voices/New Visions line-up promises to uncover some of the most dynamic young international film-makers at work today. Some, such as Canadian director Andrew Cividino's Cannes Critics' Week selection Sleeping Giant, have already made waves on the festival circuit.
Then there are those a little further towards the 'undiscovered gems' end of the spectrum. "Interruption [a Greece-Croatia co-production, directed by Yorgos Zois] is phenomenally interesting," says Du Toit, who adds that she is thrilled about the line-up at this year's festival.
"There are so many layers. You keep thinking you know what's going on and it turns around and around. There's also A Heavy Heart by Thomas Stuber, which is a beautifully crafted film. The performance by the lead actor is heart-breaking."
Du Toit also points to Thithi by Indian director Raam Reddy as one to watch. "It has a sweet, low-key vibe and it's endlessly endearing," she says. "Raam is one of the most interesting new directors out of India. Some films travel well but play into this cliché about India, whereas this is a beautiful, small character piece. It's unlike the multitude of films I see coming out of India."
The criteria for inclusion in the New Voices/New Visions strand requires the entries to have not previously played for a public audience in the US. This year 12 films have been selected, two more than usual.
David Oyelowo stars in Maris Curran's Five Nights In Maine, as a man whose wife has died in an accident. Banat, by Italian director Adriano Valerio, is about unexpected love between old and new tenants in an apartment block.
Rounding out the programme are Xavier Seron's Death By Death (Belgium-France); Andrew Steggall's mother-son drama Departure (UK-France); Home Care (Czech Republic-Slovakia) from Slavek Horak; Let Them Come (Algeria-France) by Salem Brahimi; Raf Reyntjens' Paradise Trips (Belgium-Croatia) and Our Everyday Life (Bosnia & Herzegovina-Slovenia-Croatia) from Ines Tanovic.
The festival has a strong focus on UK films this year with a confluence of titles playing across the programme.
"Cemetery Of Splendour [produced by the UK's Simon Field] and Sunset Song are in Modern Masters, Asif Kapadia is taking part in Talking Pictures and Gavin Hood will introduce Eye In The Sky," says Du Toit.
"The Lady In The Van and Radiator are playing, while all four titles in the 'book-to-screen' symposium are UK co-productions [Carol, Black Mass co-produced by Head Gear Films, The Danish Girl and Far From The Madding Crowd]."
In the 13 years since Macdonald took over at the festival, the audience has grown by 150%. "Our aim remains the same," he says. "To grow the audience and the appetite for international cinema in the US. And to help foster the careers of gifted young film-makers in the process."