World premieres include closing film The Chosen: Forbidden Cave from Kim Hui; competition line-up includes Coin Locker Girl, which played in Cannes Critics' Week.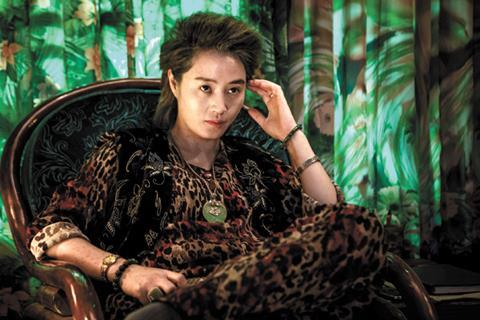 In South Korea, the 19th Bucheon International Film Festival (BiFan) unveiled its line-up today with a record 64 world premieres. The fest has selected 235 films from 45 countries, with 14 international premieres.
World premieres include closing film The Chosen: Forbidden Cave, a Korean shamanist horror film which is the sophomore feature from The Neighbors director Kim Hui; Bucheon Choice: Feature competition film The Tattooist, a Korean thriller directed by Lee Suh; and Sion Sono's Tag, which is part of a special retrospective on the Japanese director and also in The Masters section.
International premieres include Chung Lee's Taiwanese film The Laundryman, a previous participant at BiFan's Network of Asian Fantastic Films (NAFF) It Project market and competing in the Bucheon Choice: Feature section; and Hong Kong director Derek Kwok's action film Full Strike as well as Alec Gills' US sci-fi film Harbinger Down, both in the World Fantastic Cinema section.
BiFan will open July 16 with the Asian premiere of Antoine Bardou-Jacquet's English-language comedy Moonwalkers from France starring Ron Perlman (Hellboy) and Rupert Grint (Harry Potter).
The fest will hold its closing ceremony July 24 with encore screenings July 25-26.
Festival director Kim Young Bin said, "Recently, various domestic environments have not quite been favorable for opening international film festivals. Despite that, the significance of the existence of art, including cinema, is absolute.
"This is actually a time when the need for cinema, which contributes to global understanding and the refinement of public sentiment, it more urgent. We at BiFan have been preparing to make this a festival that makes productive enjoyment - which is also our reason for existence – possible."
Addressing concerns over Mers, Kim said that BiFan would likely have to take into consideration the government's position, due for an announcement on July 24 or 25.
"We won't not be able to open the festival, but I will say that there is room for the possibility it might change in shape," he said.
As of today (June 16), Yonhap news agency reports 19 Mers patients dead (with an average age of 68.1), 118 patients in treatment (with an average age of 55.6) and 17 who have been discharged (with an average age of 49.9).
Kim said, "As an international event, we need to handle this proactively. We will find a way to strike a medium so that this harvest we have been preparing for a year doesn't come to naught."
Special programmes this year include ones focusing on Korean independent genre films, Mexican genre films, Korean Academy of Film Arts (KAFA) 3D films, and a retrospective on Hong Kong actor/director Simon Yam (Eye In The Sky).
The BiFan Discovery section will showcase four previous NAFF It Project selections including Haruko's Paranormal Laboratory, directed by Lisa Takeba, and Afterimages, directed by Tony Kerns.
Bucheon Choice
Feature competition line-up
Coin Locker Girl (S Kor) Han Jun-hee
Death In Buenos Aires (Arg) Natalie Meta
Extraordinary Tales (Lux-US-Spa-Bel) Raul Garcia
Honeymoon (Mex) Diego Cohen
House Of Shadows (Ita-Ire) Rossella De Venuto
The Laundryman (Tai) Chung Lee (IP)
The Master Plan (Swe) Alain Darbourg
The Photographer (Pol) Waldemar Krzystek
Port Of Call (HK) Philip Yung
Rolling (Jap) Tominaga Masanori (IP)
The Tattooist (S Kor) Lee Suh (WP)
Turbo Kid (NZ-Can) Francois Simard, Anouk Whissell, Yoann-Karl Whissell