Asian premiere for Vincent Cassel feature at new 4,000-seat stadium.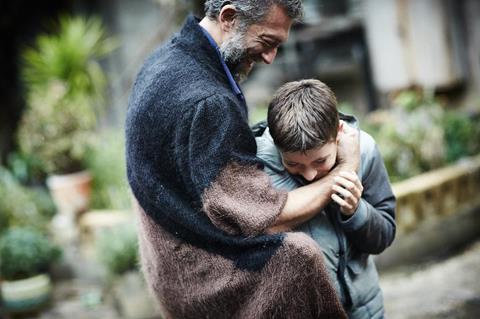 The 16th Jeonju International Film Festival (JIFF) opened today (April 30) at a new venue - the 4,000-seat outdoor screening area in Jeonju Stadium - with a star-studded red carpet, screaming fans, fireworks, K-pop performances and Ariel Kleiman's Sundance buzz film Partisan featuring Vincent Cassel.
The Australian director was on hand to present the Opening Film with young star Jeremy Chabriel and co-screenwriter Sarah Cyngler.
"I can honestly say when we were making the film in Melbourne, Australia, we never thought we'd be showing it in a stadium full of people," said Kleiman. "So thank you to the festival and to the city for inviting us. I'm told Jeonju is known for its independent and free-thinking people, so I think it's perfect for this film
"It's a bit overwhelming after all the fireworks and musical performances – it's a hard act to follow, but I doubt we'll ever have as cool a screening as this again."
Looking out at the audience from the stage earlier in the night, international competition jury member and Greek actor Vangelis Mourikis said: "It's so overwhelming to see so many people attending this festival. It's so good, so good. Sometimes you go to festivals and see not so much dynamism – so it's great here."
His fellow jury members - Korean-Chinese director Zhang Lu, Austrian director Jessica Hausner, Korean actress and budding director Moon So-ri and BFI London Film Festival programmer Kate Taylor - were also on stage.
Other juries included the Korean Feature Competition jury, comprising British critic Tony Rayns, Korean director Kim Sung-ho and Mar del Plata film festival programmer Marcelo Alderete.
JIFF festival director Ko Suk-man, on opening the fest, emphasized the organization's focus on arthouse films, cinematology, the expansion of independent film theatres, and production and distribution systems.
The three Jeonju Cinema Project films - Kim Heejung's Snow Paths, Lee Hyun-jung's Samnye and Benjamin Naishtat's El Movimiento - that the festival produced this year will make their world premieres over the next two days.
The fest runs until May 9 with the closing awards ceremony on May 6.