Documentary festival will also give audiences chance to "virtually" converse with a Holocaust survivor.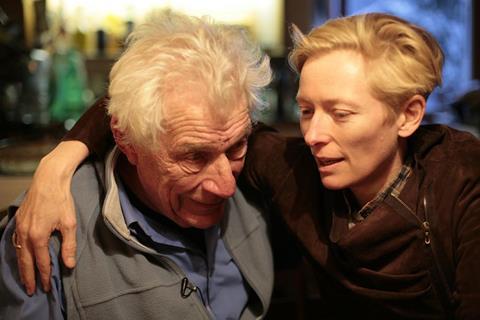 Sheffield Doc/Fest (June 10-15) has revealed that actress Tilda Swinton with co-director Bartek Dziadosz are to close this year's festival with the UK premiere of The Seasons In Quincy: Four Portraits Of John Berger.
The documentary, which received its world premiere at the Berlinale in February, portrays John Berger, the UK writer, art critic, painter and poet whose novel G. won the 1972 Booker Prize. The film is divided into four chapters, each focusing on a different aspect of his life and work.
It will close the festival on June 15 and the screening will be followed by a Q&A with Swinton and Dziadosz.
Holocaust survivor
Doc/Fest also announced a groundbreaking experience for its audience, offering a "virtual encounter" with a recorded image of a survivor of the Holocaust, who responds in real time, powered by complex algorithms that provide a realistic conversation.
It will form part of its Alternate Realities Summit and Exhibition, which includes a talk and demonstration from Dr Stephen Smith, executive director of USC Shoah Foundation, who will showcase the New Dimensions in Testimony software.
The Doc/Fest audience will be the first in Europe to "virtually" meet Pinchas Gutter, one of the 53,000 survivors and witnesses of the Holocaust whose testimonies live in the Visual History Archive and is one of a dozen survivors who have volunteered to participate in the project.
The audience will get an opportunity to pose questions to the filmed, life-size image of Pinchas, asking him questions in their own words and hear his responses.
Dr Smith will discuss how he and his team collect and compiling the audio and visual data for this project, which they anticipate will transform classrooms, museums and archives of the future.
Dr Smith will also participate on a panel focusing on Innovation in Archive, as part of a programme focusing on screen heritage.
O'Sullivan and Puttnam
Doc/Fest also announced that world snooker champion Ronnie O'Sullivan would attend the festival to reveal the documentaries that have inspired him throughout his life and career.
He will be in conversation on June 13 at Sheffield's Crucible Theatre, where he has won five world championship titles over the years.
In addition, Chariots Of Fire producer David Puttnam, who is currently chairing an inquiry into the future of public service broadcasting in the UK, is to debate the future of the BBC and Channel 4 at Doc/Fest on June 14.
Liz McIntyre, Sheffield Doc/Fest CEO and festival director said: "The ability of the documentary art-form to attract the fiercest intellects, individual thinkers and ground-breaking innovation is no-better demonstrated than here.
"I am thrilled to present to audiences this true diversity of talent across the festival's three programme strands, as well as Europe's first demonstration of USC Shoah Foundation's world leading cutting edge technology in Alternate Realities.
"I am also delighted that Lord David Puttnam has chosen Doc/Fest to hear from Yorkshire and other audiences about the future of public service broadcasting."
The full festival programme will be announced on May 5.