The 29th edition of TIFF (Oct 25-Nov 3) is adopting a global, contemporary outlook with a competition section that features a host of young film-makers.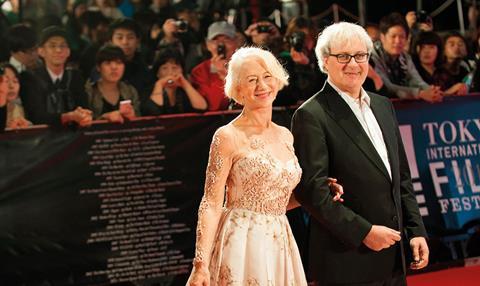 A frequent complaint about modern cinema is that the point of view is becoming too narrow, and tentpole studio projects are drowning out diversity. Providing a venue for film-makers with a different perspective, this year's Tokyo International Film Festival (TIFF, October 25-November 3) promises a line-up of young, globally minded film-makers focused on the problems of the here and now.
Competition programming director Yoshi Yatabe says a number of films playing at Tokyo this year focus attention on the dramatic rise in problems for immigrants worldwide, particularly refugees. "These excellent films skilfully capture what's going on right now. That's the common thread of this year's competition," Yatabe says. "We have a line-up of excellent directors from different parts of the world who understand what's going on in the present era."
A total of 16 films will screen in the competition section at the 29th edition of the festival. The jury will be led by French film-maker Jean-Jacques Beineix, and among the titles are Amanda Kernell's Sweden-Denmark-Norway co-production and Venice prize winner Sami Blood, Adam Leon's Toronto title Tramps and Adrian Sitaru's The Fixer. Other young film-makers featured in this year's competition include the directors of the two Japanese entries: Daigo Matsui with Japanese Girls Never Die, and Kiki Sugino with Snow Woman.
"Both directors show us youthful ambition as they symbolically illustrate Japan in their respective styles," Yatabe says. "These two films achieve both in their distinct ways, which is why they deserve to be presented to an international audience."
Yatabe is hopeful the films in this year's competition can secure distribution, as God Willing, Land Of Mine and Born To Be Blue did last year. Stephen Frears' Florence Foster Jenkins will open the festival, which will once again be held in Roppongi Hills and at other venues in central Tokyo. The festival will close with Yoshitaka Mori's Satoshi: A Move For Tomorrow, a biopic about shogi (Japanese chess) master Satoshi Murayama, which stars Kenichi Matsuyama.
Indonesian flurry
The third instalment of the Japan Foundation Asia Center's Crosscut Asia series will focus on Indonesia, highlighting the diverse stylistic range - from stoic dramas to wild martial-arts action movies - of modern Indonesian cinema. While TIFF has shown Indonesian films since the 1980s, this marks the first time the festival will showcase the country's cinema and its highly regarded new generation of directors.
The 2016 Crosscut Asia series will feature Teddy Soeriaatmadja's 'Trilogy About Intimacy', which includes the films Lovely Man, Something In The Way and About A Woman, and rising female directors including LGBT pioneer Nia Dinata and Kamila Andini (The Mirror Never Lies).
Industry corner
Japan Content Showcase 2016 has three pillars: the TIFFCOM marketplace for film and TV in Asia, Tokyo International Anime Festival and Tokyo International Music Market. Last year, TIFFCOM helped drum up $52.7m in deals with buyers from all corners of the globe. The exhibition, which will be held again at the Grand Pacific Le Daiba hotel, will run October 25-27 and anticipates a record number of booths.
This year's TIFFCOM will shine a spotlight on virtual-reality (VR) technology. No longer a 1990s punchline, VR is high on the agendas of tech firms, with companies including Google and Facebook introducing VR-based products and technology into the mainstream, increasing the importance of having content readily available. Hoping to show how wide the potential is for VR, TIFFCOM will also stage a VR-based concert by J-pop star Kyary Pamyu Pamyu.
Triple threat
In Tokyo competition with Snow Woman, her third feature as director, actress and film-maker Kiki Sugino talks to Shawn Schroter.
At the age of 32, director, actress and producer Kiki Sugino already has a hugely impressive body of work. Since making her debut as an actress in 2005 in Kim Ki-duk's Time, Sugino has appeared in a dozen films and served as a producer on numerous others, including Koji Fukada's Hospitalité. Her third feature as a director, the haunting Snow Woman, looks like it will be a serious contender in the official competition of this year's TIFF.
Sugino equates her film-making drive to a volcano on the verge of erupting. "I feel alive when I release the magma that bubbles inside me, or when I'm frantically striving for that which I feel depleted of," she tells Screen International. "I discover a new world and a new self through the process of questioning all there is to question about myself, man and society, as if to solve the mysteries of the cosmos.
"'Not having figured it out' is a very important notion that drives my creativity."
In addition to her time studying in South Korea, Sugino cites working with late Malaysian director Yasmin Ahmad as a formative step in her development as a director. "Seeing her process in creating works that transcended religious, racial and national boundaries and depicted what it is to be human triggered the thoughts and notions I had swirling in my head," she said. "That ignited in me the desire to become my own film-maker and to express what I saw from my own angle."
Snow Woman is a reinterpretation of Yuki-Onna, a short story from Lafcadio Hearn's Kwaidan, a 1903 collection of Japanese ghost stories. Sugino plays the title character, a mysterious woman who brings ominous terror in her wake. According to the film-maker, the dark, complex narrative deals with the arbitrary divisions and definitions that people adopt so readily.
"Good and evil, dream and reality, life and death, nature and man - these are realms that in essence have no clear borders, and yet subconsciously, we tend to draw lines between this and that," she says. "I think it is because we find solace in assigning words and categorising these realms. But the reality is that we essentially live in ambiguity."
After competing in Tokyo's official competition, the film - which also stars Munetaka Aoki and Shiro Sano - will be released in Japan by Wa Entertainment in 2017.