Jérome Paillard tells Jeremy Kay about how Ventana Sur is expanding its scope.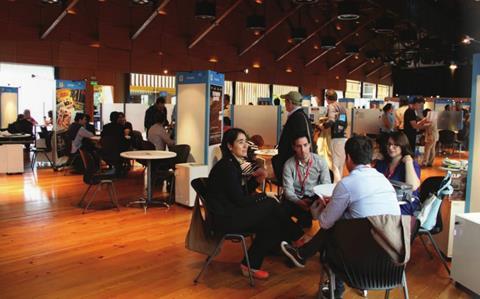 Now in its sixth year, the Ventana Sur market in Buenos Aires is beginning to flex its muscles beyond merely a trading post for Latin American cinema.
Backed by INCAA (Argentinean support body the National Institute Of Cinema and Audiovisual Arts) and the EU's MEDIA programme and scheduled to run from December 1-5, the Argentinean event is consolidating its outreach into genre film and a more outward-looking sensibility that this year will involve European cinema in a big way.
With around 2,000 attendees projected to descend on the event, roughly 120 screenings and an extensive library of more than 300 titles, expectations of a productive market are high.
"We don't have a beach, so there's no temptation to sit in the sun," says Jérome Paillard, who serves as Ventana Sur co-executive director alongside Bernardo Bergeret. "In Buenos Aires people are very, very involved, which is a key to its success," says Paillard, who also runs the Cannes Marché.
"It's the sixth year of Ventana Sur. The main goal has always been to create a market for Latin American films: completed films where it could be producers looking for sales agents, or sales agents looking for distributors. Maybe half of the films there will already have sales representation or distribution."
There are many ways content partners can engage with each other at Ventana Sur, including a growing emphasis on works-in-progress.
"We have the works in progress: Primer Corte, which are features; and Blood Window, for six works in progress of genre films.
Genre focus
It's the second year of Blood Window. "There's a real industry for this kind of film. It's interesting to see that traditional distributors are looking at this kind of film," says Paillard.
The six Blood Window selections comprise Joe Houlberg's Ecuadorian ghost story, Thirst (Sed); Argentina's thriller, Intimate Witness (Testigo Intimo) from Santiago Fernandez; and Petter Belestorf and Joel Caetano's Brazilian vignettes, The Black Fables (As Fabulas Negras).
A trio of Mexican titles includes Adrian Garcia Bogliano's eagerly anticipated Here Comes The Devil follow-up and kidnap story, Scherzo Diabolico; Diego Cohen's tale of romantic obsession, Honeymoon (Luna De Miel); and Isaac Ezban's profile of an apocalyptic Mexico in The Similars (Los Parecidos).
The Primer Corte entries are Daniel Rosenfeld's To The Centre Of The Earth (Al Centro De La Tierra, Argentina-France-Netherlands-Germany); Marina Person's California (Brazil); Federico Borgia and Guillermo Madeiro's Clever (Uruguay); Luis Zorraquin's Guarani (Paraguay); Jaime Barrios Martinez's Indelible Landscape (Paisaje Indeleble, Colombia); and Esteban Ramirez's Prisoners (Presos, Costa Rica-Colombia).
"We don't really have a co-production market but we are arranging a lot of encounters between Latin American producers and people from outside the continent, and also festival programmers," says Paillard. "It's organised by [Cannes Marche's] Producers Network. We will have four lunches and invite producers to the table with guests who are sales agents or festivals."
New to the 2014 edition will be the presence of Brazilian projects under the auspices of RioFilme and the Producers Network in Cannes.
"It's seven Brazilian projects where the producer needs more international value. We help them develop the project's international side and also it's to help them connect with sales and distribution," explains Paillard.
European Day
December 5 will host the inaugural European Day, presenting an array of around 30 titles on offer for Latin American buyers and others.
Titles will include Laurent Cantet's French drama, Return To Ithaca, Santiago Segura's Spanish action comedy smash, Torrente 5, Bent Hamer's Norwegian foreign-language Oscar submission, 1001 Grams and Baldvin Z's Icelandic submission, Life In A Fishbowl.
Programming includes panels, mostly addressed at Latin American producers, as well as discussion points on the Latin American market and transmedia.
All this means the event's appeal has broadened. "In the first year we had very few festivals and now we have more than 50 festivals attending," says Paillard.
"We have seen many projects picked up for US release, such Juan José Campanella's animation, Foosball [known in the US as Underdogs]. And Mundial [IM Global and Canana's joint sales operation] launched here. We're very happy with how it's evolving… It's the only place where you can discover all the [Latin American] films produced in the last 12 months. You can do a full tour."