Schamus is working on screenplays including Zealot: The Life And Times Of Jesus of Nazareth and an adaptation of Philip Roth's Indignation.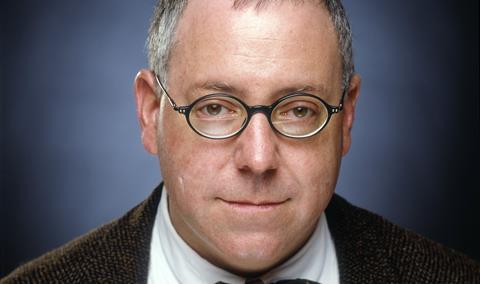 James Schamus, the Columbia University professor, screenwriter and former Focus Features CEO is due in London next week where he will be speaking at the fifth-annual Screenwriters' Lecture Series (hosted by BAFTA and the BFI in association with JJ Charitable Trust).
Schamus promises to "throw a few thought bombs" the way of his British audience.
He is also at work on some very ambitious new projects ranging from a new Ang Lee movie about Muhammad Ali and Joe Frazier (which he is producing) to historical epic Zealot: The Life And Times Of Jesus Of Nazareth adapted from Reza Aslan's bestseller, which he is writing for Harry Potter producer David Heyman, and an adaptation of Philip Roth's novel Indignation.
Among many other projects, he is producing Alone In Berlin with Stefan Arndt. The film, sold by Alison Thompson's Sunray, will shoot in 2015 starring Emma Thompson, Daniel Bruhl and Mark Rylance.
He is also executive producer on Udi Aloni's The Last Verse, was involved in Suffragette and is consulting on various international projects including Forgiveness in India that he will executive produce.
The ever-busy Schamus took time to discuss his latest projects, his approach to screenwriting and his Focus legacy with Screen ahead of his London talk.
What will you talk about at the BAFTA event?
As you know from my previous speech making in London, I tend to not adhere well to generic mandates. I think it's a very interesting moment to talk about the way feature film narrative feels itself under various pressures from the televisual, the digital and from the shift in global demographics in the film economy. I think it will be fun to address some of those.
When do you do your own screenwriting and what do you have on the boil?
I have more time to write (since leaving Focus). I have finished a couple of screenplays. One is an adaptation of Philip Roth's novel, Indignation. It's a property I had optioned at Focus but had not really had time to do good work on.
The last couple of years at the desk (at Focus) had been more and more consumed with the corporate nature of the job.
Whereas, in my youth, I was able to juggle all of these different aspects of my filmmaking aspirations, age and corporatisation definitely caught up with me. I'll probably revisit that script and then start looking around for directors.
Could it be with Ang Lee?
The scope and scale of Ang's technical ambitions alone - the projects I am working on with him are separate from Indignation, which I think is a much more small scale venture.
What are the other Lee projects?
We have a long-term, long gestating project that will probably not even begin to go into production for another year and a half. This is a film about the rivalry between Muhammad Ali and Joe Frazier.
To do the way that Ang requires to do it technologically, pushing the technology toward the absolute future of cinema and pushing it even further than what you saw in Life of Pi, it has been an incredible learning experience.
What fascinates you about Ali and Frazier? And why does the technology matter so much?
Two of the greatest, most watched, most profitable, most part of their zeitgeist sporting events in history were The Fight of the Century and The Thriller In Manila.
The human essence of the story is that Joe Frazier was a worthy counterweight to Ali. That story has never been told. Those fights were also grand narratives. They were not just people hitting each other. They are emotional, they are about race, God, religion, politics, slavery, freedom, skill and sport and aspiration - everything.
Think about if you're Ang Lee, and you said how am I going to do this in a way that now potentially we have the way to do. Start with 3D and put yourself in the ring with these guys. Be there. That poses amazing challenges - the horizontal fast motion, the close-ups.
You're really talking about dealing with higher frame rates, enormous amounts of challenges with your effects work. How do you push, as he did with Pi, not only the experience of 3D but the ability to animate real characters that match perfectly their human and animal counterparts?
What other projects are you working on?
I did a page one rewrite of a film on Fela Kuti that had long been in gestation at Focus and now has a new life with a wonderful Nigerian-American director named Andrew Dosunmu.
We're not doing a biopic. We are focusing on a few crucial years leading up to and through the assault on the compound and the music that resulted from that. It has been a really fun project.
I am not producing it. Lydia Pilcher is.
And what about Jesus?
I am nose deep, not even knee deep, in Zealot. I pride myself on being a very fast writer. On this, I forewarned all that this would be a very laborious process because you really have to know your stuff with a character like Jesus Christ.
To do so respectfully means really covering down an enormous amount of the enormous research that Reza Aslan himself had done. I have spent this summer immersed in the world of first century Palestinian Judaism and life under Roman occupation.
I am bizarrely teaching myself ancient Greek and starting to read the Greek gospels a little bit and I have undertaken a massive education. I am just starting the writing process, which is great.
Was there any truth in the rumour that you were interested in taking over at Film4. Was it a possibility or was that just journalistic mischief?
The actuality falls somewhere in between those two but it was far closer to your latter than your former! I had no idea that there were headlines and that my photo was in the trades. I don't Google search myself.
There was a moment in time when I was getting a lot of cryptic emails about "Are you moving to London and what's happening?". It took me days to figure out that I was caught up (in the Film4 story).
Tessa (Ross) leaves an incredible legacy. If you look at the totality of my filmic career, London was from very near the beginning and remains to this day the creative epicentre of what I do. That's very odd.
During my many years at Focus, British-based productions accounted for far more than any other locale. Now I am happily working for a British producer (Heyman). I don't think these are coincidences. They are affinities.
Were you bitter about the way in which you left Focus?
Look, it's almost a year now. Also when you fold in my predecessor company Good Machine, I do have the satisfaction to be able to say that I got to help run movie companies that made wonderful movies every year and made money every year.
Not many people get to say that. I can pat myself on the back!
There was a lot of fun and a lot of great movies but also very responsible business. Being a business person was part of the joy of it. My biggest anxiety on the dissolution of the old Focus was really for my colleagues. There were a lot of people that were let go and we really had a family.
I am so happy to say that I held a party for everybody in New York, a little summer outing, a few weeks ago. 99% of the New York team showed up.
A couple are still struggling and having a hard time landing jobs similar to the ones they had at Focus. That's the reality. It is tough. But I think those guys will prevail. They will get through it.
Otherwise, I can tell you everybody is just doing amazingly well.
On Sept 18, James Schamus is speaking at the fifth-annual Screenwriters' Lecture Series hosted by BFI and BAFTA at BFI Southbank. His full lecture will be available on the BAFTA Guru website http://guru.bafta.org