The managing director of the American Film Market talks to Jeremy Kay about new initiatives for AFM 2015 and why next year's event will have a heavier focus on screenings.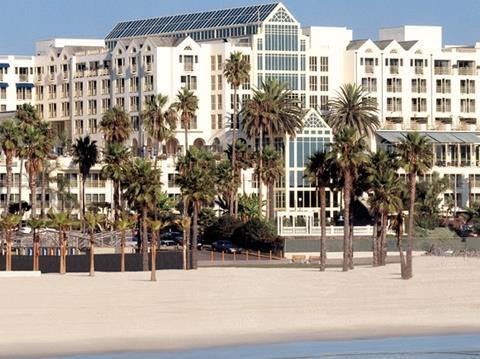 Wolf, who also serves as executive vice-president of the Independent Film & Television Alliance, discusses the importance of global festival professionals, the ongoing relationship with AFI FEST.
AFM is headquartered at the Loews Santa Monica Beach and will run from November 4-11.
What have been some of the key innovations introduced to the AFM in recent years?
Looking at the community that goes to the market beyond the buying and selling of films – the producers, writers, directors, festival programmers and film commissioners – we have set up a couple of programmes over the last 10 years or so. It's about getting access to the decision-makers. Five or six years ago we added the conference series and that's been going well and attendance is growing.
What can we expect this year?
Now we're turning our attention to networking. This year we're going to take over the carousel on Santa Monica Pier. In 25 years of being in Santa Monica we've never hosted an event there. People will be invited to four evenings to network and connect. We're theming each of them so people can select whom they want to meet. The first night will cover genre, then we have 'meet the festivals'. The third night concerns micro-budgets and the final night is closing night. We expect around 400 attendees each night.
Anything else?
Another new thing we're doing – because we realise one size doesn't fit all – is over the last three years we've added a round table series that's covered subjects like marketing documentaries or co-producing in Africa or faith and family filmmaking.
So we're starting The Festival Focus series presented by Film Freeway, a new programme this year specific to film festival professionals who work the majority of their time programming or producing festivals. It's four 90-minute sessions, by festivals for festivals, so [attendees] can talk about issues that are timely like best-practice in curating, fundraising, etc. These are closed-door events.
There's been talk on the past of the AFM relocating to Downtown Los Angeles. What's the update?
We're in Santa Monica for the foreseeable future. The agreement we have in place will keep us in Santa Monica for some time. There's not an end date and we don't have plans to go somewhere else.
Part of that talk was because people wanted to explore ways of developing a more efficient synergy with the concurrent AFI FEST. How do you view the relationship between the two events?
Both AFM and AFI FEST have gone as far as we're able to go in the relationship. The primary relationship is for those whose films are in the market and in the festival. What we're seeing in the back-and-forth between Hollywood and Santa Monica are that companies whose films are in the festival and market [tend to] have a social event in both places, bringing talent and key players between the two. It tends to be about 30 films each year. It's about bringing attention to those films that are festival selections – but geography gets in the way of doing more.
Will the new ArcLight in Santa Monica Place be ready in time for this year's AFM?
The ArcLight will be ready about three or four weeks after the AFM and it is understood the same it true of the renovated Laemmle 4-Plex, which is set to reopen in 2016 with six screens. This year attendees can see films at the AMC Santa Monica 7 and the AMC Loews Broadway 4 and AFM is arranging eight to 10 high-definition screens at post-production house and other facilities in Santa Monica. From a screening standpoint this is a transition year. Next year we will have 29 commercial screens. We will turn the focus much more heavily towards screenings at the AFM.