Israeli director Evgeny Ruman talks to Screen about shooting his second feature, The Man In The Wall, over six days in one apartment.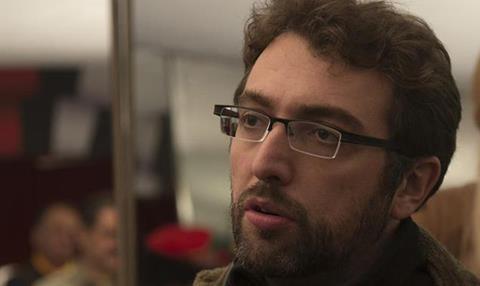 Israeli director Evgeny Ruman's second film The Man In The Wall, revolving around the disappearance of a man who fails to return home after walking his dog, was shot on a budget of $100,000 in a Tel Aviv apartment in just six days.
The film, which gets its Israeli premiere in the Haggiag competition at the Jerusalem Film Festival this year, plays out over one night. As the missing man's wife Shir frets about his whereabouts, friends, neighbours and police investigators flock to their flat. With each visit, a picture of the couple's complex, and not always happy, relationship starts to emerge.
Ruman says self-imposed budgetary constraints were at the heart of the structure and aesthetic of the film. "I wanted to do something affordable. I know how long it can take to finance a film and I didn't want to wait," he says.
"I'd had this idea, about a person who just disappears into thin air without any logical explanation, for a while. I tried taking it in a number of directions but somehow the decision to do something simple, and set very strict boundaries, freed me up and helped bring the story to life," he adds.
These "boundaries" comprised setting the story in one apartment over the course of one night and dividing up the action into 12 one-shot scenes. "I wrote the film in 12 days," reveals Rumen. "The last draft, which became the movie, isn't that different from the first one. Even if I'd been given $100m to play with, I honestly think the movie wouldn't have changed much. It was conceived as a low-budget movie."
Casting call
Ruman pulled together a young cast led by Tamar Alkan, a member of Jerusalem Khan Theatre troupe, who was previously seen on screen in Dan Wolman's Valley Of Strength and has also played roles including the late human rights activist Rachel Corrie, in My Name Is Rachel Corrie, on stage.
"I ended up casting a lot of theatre actors because they're much better at carrying 10-minute scenes without breaks," says Ruman. "I only did one rehearsal for each scene. I didn't want them to over-rehearse. When I was a student I had this bad experience when I over-rehearsed something until it was perfect and it completely backfired. I wanted to leave some space. I wanted the actors to be alert."
In a bid to heighten the claustrophobic atmosphere of the film, Ruman and cinematographer Ziv Berkovich created a special camera for the shoot that was strapped to the operator's body.
"To pan in or follow the movement, the cameraman had to move too," he says. "The idea was to make the audience closer to the action, to feel like they too were spending the night in the apartment, listening to the secrets enclosed in its four walls."
Ruman describes Berkovich as integral to the project: "We've been friends and worked together for a long time. He was my co-creator on this movie. We've talked for a couple of years about this project. He loves challenges, and this film was a big challenge. He was always my first choice."
Citing Steven Soderbergh and Richard Linklater as career inspirations, Ruman admits he has eclectic aspirations as a director. "I really adore Soderbergh and Linklater for doing such different movies," says the film-maker. "Unfortunately or luckily, I'm very eclectic as a viewer. I like everything from Hollywood comedies to black-and-white, three-and-a-half-hour eastern European movies. I also watched a lot of Soviet cinema growing up."
Ruman moved to Israel from Belarus in the 1990s at the age of 11, and his filmography bears testament to his varied tastes. While The Man In The Wall is a taut genre-style, psychological drama, his debut feature Igor & The Cranes' Journey was a live-action fantasy tale about an estranged father and son brought together by a lost baby crane.
Since completing The Man In The Wall, Ruman has also shot Ruby Strangelove Young Witch, a family musical about a young sorceress.
He is currently developing a contemporary comedy of morals, in the vein of a Woody Allen film, that looks set to take him in a completely different direction.