Fifty Shades Of Grey star to attend opening of the festival.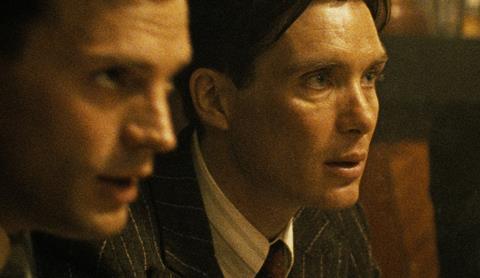 War drama Anthropoid, starring Cillian Murphy (Peaky Blinders) and Jamie Dornan (Fifty Shades Of Grey), is to receive its world premiere as the opening film of the 51st Karlovy Vary International Film Festival (July 1-9).
The selection is an apt one for the festival set in the Czech spa town since the story centres on a major event in Czechoslovak history – the assassination of Nazi officer Reinhard Heydrich.
Dornan and Anthropoid director Sean Ellis (Metro Manila) will attend the opening alongside actors Charlotte Le Bon, Aňa Geislerová and Toby Jones.
The war thriller is based on the true story Operation Anthropoid, in which two Czech soldiers - played by Dornan and Murphy – were sent to assassinate the head of the SS in 1941. Heydrich was second only to Himmler and Hitler in the Third Reich's hierarchy and main architect for the 'Final Solution'.
"Since the film takes a look at a key event in Czechoslovak history, the assassination of Reichsprotektor Heydrich, we are glad that our festival will symbolically host its world premiere," said KVIFF president Jiří Bartoška.
Anthropoid was filmed in the Czech Republic from July to September 2015, when Dornan and Ellis attended KVIFF to talk about the production.
The film will screen during KVIFF's opening ceremony on July 1 at the Hotel Thermal and in two other public venues.
Anthropoid was produced by Mickey Liddell's LD Entertainment, the outfit behind Liam Neeson survival thriller The Grey (2011) which is in post-production on Pablo Larraín's Jackie (2017), starring Natalie Portman as Jacqueline Kennedy in the immediate aftermath of the JFK assassination.
Other producers include Pete Shilaimon as well as David Ondříček and Kryštof Mucha from Lucky Man Films (Czech Republic)