The BFI London Film Festival has unveiled its industry programme and added three innovative film-makers to new strand LFF Connects.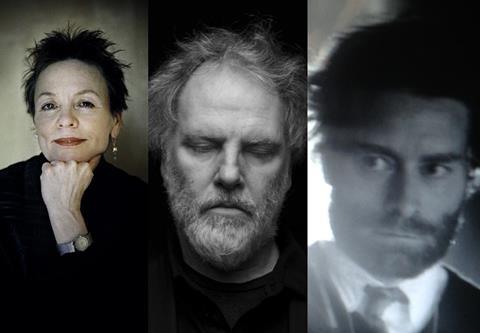 Industry talks LFF Connects, which aim to explore the future of film and how film engages with other creative industries, has added writer, director, visual artist and vocalist Laurie Anderson; filmmaker and artist Guy Maddin; and virtual reality maestro Chris Milk.
This is on top of the previously announced talk featuring Interstellar director Christopher Nolan and artist Tacita Dean.
US artist Anderson is best known for her multimedia presentations and innovative use of technology. As writer, director, visual artist and vocalist she has created ground-breaking works that span the worlds of art, theatre and experimental music.
Her new documentary Heart of the Dog, which screens as a new programme addition at LFF, is her first feature since the 1986 concert movie Home of the Brave. At LFF Connects, Anderson will talk about her creative approach to filmmaking and how it intersects with art, performance and music.
Canadian filmmaker Maddin is critically acclaimed for his bold and visually innovative cinema (My Winnipeg, The Saddest Music in the World) and his art installations (Hauntings, Cowards Bend the Knee).
Maddin's latest production The Forbidden Room, which screens as LFF's Experimenta Special Presentation, is co-directed with Evan Johnson and grew out of his interactive Seances project which brought to life forgotten silent films as improvised live 'happenings' staged in art institutions including Montreal's Phi Center and the Pompidou Centre in Paris.
Maddin will talk about how the project has inspired him to look differently at his work as both a filmmaker and an artist.
LA-based Chris Milk works in music videos, documentaries and digital installations with the likes of Kanye West, Arcade Fire, Beck and the United Nations.
Milk will talk about the creative and emotional possibilities of Virtual Reality (VR) filmmaking and what he believes it has the capacity to deliver.
His films Waves of Grace, which takes the audience into communities ravaged by Ebola, and Clouds Over Sidra, about a Syrian refugee in Jordan, are using VR to change policy and raise awareness for humanitarian efforts.
Industry events
Industry partnership programmes held during LFF (Oct 7-18) include the first Geena Davis Institute on Gender in Media Global Symposium held outside of the US, presented with Women in Film & TV, addressing gender equality in film and empowering women and girls through film. Keynote speakers include Geena Davis and Number 9 Films producer Elizabeth Karlsen (Carol) among others.
Returning partnerships include Power to the Pixel's Pixel Market and Cross Media Forum (Oct 13-16) and the Film London Production Finance Market (PFM) including the Micro Market presented by Film London in partnership with Film Export UK and supported by Creative Skillset.
Masterclasses and Q&As at the second annual NET.WORK@LFF will see 15 rising UK writers, directors and producers gain skills and inspiration from international filmmakers and industry executives at the Festival, such as writer/director Sean Baker (Tangerine) and producer Christine Vachon (Carol).
And a new partnership with Screen International will celebrate the unveiling of the 2015 UK Stars of Tomorrow at the festival for the first time
A BFI industry forum on advancing diversity in film is set to be attended by Ed Vaizey MP, the Minister for Culture and the Digital Economy.
Oscar-winning producer Mark Johnson, chair of AMPAS' Foreign-Language Film Committee will lead a panel to discuss the impact of the Foreign-Language Film Award at the Oscars.
The Greenlighters lunchtime talks, in which leading film executives discuss a film they love from the festival programme with the filmmaker, will be held during LFF.
And a series of Artists' Moving Image professional development events will be held as part of the Experimenta strand.
This year's LFF international industry focus will comprise UK-China co-production workshops with visiting Chinese industry executives and filmmakers to explore building new partnerships as well as screening programme An Insight into China
"The industry programme is a vital part of the BFI London Film Festival, offering filmmakers and executives at all stages of their careers a range of valuable opportunities to develop skills and make new connections and partnerships, helping them to grow their business and expertise in an environment where they can also see the best new films from around the world," said LFF festival director Clare Stewart.
"The festival is committed to expanding the future of film and our new LFF Connects series is designed to build knowledge and understanding of film's engagement with other creative industries and inspire new directions in filmmaking."