SCREEN SUBSCRIBERS: A hunger for edgier material and a new willingness to share risk and rights mean the US TV drama landscape has become a land of opportunity for international producers, reports John Hazelton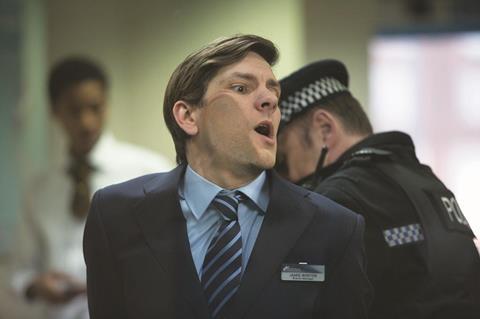 "There is a lot of product out there, so you need to produce something really good to make a mark"
Martin Moszkowicz, Constantin
According to recently revealed research from cable network FX, over the past five years the number of scripted series airing in the US has grown from 280 to more than 400. And, say producers, the number of US buyers has increased to more than 65, as SVoD platforms — Netflix, Amazon, Hulu and perhaps soon Apple — and cable channels that once relied on reality shows or films have jumped into the original scripted programming business. "The desire for content has never been greater," says Susan Hogg, head of drama and president of scripted programming at UK-based indie Studio Lambert. "There are so many fantastic opportunities to do deals and there are as many different kinds of deals that you can cut as there are buyers."
What's more, many of the new US drama buyers are working along lines that suit international and film producers by favouring edgier material that can win awards and drive subscriptions; being willing to share risk and let producers retain international rights; and making the kind of straight-to-series and short-run orders with which non-US producers are most comfortable. "US buyers have never been more open to looking beyond US borders and commissioning co-production-style programming, that may or may not be set in the US, and to sourcing talent — whether it's writing, directing or acting talent — from around the world," says John Morayniss, CEO of international producer eOne Television.
Speaking the same language
Producers from English-speaking territories arguably have an advantage when it comes to penetrating the US, as the UK's Working Title Television — a joint venture between NBCUniversal International and Working Title Films chiefs Tim Bevan and Eric Fellner — has shown with its About A Boy series (for NBC) and its forthcoming 10-parter You, Me And The Apocalypse (for NBC in the US and Sky in the UK).
Studio Lambert, which originally focused on reality programming, recently got funding from owner All3Media for a drama department targeting both the UK and the US. Hogg explains that the operation is aiming at "big, bold storytelling with universal appeal", with some projects designed to be fully funded and shot in the US, and others to be co-produced. "Even five years ago it was very difficult to find stories that would work on both sides of the Atlantic," says Hogg. "That's no longer the case. We're in the process of breaking down those cultural barriers."
Canadian producers have recently been making US inroads with projects such as Slasher, a psychological thriller series from Toronto-based Shaftesbury set up with Canada's Super Channel and picked up by US cable network Chiller as its first original drama series. Christina Jennings, CEO of Shaftesbury (which is also making Houdini & Doyle for Shaw Media in Canada, ITV in the UK and the Fox broadcast network in the US), suggests that networks like Chiller "just can't afford to compete with the bigger cable networks, so they have to look to Canada, the UK, New Zealand and Australia to see if they can find a show where a significant part of the finance is brought to the table from those markets".
EOne, which built its global film and TV operation from a base in Canada, has produced five seasons of Hell On Wheels for US basic cable outlet AMC, and earlier this year set up a new Los Angeles-based TV and film operation with Criminal Minds producer Mark Gordon. The joint venture — whose first TV project is limited series The Ambassador's Wife, with Anne Hathaway set to star and produce — gives eOne an entry into network series production, explains Morayniss. "[It] allows us to explore that traditional world that Mark has had huge success in," he says, "but at the same time, through our independent model, we will also pull Mark into the cable and pay cable and global marketplace."
European outreach
The US drama series boom is also creating opportunities for continental European companies, and producers are adopting a variety of approaches to make the most of the new openings. Germany's Tandem Productions, for example, first cracked the US drama series market with crime procedural Crossing Lines (originally for NBC but now carried by Netflix) and in May the company signed a deal with the Esquire Network — another US cable channel making its first move into original scripted series — for dark, London-set drama Spotless.
Tandem CEO Rola Bauer says Spotless attracted interest from a premium US pay network, "but they wouldn't make a commitment about giving it any press or promotion. Esquire gave us a fabulous support system. So I guess the lesson is, go for the place that wants [the project] and loves it, even if you don't end up getting the money that you want."
France's EuropaCorp last year recruited American producer Matthew Gross (Body Of Proof) as president of EuropaCorp Television US, a new division that just secured a straight-to-series order from NBC for a TV prequel (to be co-produced with Universal Television) to the Taken movie franchise. Gross explains that in launching a US TV studio, EuropaCorp founder Luc Besson "wanted to generate product. So the idea is for us to develop here in the US, sell to US networks and then take [projects] to the international market" (though Universal will have international rights — excluding France — on the Taken series).
'Buyers have never been more open to looking beyond US borders'
John Morayniss, eOne Television
Germany's Constantin Film, meanwhile, is branching out into US drama with Shadowhunters, a fantasy series based on literary franchise The Mortal Instruments (also the basis for 2013 Constantin feature The Mortal Instruments: City Of Bones), which has been given a 13-episode order by US cable channel ABC Family. Constantin's push into international TV, says CEO Martin Moszkowicz, came in part because the company "has always been a big player internationally with English-language feature films. So we're basically just doing the same thing we've been doing in the feature film arena in the television arena".
Both EuropaCorp and Constantin say they are now going through their film libraries to look for other US drama series possibilities. "We're reviewing all the properties that we have," Moszkowicz reports, including the massively successful Resident Evil movie series.
With opportunities, of course, come challenges, and international drama producers still face significant hurdles as they attempt to build businesses in the US. Perhaps chief among them is the danger that the US market will soon become over-supplied with drama programming. At a recent press event in Los Angeles, John Landgraf, CEO of FX Networks (home to series including Fargo, Sons Of Anarchy and the newly launched The Bastard Executioner), suggested that the US drama arena is "in the late stages of a bubble" and predicted that in the near future there will be a decline in the number of series on air, with those produced by the biggest companies standing the best chance of survival.
International producers can only hope that Landgraf is proved wrong. "I don't think there is actually a bubble," says Moszkowicz, "but competition on the quality level and the production level is stronger than it has ever been. There is a lot of product out there, so you need to produce something really good to make a mark."
And for Constantin, Moszkowicz adds that getting into US and international television is part of a long-term strategic growth plan. "We've pretty much hit our growth ceiling in Germany, where we are the biggest production company and the biggest distributor," he says. "So for us it's natural to go and look into other markets."
Internationally produced US drama
Shadowhunters
Based on Cassandra Clare's The Mortal Instruments books, this fantasy drama series is executive produced by McG (Supernatural), Ed Decter (The Client List) and Robert Kulzer (Resident Evil). ABC Family has given the Constantin Films series a 13-episode order and will premiere the show in early 2016.
International sales: Constantin Film
Slasher
Spanning eight one-hour episodes, this Canadian psychological thriller is about a young woman, played by Katie McGrath (Jurassic World, Dracula), who finds herself at the centre of a string of horrifying murders. Written and created by Aaron Martin (Killjoys), the series is produced by Shaftesbury for Super Channel and Chiller.
International sales: Content Media
Spotless
Ed McCardie (Shameless) and Corinne Marrinan (CSI) are co-creators of this 10-episode, London-set drama about a troubled man, his outlaw brother and their crime scene cleaning business. The Tandem Productions series will premiere this autumn on Canal+ in France and Esquire Network in the US.
International sales: StudioCanal
Taken
Given a straight-to-series order by US broadcast network NBC, the TV version of the Taken franchise will turn around a younger version of the Liam Neeson character from the films, showing how he acquired his 'particular set of skills'. Franchise owner EuropaCorp is co-producing the series with NBC sister operation Universal Television.
International sales (excluding France): Universal Television