Filmmaker to give masterclass ahead of French theatrical release of Nymphomaniac Directors' Cut.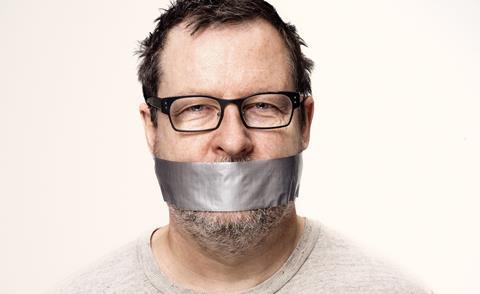 UPDATE (April 23): Visit cancelled due to 'personal reasons'
Danish filmmaker Lars Von Trier may not be headed to the Croisette this year but he will be touching down in France in May nonetheless for a masterclass at the Cinemathèque Française.
The special event on May 4 will tie in with the French theatrical release of Nymphomaniac Volume I and Volume II: Extended Director's Cut by Les Films du Losange on May 6.
The distributor confirmed that it will be Von Trier's first official visit to France since the "painful episode" at the Cannes Film Festival in 2011, at which he made an ill-judged joke about being a Nazi during the press conference for Melancholia.
The episode led to him being temporarily declared "persona non grata" by the festival as well as a French police investigation into whether he violated a law on war crime denial.
The charges were dropped six months later and Cannes chief Thierry Fremaux has since said the director would be welcome back at the festival.
Cinemathèque event
Attendees at the Cinemathèque's event are set for a marathon session.
Von Trier's master class, compered by the cinemathèque's director of programming Jean-François Rauger and Arte France Cinema chief Olivier Père, is billed to last two hours.
It will be followed by a preview screening of the five-and-a-half hour Nymphomaniac Volume I and Volume II: Extended Director's Cut. Both volumes will run back to back with an hour-long pause in between them.
The hardcore version, which features a controversial abortion scene cut from the initial release, has an adults only, 18 rating in France.
French theatrical release
Les Films du Losange, which co-produced the film, is set to launch the film theatrically on May 4, showing both volumes back to back with a pause in between.
It is rare to be able to see both volumes in their integrality on the big screen. Only a handful of territories have released the five-and-a-half hour-long version theatrically to date, including Denmark, Norway and Iceland.
The initiative comes more than six months after a simultaneous VOD release of the Director's Cut last October across several territories including Denmark, the US, Canada, Spain, the Netherlands, Belgium and Poland.
Les Films du Losange also handled the release of the first cut versions of the films, on Jan 1 and 29 2014, where the two volumes drew some 100,000 and 75,000 spectators respectively.
Tickets for the cinemathèque master class and preview are due to go on sale on April 26.