Warner Bros' sequel scores $4.6m (£2.8m) debut to top UK chart; Fox's The Grand Budapest Hotel records Wes Anderson's best-ever UK bow.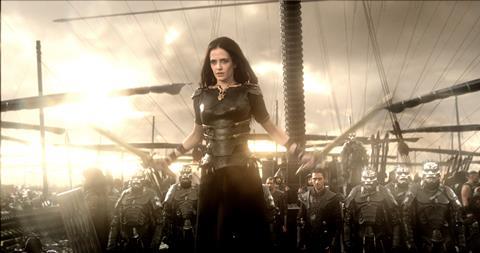 Preventing The Lego Movie from four straight weeks as the UK's number one, 300: Rise of an Empire defied the sunshine to debut top of the UK chart.
Warner Bros' 3D sequel sliced its way to a $4.6m (£2.8m) debut from its 488 sites. That's some way down on 300's $7.9m (£4.7m) UK bow from 369 sites, which included $1.3m (£783,931) in previews but didn't benefit from a 3D uplift.
The original 300 went on to make $23.7m (£14.22m) in the UK, a tally that's likely to prove too high for Rise of an Empire.
Suffering its first big week-on-week drop as it fell to second, The Lego Movie added $2.7m (£1.6m) in its fourth weekend and has so far built up $48m (£28.8m) through Warner Bros. It will hit £30m by the end of next weekend at the very latest.
Gravity stands at $53.5m (£32.1m) after taking a further $433,000 (£260,000) in its 18th weekend of release.
FOX
Checking into the UK box office in third, The Grand Budapest Hotel recorded a terrific $2.55m (£1.53m) debut, including previews, from its 287 sites.
That marks director Wes Anderson's best-ever UK bow, narrowly pipping Fantastic Mr. Fox's $2.53m (£1.52m) UK bow from considerably more sites (481) but without previews.
Fantastic Mr. Fox is currently Anderson's best-ever UK performer with $15m (£9.03m).
Also for Fox, The Book Thief stands at $4.5m (£2.7m) to date, while Mr. Peabody & Sherman has travelled to $20.1m (£12.1m) after five weeks in play.
STUDIOCANAL
Flying to an additional $2.5m (£1.5m) from its 453 sites, Non-Stop is now up to $8.9m (£5.4m) in the UK through StudioCanal. It's well set to become director Jaume Collet-Serra's best-ever UK performer, currently Unknown's $11m (£6.6m).
Also for StudioCanal, RoboCop has amassed $13.3m (£7.96m) after taking $144,000 (£86,526) from its 196 sites.
UNIVERSAL
Falling just over 40% in its second weekend, Ride Along added $1.4m (£823,000) for a solid $4.7m (£2.83m) to date. Outside of the two Fantastic Four outings, Universal's action comedy is director Tim Story's strongest UK performer.
Having become the UK's highest ever 18-rated grosser last week, The Wolf of Wall Street is up to $37.1m (£22.26m) following a $392,000 (£235,000) eighth weekend.
ENTERTAINMENT
Released in 386 sites through Entertainment, Escape from Planet Earth landed at seventh with a UK bow of $658,000 (£395,392).
EONE
Following on from its Best Picture win at the Oscars, eOne's 12 Years a Slave enjoyed a slight boost in its ninth weekend to gross $614,000 (£368,857) for $31.9m (£19.2m) to date.
Also posting a slight increase was Dallas Buyers Club with a $506,000 (£303,547) fifth weekend to climb to $7.5m (£4.5m) through eOne.
DISNEY
With a 51% drop in its fourth weekend, Tinker Bell and the Pirate Fairy sailed to a further $530,000 (£318,157) for a healthy $8.4m (£5.1m) to date through Disney.
Also for Disney, Frozen posted a 19% rise in its 14th weekend to add $470,000 (£282,354) and climb to $65.2m (£39.1m) in the UK. The double Oscar winner isn't giving up on £40m just yet.
ARROW FILMS
Released in 58 screens in Ireland through Arrow Films, The Stag posted a $157,000 (£94,008) debut ahead of its UK-wide expansion from this Friday [March 14]. Its 50 sites in the Republic of Ireland provided $147,000 (£88,139) of the overall gross.
PECCADILLO PICTURES
Stranger by the Lake is now Peccadillo Pictures' second best-ever UK performer with $195,000 (£117,158), behind Weekend's $416,000 (£250,000). The distributor, who released the critically acclaimed drama on VoD last Friday [March 7], still plans some key regional openings for the film.
UPCOMING RELEASES
This week's only saturation release comes in the form of eOne's Need for Speed (opens March 12), while Sony's The Zero Theorem receives a wide release.
StudioCanal's Under the Skin, Trinity's Plot for Peace and Warner Bros' Veronica Mars are among the films receiving a limited release.