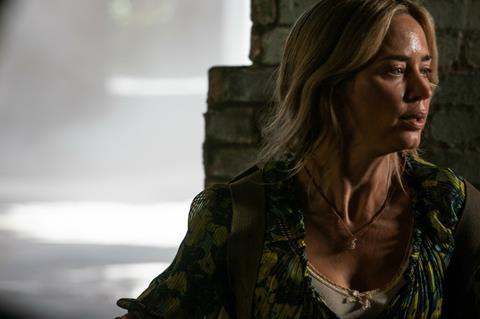 Paramount has pushed up A Quiet Place Part II to the May 28 Memorial Day slot vacated by Universal's F9.
John Krasinski announced the news on his Twitter account on Thursday evening (March 4).
The horror sequel starring Emily Blunt was last moved to September 17 after several postponements and was initially scheduled to open in March 2020 before the pandemic wreaked havoc on the release calendar.
The latest move comes after Universal announced it was delaying F9 by one month to June 25.
It gives Paramount parent company ViacomCBS an enticing tentpole to offer subscribers of the new Paramount+ streaming platform.
At the ViacomCBS investor day event last month, it emerged that select Paramount theatrical releases will debut on Paramount+ as the first pay TV window after an exclusive 30 to 45-day run in cinemas.
In the case of A Quiet Place Part II, the horror sequel will migrate to the platform after 45 days in cinemas. Other releases from the studio such as Top Gun: Maverick will go to Epix as the Pay 1 window.
There is growing confidence in the US after president Joe Biden said the country was on track to have enough vaccine supply for all American adults by the end of May.
Also providing a glimmer of hope is the fact that as of Friday (March 5), cinemas in New York City are allowed to reopen.
2018 SXSW premiere A Quiet Place grossed $341m worldwide and $188m in North America.