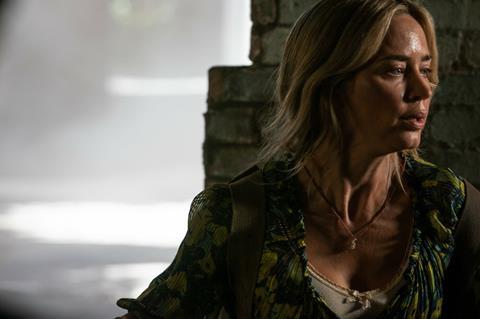 A Quiet Place Part II makes noisy start
Paramount's A Quiet Place Part II began in a number of territories – representing 30% of the international rollout – and grossed an estimated $22m, on a par with A Quiet Place.
Top international territory is China, where the John Krasinski-directed sequel landed in third place with $14.9m.
The rest of the international markets including Australia, New Zealand, Indonesia and Ukraine grossed an estimated $7.1m including paid previews – 66% ahead of the pace of A Quiet Place in those territories. Australia was a highlight, with an estimated $4.0m chart-topping debut, including previews. Indonesia ($1.5m), New Zealand ($790,000) and Ukraine ($315,000) all likewise saw A Quiet Place Part II open in the top spot.
In North America, A Quiet Place Part II grossed an estimated $48.4m for the three-day weekend, and $58m including the Memorial Day holiday on Monday. That delivers a $70m global total just for the three-day weekend period.
Emily Blunt, Cillian Murphy, Millicent Simmonds and Noah Jupe lead the cast, with Krasinski appearing in the film's extended-flashback prologue.
The original A Quiet Place grossed $188m in North America and $153m in international for a combined $341m worldwide total.
Next to open Part II are Russia and the UK this coming weekend, Mexico on June 11, France and South Korea on June 16, Japan and Spain on June 18, and Italy and Germany on June 24.
Cruella claws way to $16.1m international
Disney's Cruella has kicked off with an estimated $16.1m in international territories and $21.3m in North America, combining for a $37.4m global total. Including the Memorial Day holiday, the domestic total rises to an estimated four-day $26.5m. The origin tale for the 101 Dalmatians villain is available simultaneously via Disney+ on Premier Access for subscribers, in territories where the service operates.
Top international territory was Mexico, with an estimated chart-topping $2.6m. Right behind is South Korea with an estimated $2.5m (and second place, behind Fast & Furious 9), followed by the UK with $2.2m (third place). Cruella opened in second place in Australia, behind A Quiet Place Part II, with $1.3m. The film topped the Spanish box office with an estimated $900,000, and a 40% market share.
Apt comparisons for Cruella are hard to make, but Disney's live-action 101 Dalmatians, starring Glenn Close, grossed $136m in North America, $185m for international, and $321m worldwide in 1996. Sequel 102 Dalmatians delivered $67m, $117m and $184m respectively in 2000.
Cruella is directed by Craig Gillespie (I, Tonya) and stars Emma Stone, Emma Thompson, Joel Fry and Paul Walter Hauser.
The film opens this weekend in China, Russia, Greece, Israel, Slovakia, Netherlands and Chile. France – which is theatrical only due to media chronology laws – follows on June 23.
Fast & Furious 9 adds $31m for $232.9m total
UPDATED: Fast & Furious 9 aka F9 delivered a confirmed $31.1m in its second lap of select international markets, taking the total after two weekends of play to $232.9m. The hefty 85% drop from the opening session was driven by a big fall in China, where the sequel grossed $20.6m, down 85%, for $187.9m.
In the other seven territories currently playing the film, falls were gentler. Fast & Furious 9 stayed top in South Korea, with an estimated $3.7m, down 43%. The $15.5m total there is in line with Fast & Furious 7.
Russia also saw the film stay top, with $2.9m, down 58%, and a $13.9m total. F9 was top across all markets in the Middle East, resisting the challenge of Cruella, and crossing $10m for the region on Friday.
Justin Lin directs, with a cast including Vin Diesel, Michelle Rodriguez, Tyrese Gibson, Chris "Ludacris" Bridges, Nathalie Emmanuel, Jordana Brewster and Sung Kang, with John Cena, Helen Mirren, Kurt Russell and Charlize Theron.
Next to open the film is Australia on June 17, with Brazil on June 24, and North America, Mexico and UK on June 25.
UK leads charge for Peter Rabbit 2
Columbia Pictures' Peter Rabbit 2: The Runaway added an estimated $4.6m in select international markets, led by a chart-topping $3.2m for the UK, where the film has grossed $10.8m after 14 days of play. The UK begins a week-long school holiday this week, and the film – titled simply Peter Rabbit 2 – is expected to perform strongly every day.
International total is now an estimated $36.8m. Next to open the film are China (June 11), Japan (June 25) and France (June 30), with Germany, Italy and Spain to follow in July.
The original Peter Rabbit grossed $115m in North America, $236m in international, and $351m worldwide. In the sequel, Peter (voiced by James Corden) quits the garden for the big city, where misadventures ensue.
The UK also drove takings for New Line/Warner Bros' The Conjuring: The Devil Made Me Do It, the eighth film in the sprawling horror franchise that also encompasses the Annabelle titles. This third Conjuring film opened only in the UK (estimated $3.8m for the five-day period May 26-30) and Egypt ($99,000) for a $3.9m total.
If previews are included in its total, The Conjuring: The Devil Made Me Do It ranks No. 1 at the UK box office, beating Peter Rabbit 2's three-day weekend number. Another 45 markets are scheduled to release this coming weekend, including North America, Italy, Spain, Australia, South Korea, Brazil and Mexico.
Also in the horror space – albeit grisly murder rather than supernatural possession – is Lionsgate's Spiral: From The Book Of Saw, which added an estimated $1.23m in international territories, taking the international total to $9.0m. Add in $20.4m for North America and the global tally is an estimated $29.4m.
Jason Statham actioner 'Wrath Of Man' hits $80m worldwide
Guy Ritchie's Wrath Of Man added another $3m in international at the weekend, gently boosted by new openings in Spain ($200,000), Qatar and Norway. International total for Miramax is an estimated $57.7m. Including North America (for United Artists Releasing), the global total is an estimated $80.5m.
In cumulative totals, top international markets for the Jason Statham revenge actioner remain China ($24.3m) and Russia/CIS ($12.3m). Australia and New Zealand have delivered a muscular $5.8m.
Next major markets to open the film are South Korea (June 9) and France (June 16). Ritchie's previous film The Gentlemen grossed $36.5m in North America, $78.7m in international markets, and $115.2m worldwide.
'Stand By Me Doraemon 2' is top new film in China
Shin-Ei Animation's Stand By Me Doraemon 2 landed in second place at the China box office, behind holdover title Fast & Furious 9, with takings of $16.3m, according to Artisan Gateway. The film is a sequel to 2014 Japanese sci-fi anime Stand By Me Doraemon, which is based on the manga by Fujiko Fujio (pen name for duo Hiroshi Fujimoto and Motoo Abiko). Ryuichi Yagi and Takashi Yamazaki directed both films.
The original Stand By Me Doraemon grossed $86.9m in China, $79m in Japan and $183m worldwide.
The China weekend box office saw A Quiet Place Part II in third place (see above), followedy by romantic drama Love Will Tear Us Apart in fourth with $5.2m (for a $42.5m total) and Cliff Walkers in fifth with $4.2m ($172.5m total).