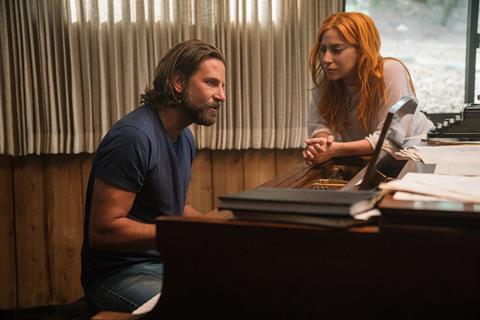 | Rank | Film / Distributor | Three-day gross (Oct 12-14) | Running gross | Week |
| --- | --- | --- | --- | --- |
| 1 | A Star Is Born (Warner Bros) | £2.9m | £14.9m | 3 |
| 2 | Halloween (Universal) | £2.7m | £2.7m | 1 |
| 3 | Venom (Sony Pictures) | £1.6m | £16.7m | 3 |
| 4 | Johnny English Strikes Again (Universal) | £1.7m | £11m | 3 |
| 5. | Smallfoot (Warner Bros) | £1.4m | £4.3m | 2 |
Today's GBP to USD conversion rate - 1.30
Warner Bros
After rising to the top of the table last week with a superb 0% drop on its opening weekend, A Star Is Born was at it again this weekend, dropping a negligible 6.5% with £2.9m to remain top.
That result takes it to £14.9m to date, and with no sign of takings slowing down, Warner has a hit on its hands.
Family animation Smallfoot posted a solid hold in its second weekend, dropping 39% with a £1.4m Fri-Sun. That takes it to £4.3m to date.
Crazy Rich Asians is up to a cume total of £5.7m after adding £47,000, while The Nun is up to £11.4m with a further £26,000 this weekend.
Universal
Opening in second this weekend was the Halloween reboot, starring Jamie Lee Curtis reprising a role she first played in 1978. The film took £2.7m Fri-Sun from 532 sites, the best result in the franchise on record (results from the original release pre-date official data).
Using the conventional benchmark, the opening doesn't match up to its performance in the US, where it has begun with an enormous $77.5m weekend.
Johnny English Strikes Again dropped 41% in its third session, adding £1.7m for £11m to date.
First Man dropped 46% in its second weekend, adding £1.3m. Mid-week takings have moved the film to £5.1m so far.
Night School has moved to £4.2m, adding £175,087 this weekend, while BlacKkKlansman is up to £6.4m, and Mamma Mia! Here We Go Again is up to £65.5m.
Sony Pictures
Venom dropped to third in the chart, adding £1.6m for a lifetime of £16.7m.

Goosebumps 2: Haunted Halloween got underway in the UK with a £1.3m Fri-Sun from 527 sites, placing it sixth in the chart. The film also took £787,000 in previews, making the overall cume £2.1m.
Lionsgate
Submarine action film Hunter Killer, starring Gerard Butler, opened with £368,082 from 354 sites. That's not a vintage result for Butler, whose last two titles have both opened considerably stronger: Den Of Thieves (£1.1m) and Geostorm (£1.6m).
A Simple Favour is up to £5.1m after adding £40,719.
Entertainment One
The House With A Clock In Its Walls is up to £7.7m in the UK after adding £175,085.
20th Century Fox
Bad Times At The El Royale added £146,041 in its second weekend, taking it to £987,008 so far.
Vertigo Releasing
Michael Moore's latest documentary Fahrenheit 11/9 – about the 2016 US presidential election and the subsequent presidency of Donald Trump – opened to £56,814 from 40 sites including £25,875 from two London Film Festival previews.
The film was late addition to the calendar - released before the US mid-term elections on November 6 - and as such played on reduced shows in most sites. With key sites yet to play, Vertigo is confident the film will have a long tail.
Intent 2: The Come Up is up to £433,792 in the UK.
Picturehouse Entertainment
The Wife took a further £60,677 in its fourth weekend, bringing the running cume up to £1.3m.
Eros International
Namaste England – the Hindi romantic comedy that is a sequel to 2007's Namastey London – opened to £56,709 in 58 locations. The original opened to a more impressive £238,841 from 42 sites and ended on £870,150.
Curzon
Matteo Garrone's Dogman got underway with £40,724 from 29 sites over the weekend. With previews, the film's opening is £46,361.
Cold War is on £1.1m, Faces Places is up to £118,592.
Studiocanal
King Of Thieves added £32,241 and is up to £5.9m so far.