Three new titles have landed on Screen's Berlin Competition jury grid, with Emin Alper's A Tale Of Three Sisters moving into first position.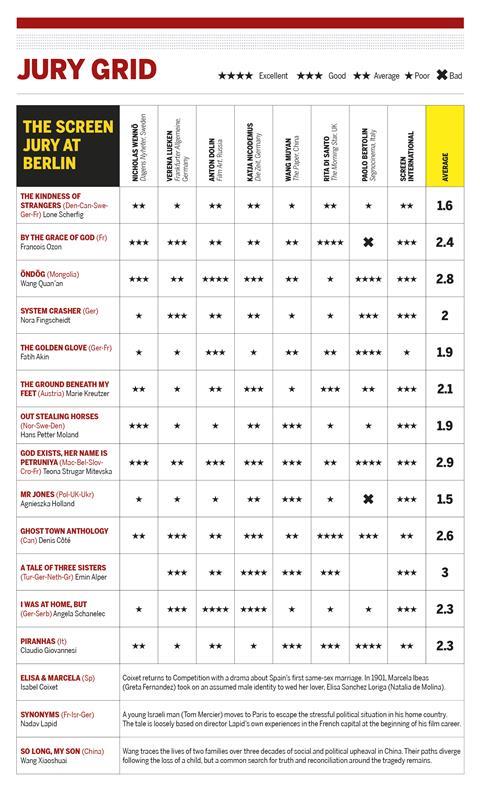 The film has an average of 3.0, although it is missing two scores – Nicholas Wennö is still to award while Paolo Bertolin is not reviewing this title due to being credited with 'Thanks' on it.
So far it has received four threes (good), bracketed by a two (average) from Film Art's Anton Dolin and a four (excellent) from Katja Nicodemus of Die Zeit.
A Tale Of Three Sisters follows the three titular siblings in poverty-stricken Anatolia. They have each been sent away from home to become housemaids, and return to their father under troubling circumstances.
Also landing on the grid is Angela Schanelec's I Was At Home, But, which divided the opinion of critics for a 2.3 average. It scored 1s (poor) from Dagens Nyheter's Wennö, The Paper's Wang Muyan, The Morning Star's Rita Di Santo and Segnocinema's Bertolin, but top score fours from Dolin and Nicodemus.
Schanelec's Competition debut title takes in the impact of a 13-year-old boy's week-long disappearance upon his mother, played by Maren Eggert, and teachers. Franz Rogowski also stars.
Finally, Claudio Giovannesi's Piranhas also received mixed scores for a 2.4 average. It impressed Bertolin, who gave it a four, but less so Nicodemus and Frankfurter Allgemeine's Verena Lueken, who both felt it merited ones.
The film is an adaptation of Roberto Saviano's novel about a gun-toting, drug-dealing gang of teenage boys who terrorise the streets of Naples. Sales company Elle Driver confirmed a set of deals on the film yesterday (February 12), including France, Spain and Germany.
Three titles are still to take their place on the jury grid: Isabel Coixet's Elisa & Marcela, Nadav Lapid's Synonyms and Wang Xiaoshuai's So Long, My Son.