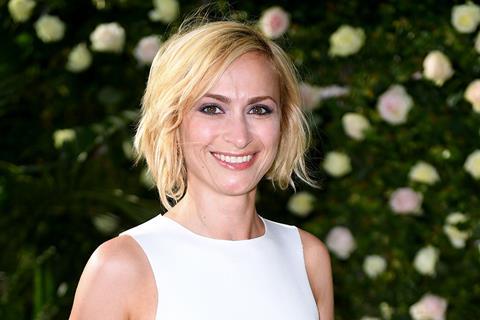 Tributes have been paid to cinematographer Halyna Hutchins, who has been killed in an accident on the set of western Rust when the film's star Alec Baldwin fired a prop gun.
Ukraine-born Hutchins studied international journalism in Kiev. After working on documentary films in the UK she moved to Los Angeles, where studied at the American Film Institute Conservatory, graduating in 2015. She went on to serve as cinematographer on Adam Egypt Mortimer's Archenemy, starring Joe Manganiello, which was in official competition at the Sitges Festival of Fantastic Film in 2020.
Her other features include Mike Nell's cop drama Blindfire starring Brian Geraghty and Sharon Leal and Pollyanna McIntosh's horror Darlin', which premiered at SXSW in 2019, going on to play at Edinburgh, Fantasia London FrightFest, BiFan, Sitges and Galway Film Fleadh.
Hutchins was named a rising star in 2019 by American Cinematographer magazine, where she spoke of how growing up as an "army brat" on an Arctic naval base gave her plenty of time to develop her love for film. Describing her approach, she said: "One thing I learned is that cinematography is not something you do by yourself. It's a group [project]. You need to develop your own vision, but the key to a successful film is communication with your director and your team."
Tributes
Hutchins' death has shocked the film industry, and questions have been asked over the use of prop guns on set. Full details of the accident have yet to be released.
Guardians Of The Galaxy director James Gunn said on Twitter: "My greatest fear is that someone will be fatally hurt on one of my sets. I pray this will never happen. My heart goes out to all of those affected by the tragedy today on Rust, especially Halyna Hutchins and her family."
Actor Manganiello, who worked with Hutchins on Archenemy, added: "I'm in shock… An incredible talent and great person. I can't believe this could happen in this day and age… gunfire from a prop gun could kill a crew member? What a horrible tragedy. My heart goes out to her family and especially her son."
Philapa Childs, head of UK screen sector union Bectu, said: "Tragic news and an incident that should never have happened. Lessons must be learned."
Bill & Ted star Alex Winter said: "Crew should never be unsafe on set and when they are there is always a clearly definable reason why."
Bridesmaids director Paul Feig said: "It is beyond comprehension. There are no words, really. This is a very dark day for our industry."
Santa Fe County Sheriff's Office confirmed Hutchins died after Baldwin "discharged" a prop gun on the film's New Mexico set. Director Joel Souza was also injured in the accident but it is being reported he is now out of hospital.
The production issued the following statement: "The entire cast and crew has been absolutely devastated by today's tragedy, and we send our deepest condolences to Halyna's family and loved ones. We have halted production on the film for an undetermined period of time and are fully cooperating with the Santa Fe Police Department's investigation. We will be providing counseling services to everyone connected to the film as we work to process this awful event."