Denmark-based Final Cut For Real, the outfit behind Oscar nominee and BAFTA winner The Act of Killing, has launched a Kickstarter campaign for its new film Democrazy.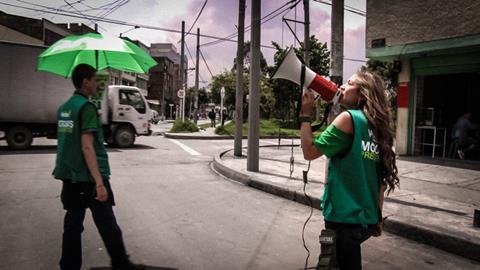 Final Cut for Real producer Signe Byrge Sorenson is working with director Andreas M. Dalsgaard on the documentary set in Colombia.
The story follows a fearless Colombian politician, Antanas Mockus, and his band of young followers — including activist Katherin Miranda — trying to change a corrupt society.
"Even at the best of times, financing documentaries is a struggle," said Sorensen. "We experience a growing audience interest in our films and a global interest in documentaries as a genre, but finance is still scarce, especially for films dealing with complex, international issues.
"However, when the films are finished there is clearly an audience. This time, we will try to engage the audience early on, through Kickstarter. We hope it will reach audiences in Colombia, the US, and Europe, and we need their support and help to finish the film."
Dalsgaard added: "My previous film, Bogota Change, became a viral hit, reaching more than a million viewers and fuelling the popularity of its characters to become the leading opposition in Colombia.
" It is wonderful when your work can have such direct impact and that an audience can relate to it. We hope that people, who want to challenge political systems, will support this unique story."
The Kickstarter campaign can be found here: https://www.kickstarter.com/projects/1287992000/democrazy