Palme d'Or winner to open Finnish festival, which has announced its gala films.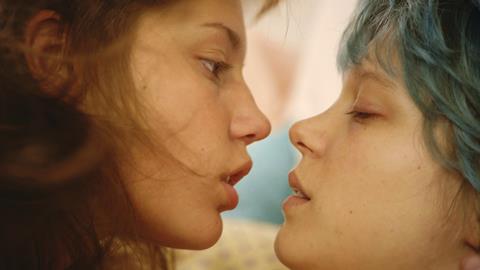 The 26th Helsinki International Film Festival (Sep 19-29) is to open with Cannes Palme d'Or winner Adele: Chapters 1 & 2 (La Vie d'Adèle: Chapitre 1 & 2).
Directed by Abdellatif Kechiche, it is a love story between two young women.
This year the festival showcases a record number of films, comprising 160 features and a short film series.
This year's HIFF Gala Film is The Grandmaster, the new film from Wong Kar-wai that opened the Berlinale in February. The film, which spans the five first decades of the 20th century in China, depicts the life of legendary kung fu master Ip Man, portrayed by Tony Leung.
The Finnish Film Gala selection is Heart of a Lion (Leijonasydän) by Dome Karukoski (Lapland Odyssey, Forbidden Fruit).
The drama centres on neo-nazi Teppo (Peter Franzén), who falls in love with a woman that has a black son and finds himself fighting conflicting feelings.
The festival's closing film is Frances Ha by Greenberg director Noah Baumbach. The black-and-white comedy drama stars Greta Gerwig as a young dancer who tries to find herself and her place in New York City.
Other films featured in HIFF's Spotlight Selection include Gus Van Sant's Promised Land and Pioneer, a thriller by Norwegian director Erik Skjoldbjærg that will receive its international premier at the Toronto International Film Festival.
Finnish director Pirjo Honkasalo's new drama, Concrete Night, will get its domestic premiere at HIFF. The film, based on a novel by author Pirkko Saisio, is shot in black and white and depicts one tragic night in the life of two brothers in powerful black-and-white images.
Other films include Joshua Oppenheimer documentary The Act Of Killing; Hany Abu-Assad's Omar, which won the special jury prize Un Certain Regard in Cannes; and Srdan Golubović drama Circles.
Culinary series Haute Cuisine will include documentaries Red Obsession by Warwick Ross and David Roach, and Mussels In Love from Willemiek Kluijfhout.
The latest Finnish feature films are showcased to international film professionals during HIFF's industry event, the Finnish Film Affair.
The event, which launched last year, returns for three days from Sept 24-26. An estimated 250 film professionals are expected to participate in the event that gathers sales agents, distributors, TV buyers, festival programmers and representatives of the press to see the latest and upcoming Finnish films.
The line-up of more than 20 titles and around 10 works in progress will be announced in mid-August.
The full festival programme will be published on September 6.