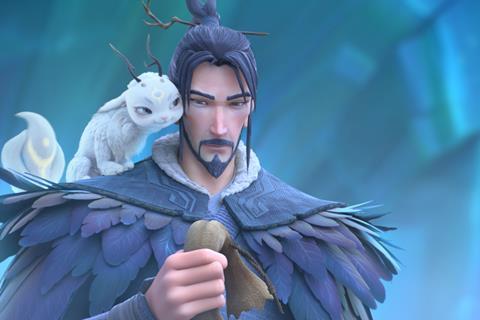 The Annecy International Film Festival has unveiled its main feature competition selections for its upcoming hybrid edition which is due to take place from June 14 to 19 in its lakeside home at the foot of the French Alps.
Danish-French filmmaker Jonas Poher Rasmussen's animated documentary Flee and Netflix-acquired adult rom-com You Animal! by Philippine director Avid Liongoren will be among 10 titles competing in the main feature competition for the Cristal award.
The tale of an Afghan man forced to escape his homeland and Mujahadeen as a child, Flee was feted with Cannes 2020 label last year and went onto win the grand jury prize for documentary in the World Cinema section of Sundance this year. Neon acquired North American rights.
Other Cristal contenders include Japanese director Hirota Yusuke's family-oriented ecology tale Poupelle Of Chimney Town, which has recently also been announced as the closing film of the second part of the Rotterdam International Film Festival's 50th edition in June.
Further selections include the Chinese blockbuster Jiang Ziya: Legend of Deification and a second Afghanistan-themed work, My Sunny Maad, by Czech animator Michaela Pavlatova, who won Annecy's Cristal award for her short film Tram in 2012.
Another nine features will compete in the Contrechamp section, which was launched in 2018 to replace the out of competition section and showcase more challenging works.
They include UK director Ryan Braund's Absolute Denial, about a genius programmer who builds a computer with unprecedented power, and Brazilian animator Cesar Cabral's Bob Spit – We Do Not Like People, about a comic book character who decides to quit his post-apocalyptic desert home.
The Contrechamp selection also features a Sundance winner in US director Dash Shaw's Cryptozoo, which won the NEXT Innovator Award before heading to Berlin, where it clinched a special mention in Generation 14plus.
Feature Film Competition
Flee (Den, Fr, Nor, Swe)
Dir. Jonas Poher Rasmussen
You Animal! (aka Hayop Ka! The Nimfa Dimaano Story) (Phil)
Dir. Avid Liongoren
Jiang Ziya: The Legend Of Deification (China)
Dir. Wei LI, Teng Cheng
Josee To Tora To Sakanatachi (Jp)
Dir. Kotaro Tamura
Lamya's Poem (Can, US)
Dir. Alex Kronemer
My Sunny Maad (Czech, Fr)
Dir. Michaela Pavlátová
Poupelle Of Chimney Town (Jp)
Dir. Yusuke Hirota
Snotty Boy (Ger, Aus)
Dir. Marcus Rosenmãœller, Santiago Lopez Jover
The Ape Star (Den, Nor, Swe)
Dir: Linda Hambäck
The Deer King (Jp)
Dir. Masashi Ando, Masayuki Miyaji
Feature Film Contrechamp Competition
Absolute Denial (UK)
Dir. Ryan Braund
Archipel (Can)
Dir. Félix Dufour-Laperrière
Bob Spit – We Do Not Like People (Br)
Dir. Cesar Cabral
Chicken Of The Mound (Ger, China)
Dir. Xi Chen
City Of Lost Things (Taiwan)
Dir. Chih-Yen Yee
Climbing (S Kor)
Dir. Hye-mi Kim
Cryptozoo (US)
Dir. Dash Shaw
Mount Fuji Seen From A Moving Train (Can)
Dir. Pierre Hébert
My Uncle Joe (Br)
Dir. Ducca Rios.