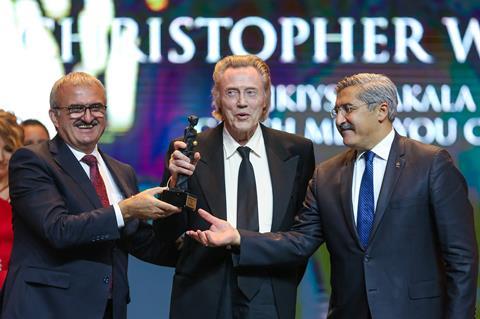 The 54th Antalya International Film Festival opened on Saturday night with a mix of Hollywood glamour and Aida Begic's hard-hitting drama Never Leave Me about orphaned Syrian refugees as the opening film.
The festivities kicked off with the traditional open-topped car parade through the Mediterranean resort town, followed by a glitzy opening night ceremony at the Antalya Expo Center broadcast live on Turkish television and attended by 3,000 guests
Academy Award-winning Actor Christopher Walken was presented with an honorary Golden Orange Award for his outstanding contribution to the art of film.
The actor also gave a masterclass on Sunday about his career spanning more than 100 credits from The Deer Hunter to Pulp Fiction, Catch Me If You Can and King of New York, which screened at the festival.
Antalya mayor Menderes Turel also presented actress Juliette Lewis with the keys to city.
She too discussed her award-winning filmography, characterised by unconventional roles in films such as Natural Born Killers, What's Eating Gilbert Grape and August: Osage Country, in a masterclass over the weekend.
Turkish cinema was also feted on Saturday evening with cinematographer Erkan Atkas, veteran actresses Suzan Avc and Necla Nazir as well as director Osman Sinav receiving career awards.
Other guests at the ceremony included Japanese actor Masatoshi Nagase, star of Naomi Kawase's Radiance which is in competition at the festival, Turkish director Andac Haznedaroglu and producer Chin-Chin Yap and cinematographer Murat Bay from Ai Wei Wei's Human Flow.
Opening Film
Bosnian director Aida Begic was also in attendance for the screening of the opening film Never Leave Me with her producers Adis Djapo, Amira Lekic, cinematographer Erol Zubcevic as well as the young amateur cast of young Syrian refugees.
A deeply human portrait of three young Syrian orphans thrown together in a home run by Syrian women in Turkey, the feature drew a warm response from the mainly local audience for whom the refugee crisis is an ever-present phenomenon due to the arrival of some three million Syrian people on Turkish soil due to the civil war back home.
"Thank you so much for inviting the film to this festival. I truly believe that the message of this film is an important one - we don't all speak the same language, but we can still live together in peace and harmony," said Begic.
Other international guests at Saturday night's ceremony included jury president Elia Suleiman, Turkish actor Fadik Sevin Atasoy, Brazilian director Karim Aynuz, British screenwriter and playwright Rebecca Lenkiewicz and Bosnian director Danis Tanovic.
Stars and filmmakers from Turkish cinema in attendance included actors Necati Sasmaz, Ismail Gunes, Murat Han, Soray Uzun, Murat Cemcir, and producer Birol Guven.
"We are most proud to present to the people of Antalya, a highly curated panorama of the very best in world cinema - the best of the best from Cannes, Berlin, Venice as well as films by world-class Academy Award winning directors and artists," the festival's artistic director Mike Downey told the ceremony.
"But not only that – alongside the amazing Forum which supports Turkish cinema with over 80 Turkish projects participating – three out of the ten films in the competitive section are Turkish qualifying films and are world premieres."