Ensemble cast includes Steve Buscemi, Simon Russell Beale and Paddy Considine.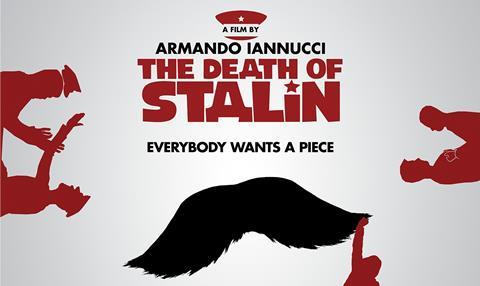 Armando Iannucci's The Death of Stalin has begun principal photography today, with filming to take place in England and Ukraine.
Based on graphic novel The Death of Stalin by Fabien Nury and Thierry Robin, the drama is set in the days following the Russian leader's stroke in 1953 as his core team of ministers tussle for control.
The film stars Steve Buscemi (Boardwalk Empire), Simon Russell Beale (Into the Woods), Paddy Considine (Macbeth), Rupert Friend (Homeland), Jason Isaacs (Harry Potter), Olga Kurylenko (Oblivion), Michael Palin (A Fish Called Wanda), Andrea Riseborough (Birdman), Paul Whitehouse (Alice in Wonderland) and Jeffrey Tambor (Transparent) with Adrian McLoughlin (Thunderpants) as Stalin.
The Death of Stalin is a Quad, Main Journey production, in co-production with Gaumont.
Iannucci, the Oscar-nominated writer behind HBO satire Veep and feature In The Loop, has written the screenplay with David Schneider and Ian Martin with additional material by Peter Fellows.
Producers are Yann Zenou, Nicolas Duval-Adassovsky, Laurent Zeitoun and Kevin Loader.
Iannucci said: "The Death of Stalin has everything: comedy, tragedy, truth, lies, life, death, bravery and cowardice. All under the shadow of Stalin's Terror. So I'm really pleased we have an amazingly multifaceted cast who can give us all these things and more.
"It's an unbelievable ensemble - great actors, brilliant comedians, fantastic personalities - and together they give us all the horrific drama and base absurdity of the crazy last days of Stalin and the power-struggle to succeed him."
Gaumont will handle the French theatrical and video release, along with international sales and locked key pre-sales at Cannes last month, including Germany (Concorde/Telemunchen), Australia (Madman), Greece (Odeon), Switzerland (Ascot Elite) and Poland (Kinoswiat).