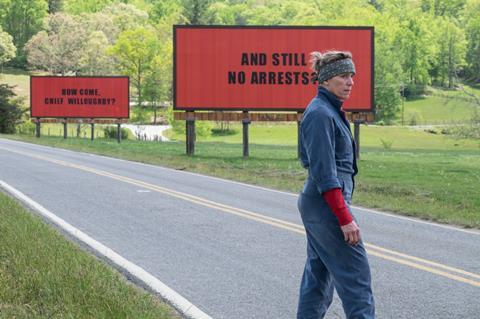 The 2018 Bafta Film Awards, which saw Three Billboards take five prizes including best film, were dominated by messages of solidarity and support for the victims of sexual harassment and bullying.
The 71st edition of the annual British film awards kicked off with Bafta chair Jane Lush saying that she wanted the organisation to "lead the way with #MeToo". She also celebrated the British presence on the night, saying "our shores are awash with untapped talent".
New host Joanna Lumley, taking over the presenting reins from Stephen Fry this year, commenced proceedings by noting that The Royal Albert Hall, the evening's venue, "celebrated the first group of British women being given the vote" exactly 100 years ago.
The night commenced with the vast majority of attendees heeding the call to wear dark colours to show solidarity with the Time's Up movement. Several also wore Time's Up pin badges to spread awareness of the campaign against sexual harassment. The red carpet was also crashed by a group of domestic violence activists called Sisters Uncut, who were protesting UK prime minister Theresa May's domestic violence bill.
Many of the winners on the night also used their time on stage to deliver messages of equality, diversity and responsibility.
Presenting the award for best film, James Bond actor Daniel Craig said, "It's magnificent to see all you here, especially because you're supporting #TimesUp."
Five wins for Three Billboards
That prize went to Martin McDonagh's Three Billboards Outside Ebbing, Missouri, which took a total of five Baftas including the first prize on the night, Outstanding British Film - the last film to win that prize as well as best film was The King's Speech in 2011.
Accepting his best screenwriting prize, Three Billboards Outside Ebbing, Missouri writer-director Martin McDonagh commented: "What we're especially proud of in this year of #TimesUp, [Three Billboards is] about a woman who refuses to take any shit any more, played by a woman who's always refused to take any shit."
The film also won best actress for Frances McDormand. "I want you to know I stand in full solidarity with my sisters tonight in black," she said. "I am thrilled that activists all over the world have been inspired by the set decoration and taken to the streets and are part of the positive public discourse."
Supporting actor Sam Rockwell rounded out Three Billboards' haul of five Baftas.
Guillermo Del Toro took best director for The Shape Of Water, which was pipped to the top prize by Three Billboards and only walked home with three prizes (also production design and Alexandre Desplat's score) from its 12 nominations.
"In this very important and historic year for women, I am here to celebrate…men," joked Salma Hayek as she presented the best actor award to Gary Oldman for his portrayal of Winston Churchill in Darkest Hour, who received a standing ovation as he collected his first acting Bafta (he's previously won as a writer and producer). The win cements his place as clear favourite for the Oscars. The film also picked up the hair and make-up prize.
Gemma Arterton, presenting the outstanding debut prize alongside Lily James, praised attendees for "standing up for equality". The prize itself saw a surprise winner, with I Am Not A Witch pair Rungano Nyoni (writer/director) and Emily Morgan (producer) triumphing over the much-fancied Lady Macbeth team of Alice Birch (writer), William Oldroyd (director), and Fodhla Cronin O'Reilly (producer).
The Rising Star award, the only prize voted for by the public, was taken by Daniel Kaluuya for his star turn in Get Out. Accepting the prize, Kaluuya used the moment to stress the importance of backing young talent: "I am a product of arts funding within the UK, I'd like to thank people that financially support that, grassroots level."
Dunkirk, which many had tipped for a potential upset in the best film or director categories, walked away with a solitary win from its seven nominations – for its sound design.
Call Me By Your Name also took home a solitary prize, for James Ivory's adapted screenplay, as did Phantom Thread for its costume design and I, Tonya for supporting actress Allison Janney. Film Stars Don't Die In Liverpool and Paddington 2 went home empty-handed.
Mix of winners
Further winners on the night included I Am Not Your Negro, which scooped best documentary, triumphing over a strong field that also featured City Of Ghosts and Netflix doc Icarus.
Blade Runner 2049 cinematographer Roger Deakins picked up his fourth Bafta – he's still yet to win an Oscar despite being nominated 14 times (including this year). The film also won Best Visual Effects.
Phantom Thread took the Best Costume Design award, while Allison Janney won best supporting actress for I, Tonya, with both films only taking a prize apiece.
Edgar Wright's Baby Driver took the editing prize, potentially paving the way for a repeat at the Oscars; the two awards ceremonies usually marry up in that category.
Disney Pixar's Mexican Day of the Dead themed Coco scooped the Best Animated Film prize over Loving Vincent and My Life As A Courgette. "'Representation matters, marginalised people deserve to feel like they belong," said the film's producers when collecting their award.
Park Chan-wook's The Handmaiden was perhaps a surprise winner in the foreign language film category, topping Andrey Zvyagintsev's critical smash Loveless despite being released in the UK all the way back in April, while Loveless has only just entered UK cinemas. The Handmaiden became the first Korean film to win a Bafta.
As previously announced the Outstanding Achievement Award was presented to the National Film and Television School. Celia Imrie, presenting the award to the institution's director Jon Wardle, commented: "If anything of these talented students ask you to be in their graduation film, for goodness sake say yes!"
The night's other honorary prize went to Ridley Scott. "His films are amongst my personal favourites. His creativity continues to inspire the vital next generation of talent," commented the Duke of Cambridge as he presented the award.
Time's Up impact
On the morning before the event, a collective of 190 women from the film, TV and theatre industries co-signed an open letter calling for an end to harassment, abuse and impunity. Several attendees also took activists as their guests to the ceremony, including Andrea Riseborough, who was accompanied by Phyll Opoku-Gyimah (co-founder and executive director of UK Black Pride) and Tessa Thompson, who will be accompanied by Marai Larasi (executive director of Imkaan and Co-Chair Of The End Of Violence Against Women Coalition).
Today also saw the launch of the Justice and Equality Fund, which will be managed by pre-existing UK women's fund Rosa and has raised more than £1.5m at the time of writing – the fund's page lists both Tom Hiddleston and Keira Knightley as donating £10,000 and Emma Watson as donating £1,000,000.
In the wake of the sexual misconduct that have gripped the film industry for the past six months, Bafta officially terminated disgraced movie mogul Harvey Weinstein's membership earlier this month, before teaming with the BFI to launch a series of bullying and harassment principles and guidelines last week.