Benicio Del Toro to be honoured at San Sebastian; Oscar-winning actor's Escobar: Paradise Lost to close Pearls section.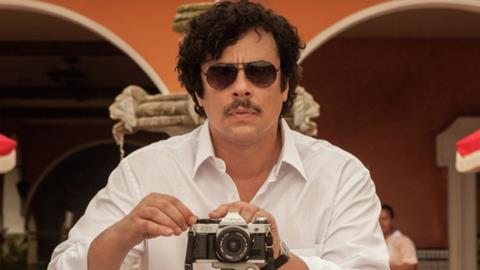 The 62nd San Sebastian Festival (Sept 19-27) is to honour actor Benicio Del Toro with its Donostia Award for Lifetime Achievement in recognition of his career.
Previous winners of the award include John Travolta and Hugh Jackman. Denzel Washington will also receive a Donostia Award at this year's festival, where the US actor will present opening film The Equalizer.
Del Toro will also present his latest feature Escobar: Paradise Lost, which has been selected to close the Pearls section of this year's festival.
Written and directed by Andrea di Stefano, the film stars Del Toro alongside Josh Hutcherson (The Hunger Games), Claudia Traisac and Carlos Bardem, who will also attend the Festival.
Escobar: Paradise Lost tells the story of surfer Nick (Hutcherson), who falls in love with Colombian girl, Maria (Traisac), when visiting his brother. Everything seems perfect until he meets her uncle, Pablo Escobar (Del Toro).
Since his debut in James Bond movie License to Kill, Del Toro has earned an Academy Award for Best Supporting Actor in Steven Soderbergh's Traffic. He was also nominated for an Oscar for his work in Alejandro Gonzalez Inarritu's 21 Grams.
Del Toro was most recently seen in sci-fi action film Guardians of the Galaxy, which recently topped $500m at the international box office to become the top earner of the summer.
Upcoming features include Fernando Leon's A Perfect Day and Paul Thomas Anderson's Inherent Vice. The actor is currently shooting Denis Villeneuve's Sicario.
Del Toro was born in Puerto Rico, but grew up in Pennsylvania. He pursued a degree in business at the University of California before studying with acting teachers Stella Adler and Arthur Mendoza in Los Angeles.
Other notable features include roles in The Usual Suspects and Sin City.