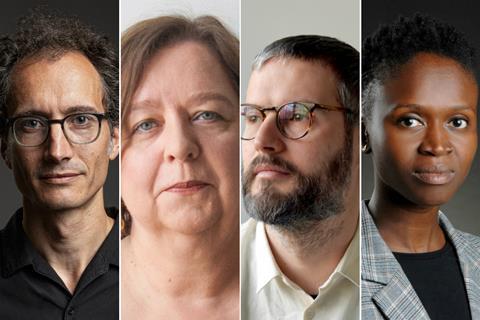 Cristina Nord, who was appointed head of the Berlin Film Festival's Forum strand in May, has named the programming team that will guide the selection for her inaugural edition.
Alongside Nord, four others are on the team, including two new additions: Joan Aguilar, who is a partner at Belgian distribution company Imagine and has programmed for the International Film Festival Brussels and the ACM Disitrubtion Fund at the CNC, and Jacqueline Nsiah, who is an active programmer for Africa Film Society in Ghana, and oversees an African film platform at the Goethe-Institut.
Long-time Berlinale Forum team members remaining on the committee are: Anna Hoffman, who has been the Forum's programme manager and on its selection committee since 2001, and James Lattimer, who is a journalist and programmer and became a programme consultant to the Viennale this year.
The team will be joined by ten consultants: Enoka Ayemba (based in Berlin), Alia Ayman (New York, Cairo), Bernd Buder (Berlin), Lyse Ishimwe Nsengiyumva (Brussels), Birgit Kohler (Berlin), Jan Künemund (Berlin), Luciano Monteagudo (Buenos Aires), Sven von Reden (Cologne), Stefanie Schulte Strathaus (Berlin), Vincent Stroep (Antwerp).
Berlinale Forum is an independently curated programme running alongside the main festival and is organised by Arsenal - Institute for Film and Video Art.