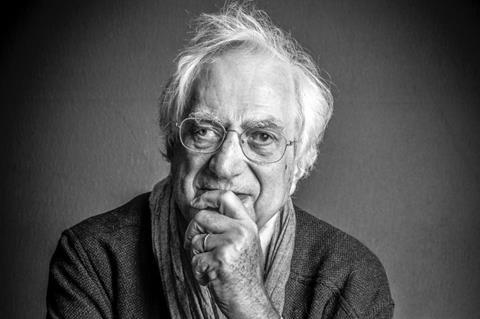 French director, screenwriter and producer Bertrand Tavernier has died aged 79, the Institute Lumière has announced.
Tavernier was president of the Lyon-based museum and cinematheque devoted to the legacy of local cinema pioneers Auguste and Louis Lumiere, working alongside its director and Cannes Film Festival delegate general Thierry Frémaux.
Born in Lyon, the son of a writer and resistance fighter, Tavernier studied law before deciding to pursue his dream of making films.
For a time, he combined his filmmaking with working as a press attaché alongside the late Pierre Rissient. In 2018, he shared his memories with Screen of working in this role at the infamous 1968 edition of Cannes, which was shut down by a band of rebel directors led by Jean-Luc Godard and François Truffaut.
Tavernier's feature directorial debut was the 1974 crime drama The Watchmaker Of St. Paul, adapted from a novel by George Simenon. The film world premiered in the Berlinale, winning the special jury prize. He would win the Golden Bear at the festival in 1995 with crime drama Fresh Bait.
The director made his Cannes competition debut in 1980 with the drama A Week's Holiday, starring Nathalie Baye as a school teacher reflecting on her past life. He would compete four times in Cannes main competition, with his other Palme d'Or contenders comprising A Sunday In The Country (1984), The Foolish Things (1990) and The Princess of Montpensier (2010).
His international reputation was boosted in 1986 with 'Round Midnight, starring Dexter Gordon as a talented jazz musician who lands in Paris, having fled problems at home in the US. Gordon was Oscar-nominated for his performance while Herbie Hancock won the Oscar for best music, original score.
Further awards for Tavernier's work included a Bafta for best film not in the English language in1990 for historical drama Life And Nothing But.
Alongside making films, Tavernier was a tireless defender of France's 'Cultural Exception' and spent much time in Brussels defending its existence. He was also a staunch critic of the European Union's plans for a Single Digital Market.
In later life, Tavernier devoted himself to documenting and preserving French cinema and film heritage in general. In 2016, he made the epic documentary A Journey Through French Cinema taking the spectator on a tour of French cinema. It was followed by an expanded nine-part work entitled Journeys Through French Cinema, which would be his last work.
His last fiction feature was the 2013 political comedy The French Minister capturing the machinations of the corridors of power in France.
Over this past pandemic year, Tavernier also put up a militant front for the future of cinema in the face of the challenges posed by the virus and the closure of cinemas, writing in a joint open letter with Frémaux last August: "In spite of alarmist predictions, cinema still exists, it never left us."