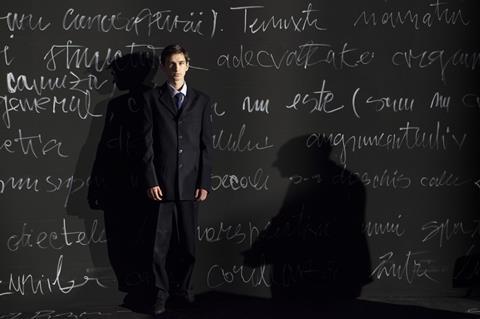 Brussels-based sales company Best Friend Forever (BFF) has boarded world sales on Romanian director Radu Jude's new political drama Uppercase Print ahead of its world premiere in the Berlinale's Forum section.
An adaptation of 2013 play Typographic Capital Letters by Romanian playwright Gianina Carbunariu, it tells the true story of high school student Mugur Călinescu who was arrested in the early 1980s by Romania's secret police agency, or Securitate, for graffiti criticising the regime of communist dictator Nicolae Ceausescu.
The play was based on accounts of the case found in Securitate files which came to light after Ceausescu's overthrow and execution in 1990. The dramatic work has described as the Romanian equivalent of German Oscar-winning drama The Lives Of Others.
"The film brilliantly plays with cinema, linking archive and live footage, to reveal the brutal mechanisms of repression and an unknown hero of the Communist era in a very innovative way," said Best Friend Forever co-chief Martin Gondre.
Bogdan Zamfir, who previously had supporting roles in Young Ahmed, The Apparition and Fidelio: Alice's Journey, stars as the young student alongside Șerban Lazarovici, Ioana Iacob, Șerban Pavlu.
Jude was last at the Berlinale in 2015 with adventure comedy-drama Aferim! which won the Silver Bear. In between times, he premiered biographical drama Scarred Hearts at Locarno in 2016, where it won the Special Jury Prize, and I Do Not Care If We Go Down In History As Barbarians at Karlovy Vary in 2018, where it won the Crystal Globe.
Uppercase Print is produced by Jude's long-time producer Ada Solomon at Bucharest-based MicroFILM, whose credit includes Oscar-nominated Toni Erdmann and Cãlin Peter Netzer's 2013 Berlin Golden Bear winner Child's Pose, in coproduction with Romanian public television and HiFilm Productions, which will release the film in Romania on February 21 2020.
In a second recent Forum acquisition, Best Friend Forever has also boarded sales on Canadian experimental filmmaker Matthew Rankin's The Twentieth Century, which will have its European premiere in the section.
The highly-stylised work explores the rise to power of seminal Canadian politician William Lyon Mackenzie King, who served as prime minister three times between 1921 and 1948. The film originally debuted in TIFF's Midnight Madness, winning Canadian best first feature. Oscilloscope Laboratories will release the English-speaking picture in the US later this year.
Dan Beirne, whose credits include TV series Fargo and The Handmaid's Tale, plays the lead role. The film was produced by Gabrielle Tougas-Fréchette and Ménaïc Raoul for Canada's Voyelles Films
"The film is nothing else you have ever seen and has a real cult potential," said Best Friend Forever co-chief Charles Bin.
Other Berlinale titles on the Best Friend Forever slate include Encounters selection Los Conductos by Camilo Restrepo and dance documentary If it Were Love by Patric Chiha which will debut in Panorama.
It will be the first Berlinale and EFM for Best Friends Forever. The company was launched on the eve of the Cannes Film Festival last year by former Indie Sales head of marketing and festivals Martin Gondre and entertainment lawyer Charles Bin, alongside Indie Sales' co-founder Nicolas Eschbach.