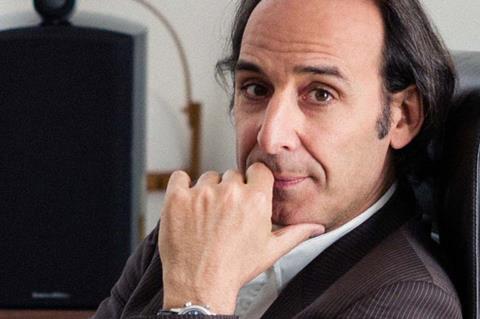 The BFI London Film Festival (October 10-21) has unveiled the industry programme that will run alongside its 2018 event.
Guests this year include Oscar-winning composer Alexandre Desplat (taking part in an AMPAS event); producer and head of Element Pictures Ed Guiney; producer and co-founder of Number 9 Films Elizabeth Karlsen; and Ben Roberts, director of the BFI Film Fund.
Also attending will be Femi Oguns, founder of the Identity Agency Group; Stacy Smith, the creator of the 'inclusion rider'; and screenwriter Jeff Pope (Philomena, Stan & Ollie).
Events
A co-production discussion entitled 'What Has Co-Production Ever Done For Us?', will feature Guiney, Karlsen and producer Nina Bisgaard of Meta Film on the panel. It will look at the current co-production landscape and how it may be restricting UK producers from accessing its benefits.
Hosted by Screen's contributing editor Wendy Mitchell, '163 Days and Counting: Brexit and the Screen Sector' will provide an update on how the UK's departure from the European Union will affect the interests of the screen sector.
Blockchain panel 'Transfairency: Anatomy of a Blockchain Distribution Strategy' will consider the opportunities provided for the industry by Blockchain technology, and how businesses can 'unchain' from traditional models. Panellists include Sam Klebanov, founder of Cinezen Blockchain Entertainment, and Lori McCreary, president of the Producers Guild of America and CEO of Revelations Entertainment.
Moderated by film journalist and curator Danny Leigh, 'Breaking the Class Ceiling in UK Film' will take in the growing debate about the role of class in the UK industry. Panellists alongside Roberts include casting director Shaheen Baig, and Mia Bays, producer and director-at-large of Birds' Eye View.
'Driving Real Change: Diversity Standards and Inclusion Riders' will consider how filmmakers are working in the changing landscape of #MeToo, and how initiatives such as the BFI Diversity Standards and inclusion riders are making a difference. Panellists with Smith include producer Faye Ward (Suffragette, Wild Rose) and Jennifer Smith, head of inclusion at the BFI.
Amy and Senna director Asif Kapadia will appear alongside Pope and producer Simon Chinn (Whitney) at 'Story of My Life: Life Story Rights', a discussion on the issues around making a film of a real life story.
Stars of Tomorrow
The festival will also introduce the 2018 Screen Stars of Tomorrow to the industry at a special networking reception. This will be followed by a dinner hosted by the British Council and supported by the Casting Society of America (CSA).
The festival has previously announced its LFF Connects and Screen Talks events, with participants including Keira Knightley, Alfonso Cuarón, Simon Amstell, Lee Chang-dong and David Hare. More events in both series will be announced ahead of the festival.
The deadline to obtain accreditation for this year's event is 5pm on Wednesday September 19.
Screen spoke to interim artistic director Tricia Tuttle last week about the plans for this year's event and the festival's position as "a key launch pad for autumn season films".