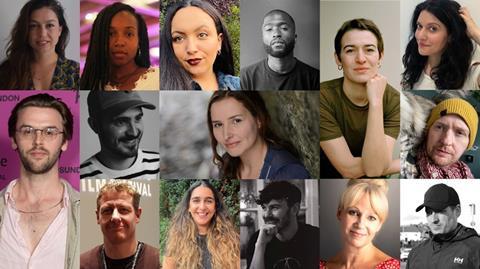 The British Film Institute (BFI) Network has unveiled 15 filmmakers who will participate in London Film Festival's (LFF, October 5-16) professional development programme Network@LFF.
Taking place October 7-10, the programme will consist of masterclasses and networking events with established filmmakers from around the world who are presenting work at this year's festival.
Scroll down for participants
The 2022 cohort, who were selected out of 596 participants, includes Screen Star of Tomorrow 2019 Benjamin Bee. The filmmaker, who identifies as neurodivergent and disabled, is currently working on his debut feature Marwell which was selected for Biennale College Cinema, EIFF Talent Lab Connects, and is in development with the BFI Film Fund.
Also participating is Rebekah Fortune who was nominated for Berlinale VFF Talent award. Her 2017 feature Just Charlie won an audience award at Edinburgh while her short films Her Majesty and Bebe A.I have screened in multiple festivals.
Alice Cabañas, who is in her first year as head of BFI Network, said: "The calibre of applicants this year was really high, and it felt hugely exciting, inspiring and humbling to read all of the applications and underlines just what a wealth of emerging talent and vast range of distinct and different voices we have in the UK.
"The group will interact with leading international filmmakers and execs, and network with key decision makers and industry professionals that will help them take that next step in their careers."
This is the eighth year Network@LFF has run. Former recent participants include Screen Star 2022 Luna Carmoon, whose debut feature Hoard is screening as part of LFF's works-in-progress showcase, and Screen Star 2021 Andrew Cumming who is also presenting his debut The Origin at LFF - world premiering in the 'Cult' strand.
Network@LFF 2022 participants
Dorothy Allen-Pickard – writer-director
Benjamin Bee – writer-director
Radha Bhandari – producer
Toby Bull – writer-director
Iona Firouzabadi – writer
Rebekah Fortune – writer-director
Jack Gill – writer-director
Tommy Gillard – writer-director
Danielle Goff – producer
Paul Holbrook – writer-director
Iggy London – director
Cherish Oteka – director
Charlotte Scott-Wilson – writer-director
Paul Skillen – writer
Mared Swain – writer-director