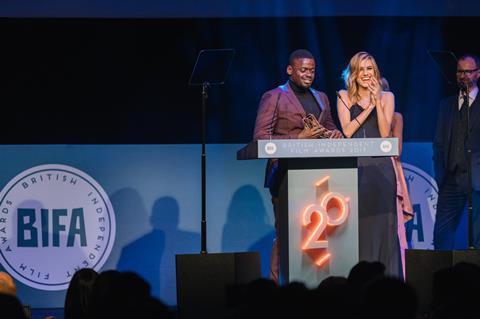 A £250,000 grant towards the British Independent Film Awards' Back to the Cinemas campaign leads the BFI Audience Fund's awards made from May to September 2020.
The award is to allow BIFA to create and implement the campaign, encouraging audiences to return to independent venues and highlight independent films as the sector begins to reopen.
Scroll down for the full list of awards.
It will also ensure BIFA can operate fully as a year-round industry partner, to highlight key titles and grow its social presence to priority audiences UK-wide.
A total of £708,003 in awards was given out by the Audience Fund in the May-September period, in a challenging time for the exhibition industry with cinemas required to remain closed until July.
In May, the BFI's head of audiences Ben Luxford told Screen the Fund would be "very relaxed" when it came to activity and targets during the coronavirus-induced shutdown.
Distribution awards included £30,000 to Picturehouse Entertainment for the release of Phyllida Lloyd's Herself; although the release, originally scheduled for October 16, was postponed 'until further notice' on Tuesday This is due to the closure of all Cineworld and Picturehouse cinemas from this weekend.
That award will stand so long as the release takes place within the current financial year.
Further awards included £53,453 to distributor Dartmouth Films to help promote Yemi Bamiro's UK documentary One Man And His Shoes, which will be released on October 23.
A further £50,000 went to UK Jewish Film for the UK Jewish Film Festival, to support the costs of presenting the event online; while £40,000 went to both the Berwick Film & Media Arts Festival, which opened on September 17 and runs until October 11; and The Festivals Company, for its Iris Prize LGBT+ Film Festival and Iris on the Move tour.
Last week the BFI awarded £650,000 from the Department of Culture, Media and Sport's Culture Recovery Fund to 42 independent UK cinemas, as part of a £30m total package in the Fund, which was established in July.
BFI Audience Fund awards, May-September 2020
British Independent Film Awards - £250,000
Dartmouth Films - £53,453 (One Man And His Shoes)
UK Jewish Film - £50,000
Berwick Film & Media Arts Festival - £40,000
The Festivals Company - £40,000
Slapstick Festival - £36,000
Kino Klassiki - £35,700
Aesthetica Magazine - £35,000
Modern Films Entertainment - £31,000 (White Riot)
Manchester Animation Festival - £30,000
Picturehouse Entertainment - £30,000 (Herself)
Filmbath - £20,000
606 Distribution - £15,450
Bulldog Film Distribution - £13,500 (Eternal Beauty)
Vertigo Releasing - £10,750 (Fanny Lye Delivr'd)
Vertigo Releasing - £10,750 (Saint Frances)
Bohemia Club - £6,400 (Clemency)