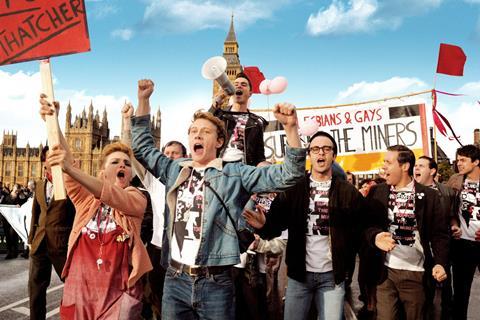 Cast and crew of the Bafta-nominated Pride (2014) have signed an open letter condemning the decision to ban a screening of the film by Turkish authorities.
Signatories include cast members Bill Nighy, Dominic West, Imelda Staunton, Andrew Scott and Joe Gilgun, and director Matthew Warchus, as well as members of the LGSM (Lesbians and Gays Support the Miners) support group whose story the film told.
According to The Telegraph, last week the governorate in Ankara banned a screening of Pride organised by a communist LGBT group, claiming such events could "incite hatred and enmity".
The open letter states: "We are disturbed by reports of the growing repression of the LGBT+ community in Turkey culminating in the recent ban of the annual Pride parade and police violence against those who courageously defied the ban."
"We deplore the decision of the Ankara Governate in banning the screening of Pride, and call on the Ambassador for Turkey in London, Abdurrahman Bilgiç, and the UK Foreign Secretary Boris Johnson, to condemn the repressive actions of the Turkish authorities."
It adds: "That the Turkish authorities should fear the screening of a film that tells this true story is a salutary warning about the present political climate in Turkey."
In the letter they send "unshakeable solidarity" to LGBT+ people in Turkey, where the Istanbul governorate had denied permission for the city's fourth annual Pride march on July 1 in celebration of LGBT+ rights.
The march went ahead despite the ban, and around 1,000 people gathered near Istiklal Avenue and Taksim Square in the city. A large police presence warned activists to disperse and used rubber bullets against some who attempted to access Istiklal Avenue.
Pride has already screened on several occasions in Turkey, including at the Istanbul Film Festival in 2015. Released in the UK in 2014, it was nominated for three Baftas, winning outstanding debut by a British writer, director or producer for writer Stephen Beresford and producer David Livingstone, who also signed the open letter.