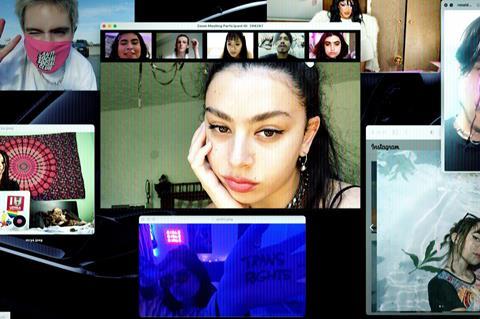 UK sales and distribution company Blue Finch Films has boarded UK and Ireland distribution rights and international sales rights, excluding North America, to music documentary Charli XCX: Alone Together.
Blue Finch Films will begin international sales of the documentary during the American Film Market (November 1-5) and intend to release the film theatrically in the UK and Ireland in 2022. Greenwich Entertainment will distribute in North America.
The South By Southwest premiere follows UK-born popstar Charli XCX – real name Charlotte Aitchison – as she creates her fourth album, How I'm Feeling Now, over a span of five weeks during a Covid-19 lockdown. Her breakthrough came with Icona Pop collaboration 'I love It' in 2012, which was followed by the release of her first solo album, True Romance, in 2013.
Alone Together is the feature debut for British directors Pablo Jones-Soler and Bradley Bell. The duo has previously worked on music videos for artists including Harry Styles, Dua Lipa, Frank Ocean, Nicki Minaj and Cardi B.
The documentary was produced by Ross Levine, Brian Ferenchik and Emmie Lichtenberg with executive producers Sam Pringle, Twiggy Rowley and Charli XCX, along with Jess Wu Calder and Keith Calder through Snoot Entertainment.
Blue Finch's international slate includes North Hollywood starring Ryder McLauhlin, Miranda Cosgrove and Vince Vaughn, documentary Once Upon A Time In Uganda, and the BBC and BFI-backed chiller Homebound.