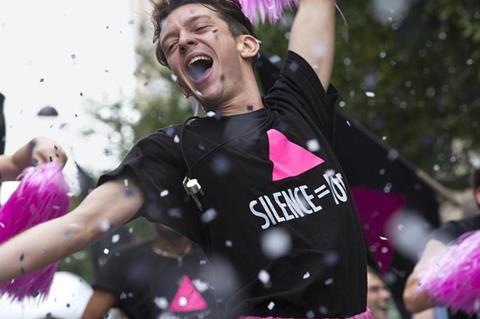 Robin Campillo's Aids activism drama BPM (Beats Per Minute) triumphed at the 23rd Lumière Awards, France's equivalent of the Golden Globes, on Monday evening (February 5), winning in all six categories in which it was nominated.
The feature, revolving around the work of the French branch of militant Aids advocacy group ACT UP in the early 1990s, won best director, screenplay and film.
Co-star Nahuel Pérez Biscayart clinched best actor for his performance as young activist Sean Delmazo, who battles the illness to the death, while Arnaud Valois picked up best male revelation for his performance as Sean's loyal partner. Arnaud Rebotini won for best music.
After thanking Campillo, the film's producers Hugues Charbonneau and Marie-Ange Luciani, as well as the rest of cast and crew, Biscayart also paid tribute to ACT UP for its pioneering work to raise awareness around the epidemic and benefiting future generations.
Campillo thanked the journalists at the ceremony for their support for the film, which had taken on a larger political dimension than he had expected as it toured the world after premiering in Cannes last summer.
"I realised early on I had to take this on board and go with it… as the film has played across the world it has helped raise awareness of the epidemic, first in France, where it is still strong, but also in other places like Ukraine and Slovenia," Campillo said.
The groundswell of support for BPM among Lumière voters this year meant there were few prizes left for any of the other titles in the running, which included Mathieu Amalric's Barbara, Michel Hazanavicius' Redoutable, Albert Dupontel's See You Up There, and Eric Tolédano and Olivier Nakache's C'est La Vie!
However Amalric's hybrid biopic Barbara – another hot favourite at the nomination stage – managed to clinch two awards. Star Jeanne Balibar won best actress for her performance in the double role of the legendary singer and the actress who is playing her in the film within a film. Christophe Beaucarne won best cinematography.
Best female revelation went to Laetitia Dosch for her performance as a young woman trying to make a fresh start in Paris in Léonor Serraille's drama Montparnasse Bienvenue.
In other categories, Belgian director Philippe Van Leeuw's drama Insyriated, about neighbours holed up in their apartments during the Syrian Civil War, won best Francophone film, aimed at works hailing from a Francophone territory.
Agnes Varda and JR's Oscar-nominated Faces Places won best documentary; Benjamin Renner and Patrick Imbert's The Big Bad Wolf picked up best feature animation, and best first feature went to Algerian filmmaker Karim Moussaoui's Until The Birds Return.
Honourary career prizes went to Italian actress Monica Bellucci and big screen legend Jean-Paul Belmondo for their contribution to French cinema.
The Lumière academy is made up of some 100 international correspondents based in or covering France and hailing from roughly 20 countries.
The next big date on the French awards calendar is the 43rd Césars ceremony in Paris on March 2. BPM leads the board there too, with 13 nominations, followed by See You Up There, Barbara, C'est La Vie!, and Bloody Milk.