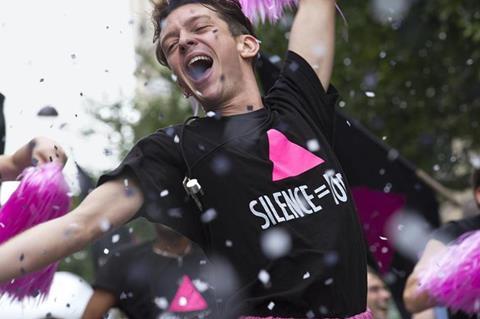 Robin Campillo's AIDS activism drama BPM topped the awards at the 43rd edition of the French Césars on Friday evening (March 2), with the director clinching best film, editing and screenplay.
The film won in six of its 13 nominated categories, with additional awards for best original music for Arnaud Rebotini, best supporting actor for Antoine Reinartz and best male newcomer for Nahuel Pérez Biscayart.
The César triumph follows an award-winning run in France for the film charting the activities of the Paris branch of militant AIDS awareness group ACT UP in the early 1990s.
Aside from winning the grand prix at the Cannes Film Festival in May, it also topped the awards at the Lumières last month in France, where it has drawn 840,000 spectators at the box office since its release by Memento Films Distribution last August.
Albert Dupontel's lavish post-First World War drama See You Up There came in second with five awards, including best director and best adaptation as well as a number of prizes in the craft categories including best sound, cinematography and best costume.
Breakout victor of the evening was Hubert Charuel's Bloody Milk, which clinched best first film as well as best actor for Swann Arlaud for his performance as a struggling dairy farmer whose herd is hit by a deadly disease, and best supporting actress for Sara Giraudeau.
Mathieu Amalric's tribute picture Barbara also picked up prizes with its star Jeanne Balibar winning best actress for her performance as the iconic French singer.
Other highlights of the evening included a surprise appearance by Spanish director Pedro Almodóvar to present compatriot Penelope Cruz with an honourary career César alongside French actress Marion Cotillard, who gave a glowing tribute.
The 43rd edition also saw the launch of the inaugural César du Public, which was presented to actor-director and box office topper Dany Boon.
Politically charged evening
The annual celebration of French cinema was a politically charged event on a number of levels this year.
The event saw the launch of the new #MaintenantOnAgit campaign aimed at combatting violence against women and inspired by the Time's Up movement out of the US.
Stars and industry professionals at the César ceremony wore white ribbons in a sign of solidarity for the movement's aims.
In the backdrop, however, another new French collective aimed at fostering gender equality in the industry – the collectif 5050x2020 – released a study on the eve of the ceremony highlighting the poor representation of women at the Césars over the past four decades.
The 43rd edition was no exception. Outside of actor categories, just two of the 16 other prizes went to women.
Beyond the issue of gender equality, Campillo and the rest of the team behind BPM used their acceptance speeches to highlight the fact that the fight against AIDS is not over and also call for solidarity for refugees.
2018 WINNERS
Best Film
BPM, dir. Robin Campillo, pdr. Hugues Charbonneau, Marie-Ange Luciani
Best Director
Albert Dupontel, See You Up There
Best Screenplay
Robin Campillo, BPM
Best Adaptation
Albert Dupontel, Pierre Lemaitre, See You Up There
Best Actress
Jeanne Balibar, Barbara
Best Actor
Swann Arlaud, Bloody Milk
Best Supporting Actress
Sara Giraudeau, Bloody Milk
Best Supporting Actor
Antoine Reinartz, BPM
Best Female Newcomer
Camélia Jordana, Le Brio
Best Male Newcomer
Nahuel Pérez Biscayart, BPM
Best First Film
Bloody Milk, dir. Hubert Charuel, pdrs. Stéphanie Bermann, Alexis Dulguerian
Best Documentary
I Am Not Your Negro, dir. Raoul Peck, prod. Rémi Grellety, Raoul Peck
Best Foreign Film
Loveless, dir. Andreï Zviaguintsev, dir. Pascal Caucheteux, Grégoire Sorlat
Best Short
Les Bigorneaux, dir. Alice Vial, pdr. Yann Legay
Best Animation
The Big Bad Fox And Other Tales…, dir. Benjamin Renner, Patrick Imbert, pdrs. Damien Brunner, Didier Brunner
Best Short Animation
Pépé Le Morse, dir. Lucrèce Andreae, pdrs. Jérome Barthélemy, Daniel Sauvage
Best Cinematography
Vincent Mathias, See You Up There
Best Sound
Olivier Mauvezin, Nicolas Moreau, Stéphane Thiébaut, Barbara
Best Art Direction
Pierre Quefféléan, See You Up There
Best Editing
Robin Campillo, Stephanie Leger, Anita Roth, BPM
Best Original Music
Arnaud Rebotini, BPM
Best Costume
Mimi Lempicka, See You Up There