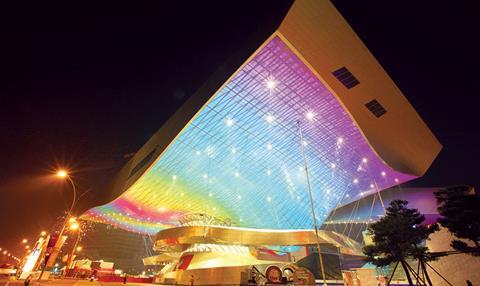 The 23rd Busan International Film Festival (BIFF) kicked off tonight (October 4) with a windy, star-studded red carpet and a piano performance from Asian Filmmaker of the Year award winner Ryuichi Sakamoto, amidst reports of an approaching typhoon.
Reinstated festival head Jay Jeon and chairman Lee Yong-kwan emphasised a return to "stability and harmony" after four years of conflict over freedom of expression issues that swept through South Korea, as well as BIFF, as part of deposed president Park Geun-hye's blacklisting efforts.
"To the citizens of Busan, all the audience members and cineastes at home and abroad who have cared for and stood by the Busan International Film Festival unchangingly for 23 years, we thank you sincerely. We will work even more diligently to repay your support," said Lee.
International stars that graced the red carpet to the ear-piercing screams and camera flashes of fans at the Busan Cinema Center's outdoor theatre included the ceremony's emcees Kim Nam-gil and Han Ji-min as well as Bai Baihe, Yang Kuei-mei, Jang Dong-gun, Hyun Bin, Kim Kyu-ri, Christopher De Leon, Yoon Yuh-jung, Li Hongqi, Annie Chen and Liu Yi Hao.
The festival introduced the New Currents jury headed by Hong-Joon Kim, a veteran Korean filmmaker and festival director of Chungmuro International Musical Film Festival, along with Hong Kong producer Nansun Shi, Japanese actor Jun Kunimura, Macedonian actress-producer Labina Mitevska and Sydney Film Festival director Nashen Moodley, originally from South Africa.
The Kim Jiseok Award jury was also on hand, comprised of former Filmex festival director Hayashi Kanako, Singaporean filmmaker Eric Khoo and US film critic Justin Chang.
On a full concert grand piano, Sakamoto played music from Merry Christmas, Mr. Lawrence as well as the animation My Tyrano: Together, Forever, a Korea-Japan-China co-production directed by Shizuno Kobun, which will make its world premiere in BIFF's Open Cinema section.
Korean director Jero Yun presented the world premiere of BIFF opening film Beautiful Days, with his main cast led by Lee Na-young along with Jang Dong-yoon, Oh Kwang-rok, Lee Yujun and Seo Hyunwoo. Lee, making a comeback after several years' absence from the big screen, plays a North Korean refugee who has to deal with the recurring trauma of her past when her son comes to find her in South Korea upon the death of his father in China.
Typhoon forecast
Most recent reports have Typhoon Kong-rey moving up towards South Korea with wind and rain expected from Friday (October 5) in Jeju Island and southern regions, with the typhoon itself to pass by the sea in front of Busan sometime between Saturday afternoon and Sunday morning.
Accordingly, the festival has announced it will move the outdoor BIFF Village beachside events such as Open Talks and Hand-printing Ceremonies indoors to the Busan Cinema Center. The Asian Film Market, due to open with an outdoor reception Saturday night, has yet to announce any change of venue.
With October typhoons a rarity in South Korea, Kong-rey is the first of this kind to approach the country since 2016's Typhoon Chaba, which saw the loss of seven lives.
Set to run October 4-13, the 23rd BIFF will screen 323 films from 79 countries, with 140 world and international premieres.
The Asian Film Market will run October 6-9 with the Asian Project Market taking place October 7-9.